Ariana Grande reveals her Vera Wang wedding gown: classic, simple & lovely?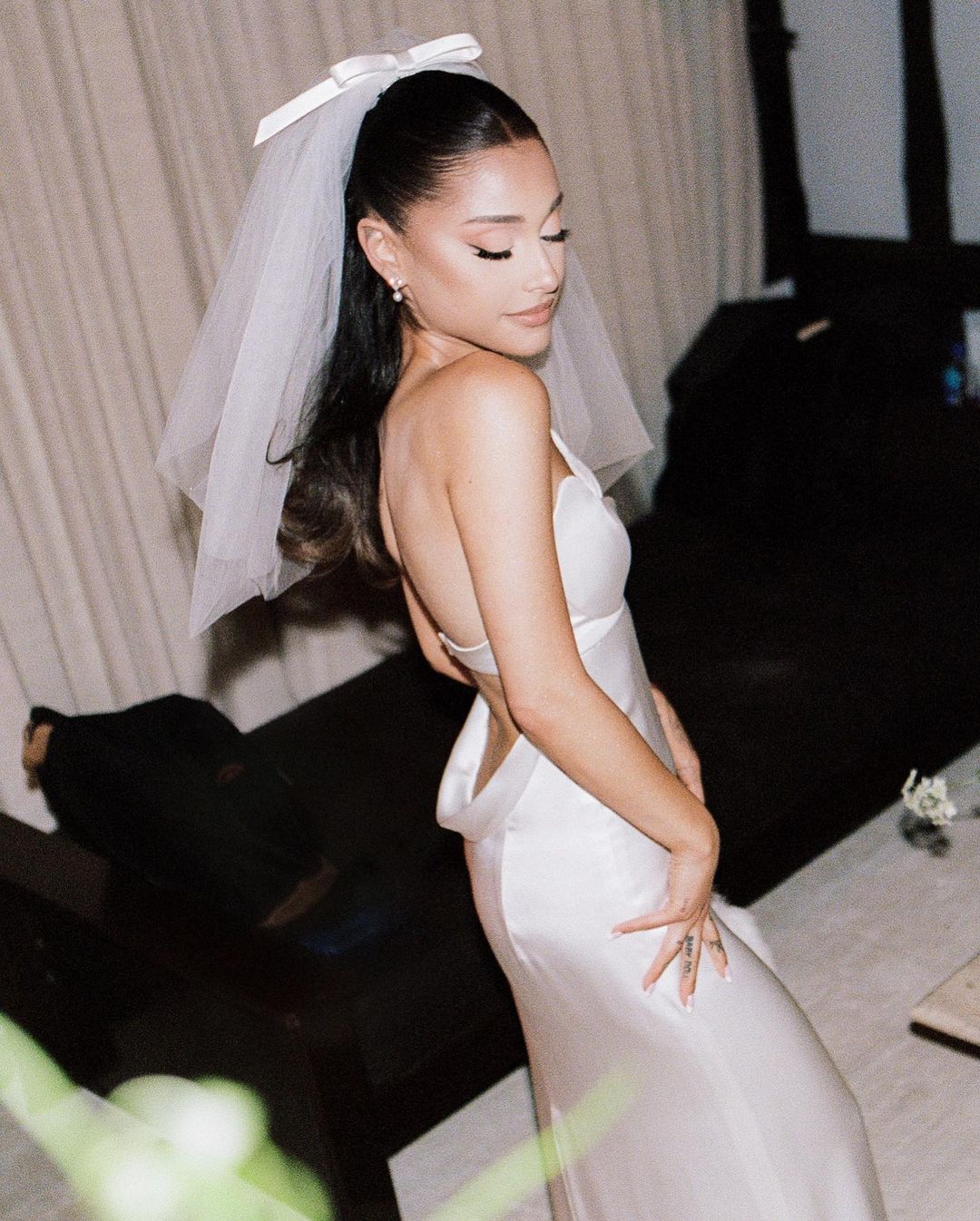 Ariana Grande married Dalton Gomez two weekends ago at their home in Montecito. At the time, Ariana and her people merely confirmed the news to People Magazine and other outlets, and we didn't even have one wedding portrait to use. I hoped that Ariana would eventually post some photos on her Instagram, and she did. But because she's Ari, it's a bit complicated! Vogue Magazine claims they have the exclusive on Ari's wedding, but Ari just went ahead and posted a dozen of the photos on her IG anyway. It kind of works, and I'm not mad about it. It's her wedding, if she wants the people to see the photos without going to Vogue, that's her right. She did give Vogue an exclusive on some of the wedding details though. You can see Vogue's piece here. Some highlights:
Vera Wang had promised to do Ariana's wedding gown: At the Met Gala a few years ago, Ariana and Vera had made a very important pact: On fashion's biggest night, Vera promised that when the time came, she would create Ariana's wedding day look…and the iconic designer delivered.

The gown: A custom lily-white silk charmeuse empire waist column gown accented with a sculpted neckline, an exposed bra strap closure, and a plunging back. The dress was accessorized with a shoulder-length hand-pleated bubble veil with a sweet satin bow at the very top. Altogether, the ensemble, styled to perfection by Mimi Cuttrell, was reminiscent of the look Jo Stockton so famously wore in Funny Face. The bride also wore custom Giuseppe Zanotti platform heels.

The earrings: Pearl and diamond earrings by Lorraine Schwartz were chosen to match the bride's engagement ring—with one upside-down (a nod to her aesthetic that started during the "Sweetener" era) and the other right side up. The meaning behind this is significant to Ariana, as it represents appreciating the lowest or the "upside down" moments in her life and how they have contributed to where and who she is now.

Styling: Her polished half-up hair and soft curls were the work of Josh Liu, and her natural makeup, with sculpted brows and a pretty winged liner, were done by Ash K Holm.

They said their vows in a room lit by candlelight: Ariana's mother, Joan Grande, gave her away, although in real life she did so alongside Ariana's father, Ed Butera, which was a personal high point and one of the most special moments for the bride.
[From Vogue]
It was smart for Ariana to aim for Audrey Hepburn rather than Cinderella-at-the-ball, you know? Ari's style can sometimes go over-the-top, princess-in-a-ball-gown. I'm glad she went simpler, classic, old-school. The "Audrey Hepburn" vibe works on Ari because she is so small and simpler styles look really good on her. Now, do I think her dress was the best thing ever? Not really, but she looked pretty and you can tell that she loved her dress. The veil suited her too.
https://www.instagram.com/p/CPV4cFrliH3/
A post shared by Ariana Grande (@arianagrande)
https://www.instagram.com/p/CPWAGpCJQbn/
A post shared by Vogue (@voguemagazine)
https://www.instagram.com/p/CPV4KYBFTHX/
A post shared by Ariana Grande (@arianagrande)
Photos courtesy of Ariana's IG and Vogue's IG.
Source: Read Full Article