Bad News: Miley Cyrus and Liam Hemsworth Just Broke Up
Sorry to ruin your Saturday night, but we've got some bad celebrity news to break: Miley Cyrus and Liam Hemsworth have split up after less than a year of marriage.
Miley's rep confirmed the sad news to People, so feel free to join me in canceling the rest of the evening to rewatch The Last Song and cry. Here's what a statement from Miley's rep said:
The news comes just after some fan speculation about a split earlier today that began when Miley posted an Instagram without her wedding ring on.
https://www.instagram.com/p/B0_HIY1pZo8/
Mute me if you don't want SPAMMED
A post shared by Miley Cyrus (@mileycyrus) on
Back in December, Miley and Liam tied the knot officially in a super romantic and intimate Christmas wedding. Miley was also just on the cover of Elle talking about her marriage in August.
"I think it's very confusing to people that I'm married. But my relationship is unique," she said.
"I don't know that I would ever publicly allow people in there because it's so complex, and modern, and new that I don't think we're in a place where people would get it," she added. "I mean, do people really think that I'm at home in a f—ing apron cooking dinner?"
Neither Miley nor Liam has said anything on social media about the breakup. This isn't the first time in the 10-year timeline of their relationship that they've split, though—they broke up in 2013, getting back together two years later.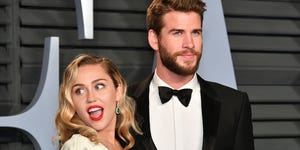 Source: Read Full Article