Boosie Badazz Defends Confronting a Man Over a Woman in Viral Video
Taking to Twitter to address the viral moment, the 'Wipe Me Down' rapper explains that he threatened to 'beat' the man because 'he kept approaching her after she said sorry.'
AceShowbiz -Boosie Badazz (formerly known as Lil Boosie) has addressed a viral video showing him defending a woman from a man. Taking to Twitter after the video spread online, the rapper said he confronted the man because he wouldn't stop even after the woman had apologized to him.
"The reason I told that man that because he backed a woman down until she could do nothing. He kept approaching her after she said sorry. Then he said no you go apologize to my wife too!!" the Baton Rogue native wrote on Thursday, June 23. He went on claiming, "he was doing the most don't let the video fool u."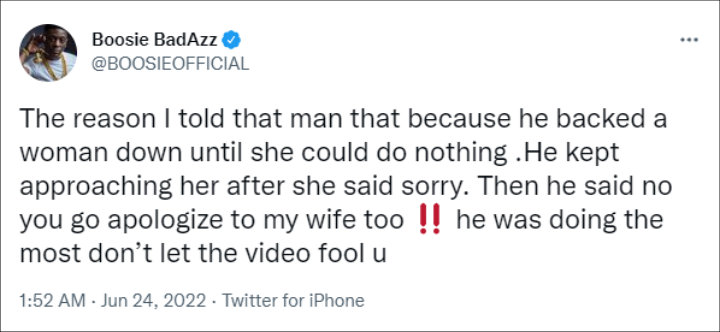 Boosie Badazz addressed a viral video showing him confronting a man who harassed a hotel employee.
In the video which surfaced earlier that day, Boosie was seen confronting the man outside of an unknown hotel. According to TMZ, the woman in the video was a hotel employee. She had apparently upset the man and his wife, who were both guests.
Other clips showed the "Wipe Me Down" emcee telling the man that the woman had said that she was sorry and there was no need for the aggression he was showing to her, while people were surrounding them.
"I'm a man. You not going to talk to me like that, I'll beat the f**k out you," Boosie angrily told the man. He warned him, "You ain't gonna talk to her like that. I would beat you're a** if you talked to me like that. You not gonna disrespect a woman like that, bro."
At one point, someone from Boosie's crew crept up on the side of the man and rotated his arm as if he were getting ready to knock him out. Fortunately, the situation did not turn physical.
Boosie was praised for standing up for the female employee. "Wind it up!" DDG commented on The Shade Room's Instagram post, while Lil Mama wrote, "Boosie Mans That Rotated his Shoulder Was On Go."
Another commented on his Tweet, "You did what you was supposed to do, protect black women at all cost. it was the hitta in the back fa me tho." Someone else added, "Thank you because it really be n**** standing around watching men talking crazy/getting physical with women and not do a damn thing."
Source: Read Full Article