Brandi Glanville's Heart Broke For Khloé Kardashian After EXPLOSIVE 'KUWTK' Episode!
Brandi Glanville feels for Khloé Kardashian.
On Monday on Twitter, the Real Housewives of Beverly Hills alum wrote the KUWTK star a public message after Sunday's E! episode, which documented Kardashian's reaction to ex-boyfriend Tristan Thompson's alleged affair with Jordyn Woods.
The Bravolebrity penned:
"My heart broke for @khloekardashian on last nights episode it gave my CRAZY PTSD ! It F**KING SUCKS finding out from news outlets & tabloids that your marriage and family life are forever ruined… and EVERYBODY knows it …"
Glanville's ex Eddie Cibrian filed for divorce in 2009, shortly after going public with his relationship with LeAnn Rimes. Two years later, Cibrian and Rimes tied the knot.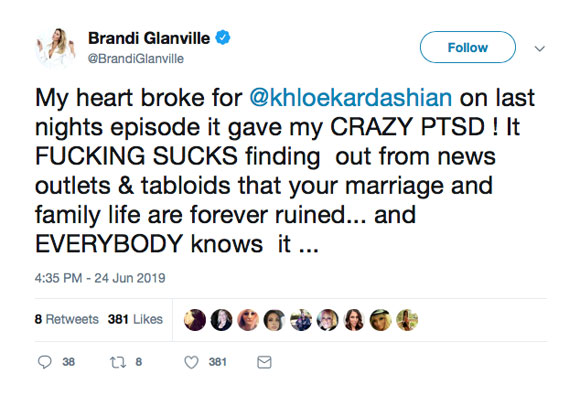 On Sunday's episode of KUWTK, it was revealed Thompson allegedly expressed suicidal thoughts after news broke out about his cheating scandal.
Khloé said to Scott Disick:
"He's like, 'I can't stop thinking about you and what mess I have caused'… He's doing this to get a reaction out of me. Oh, so I'm just allowed to say 'I'm going to kill myself' at any time? That's crazy.'"
Drama aside, Kardashian asked one of Thompson's friends to check on him to make sure he was okay.
Disick chimed in:
"The fact that Khloé is sitting here heartbroken but still worrying about Tristan's feelings and the possibilities of him being upset or possibly hurting himself — I mean, it just goes to show that Khloé is an unbelievable person that loves so hard and so much… Somehow she just keeps getting the short end of the stick, and it's unfair and it's hurtful and it's really hard for me to sit and watch."
Khloé added:
"I feel like I'm so heartbroken… Right now, I don't feel much of anything. I'm in shock. This is a debilitating blow to my soul. It's so humiliating, it's hard. There are some days you just want to cry."
Kardashian said later in the episode:
"I just think everyone is so twisted. Jordyn didn't think about me, she didn't think about Kylie… she didn't think about my daughter. She didn't think about Tristan. And she didn't think about herself… They're both at fault. I'm not blaming just Jordyn. Tristan, we've all known what he was capable of. Look what he did when I was nine months pregnant. I knew who he was. I never in a million years thought that's who she was… Now like, 'It wasn't a big deal. It wasn't intimate, it wasn't sexual.' That wasn't at all what she said on the phone to me. That's fine, now she's downplaying it. I'm not saying things can't happen. I am the most understanding, calm person ever. But Jordyn never once has she said, 'I'm sorry.'"
In an interview with Red Table Talk's Jada Pinkett Smith, Jordyn denied hooking up with Thompson, except for a goodbye kiss that he allegedly initiated.
Source: Read Full Article