'Dawson's Creek' Writer Heidi Ferrer Dies by Suicide After 'Intense Suffering' From Long-Haul COVID
The WAG member, who also penned episodes of 'Wasteland', wrote back in September that 'if I didn't get better, I did not want to live like this,' before she took her own life after 13-month battle with the disease.
AceShowbiz -Hollywood writer Heidi Ferrer, who was known for her work on WB's "Dawson's Creek" and ABC's "Wasteland", has passed away at 50 years old. She died by suicide following a long battle with COVID-19.
Her husband, screenwriter, director and producer Nick Guthe, confirmed that Heidi took her own life on May 26 following an unremitting battle with long-haul COVID. In a Twitter post he uploaded shortly after his wife's passing, he shared a heartbreaking tribute along with a throwback photo of Heidi and the couple's then-toddler son.
"My beautiful angel, Heidi, passed over tonight after a 13 month battle with Long Haul Covid," Nick penned. "She was an amazing mother. She fought this insidious disease with the same ferocity she lived with. I love you forever and I'll see you down the road."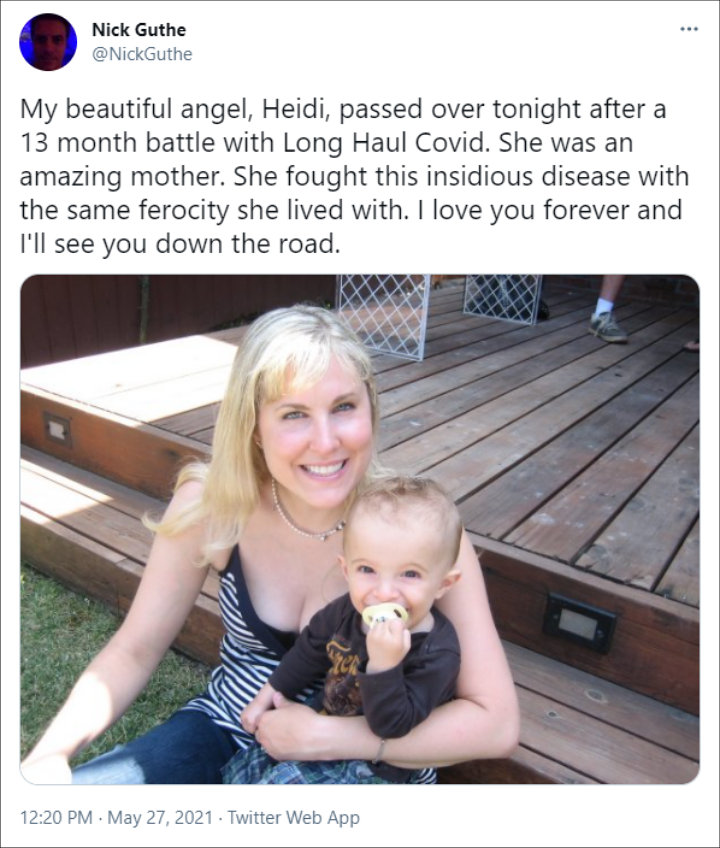 Heidi Ferrer's husband paid tribute to her in a heartbreaking tweet.
Heidi contracted the virus in April 2020, when the pandemic just started to hit the nation, and her health deteriorated steadily. She was bedridden a couple of months after she first fell ill and in constant physical pain, suffering from severe neurological tremors and severe fatigue.
Back in September, Heidi opened up in a blog post about COVID knocked her down. "In my darkest moments, I told my husband that if I didn't get better, I did not want to live like this. I wasn't suicidal, I just couldn't see any quality of life long term and there was no end in sight," she wrote.
More than a year after she contracted the virus, Heidi was bedridden again before her death. In her blog Girl to Mom, her husband Nick said, "The excruciating physical pain and inability to sleep from the pain led Heidi to the decision she would rather leave this world on her own terms before her condition worsened more."
He added, "Heidi loved hearing from all of you and she never would have made this decision if not for her intense suffering from Long Haul Covid." While he has "intentionally not shared that on social media" before, he noted that "the mental strain of Long Haul Covid sufferers is a public health crisis that must be addressed quickly."
Heidi is survived by her husband, 13-year-old son, mother and 2 sisters.
Source: Read Full Article