Erica Banks Defends Decision to Twerk During Racy Performance at High School
The 'Buss It' hitmaker has been facing intense backlash after she gives the students at Frederick Douglass High School a twerking session during a pep rally.
AceShowbiz –Erica Banks has finally addressed her recent controversial performance. The "Buss It" raptress has defended her decision to twerk in front of high school students at a recent pep rally.
On Sunday, August 21, the 23-year-old hip-hop star turned to her Instagram Story to seemingly question why people are so mad about her giving the high schoolers a twerking session. She reposted Lil Nas X's Twitter post that was first shared by The Shade Room. "why y'all get mad at me so easily. all i've ever done was be a bad b***h," read the said tweet.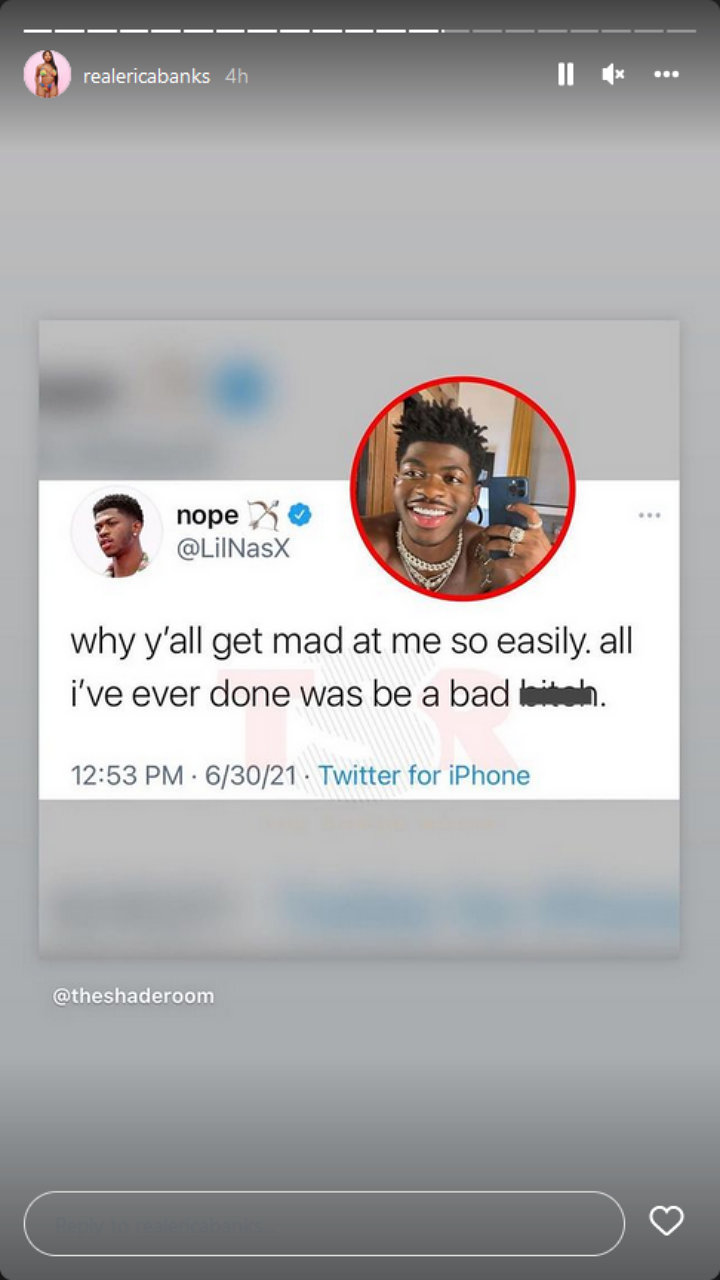 Erica Banks seemingly questioned why people 'get mad' at her after she twerked in front of high school students.
A few hours earlier, Erica commented on The Neighborhood Talk's post, which collected many complaints about her performance. "Girl didn't nobody touch them kids, clearly," the "Throw a Lil Mo" spitter wrote, addressing the controversy. "We had a great time, good day."
Erica landed in hot water on Friday, August 19 shortly after a video of her performing in front of students at Frederick Douglass High School's pep rally in Atlanta went viral on Twitter. In the clip, she's seen walking up to a crowd of high schoolers in the school's gymnasium. She later gave the teens an exciting twerking session. The students appeared to be entertained by the Texas rapper's racy performance.
Despite the teens' excitement, critics on Twitter weren't happy with Erica's dance moves in front of what they deemed to be children. "Mind you she at a high school!! Why tf you twerking for children!" one person tweeted. "This is gross. children. kids. juveniles. boys that have hardly started puberty. weirdo behavior," another added.
Other commenters noted that the blame should be placed on the school for booking Erica in the first place. "Why the school invited her though??? lol," one social media user opined, with someone else blasting the school, "It's inappropriate for the school to have booked her in the first place what y'all expect from someone that was just in high school like probably less than 5 years ago." A third chimed in, "The problem is with the school cause who booked her."
Source: Read Full Article