Here's What's Going on With Tom Sandoval, Ariana Madix, and Raquel Leviss From "Vanderpump Rules"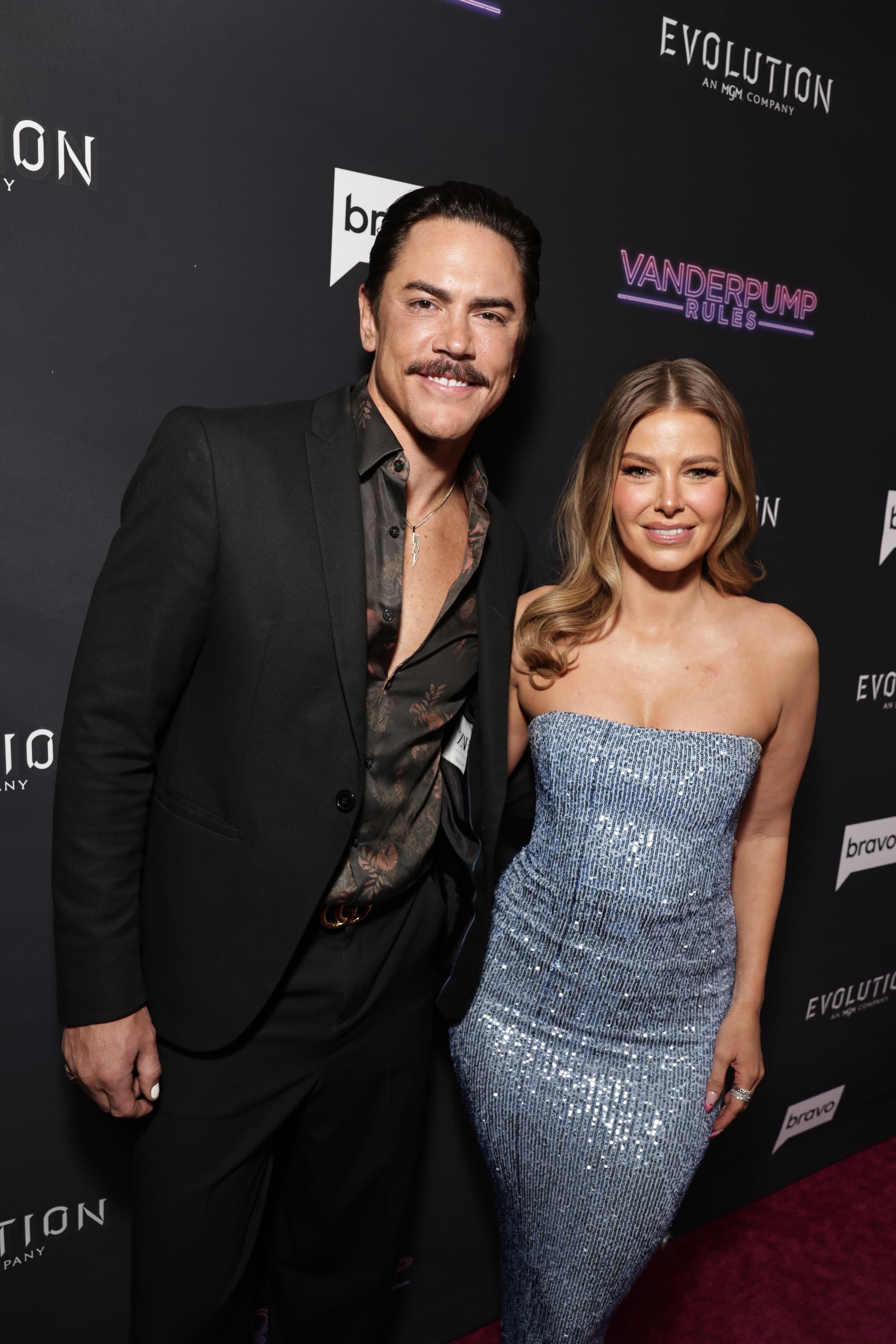 Image Source: Getty / Todd Williamson / Bravo
The Bravo world was rocked on Friday, March 3, when "Vanderpump Rules" stars Tom Sandoval and Ariana Madix split after nine years together. In the aftermath, numerous outlets reported that their split was because Sandoval cheated on Madix with their costar Raquel Leviss. Dozens of Bravo stars seemed to confirm the news on social media, including producer Andy Cohen who tweeted out a siren emoji and then asked, "How many parts is too many parts for the #pumprules reunion???" POPSUGAR reached out to reps for Sandoval, Madix, and Leviss for comment on the allegations, but did not receive responses.
The internet has since been ablaze with Bravo fans trying to figure out what exactly happened. If you're not a Bravo head, or are muddy on the details, here's a full timeline of the drama, including Sandoval's statement on the issue.
Who Are Tom Sandoval, Ariana Madix, and Raquel Leviss?
Sandoval, Madix, and Leviss are all cast members on "Vanderpump Rules." Sandoval and Madix met and became friends when they worked as bartenders at restaurants owned by former "Real Housewives of Beverly Hills" star Lisa Vanderpump before the show began filming. Sandoval was a cast member when the first season premiered in 2013, while Madix joined for season two the following year. Sandoval's best friend is fellow cast member Tom Schwartz, with whom he's started two restaurants: TomTom with Vanderpump, and Schwartz and Sandy's primarily on their own. Schwartz split from his wife, castmate Katie Maloney, in early 2022.
Leviss, meanwhile, was first introduced in season five as the girlfriend of cast member James Kennedy. The pair got engaged in May 2021 after five years together (Sandoval even helped Kennedy plan and pay for the over-the-top proposal). However, the couple eventually split that December.
During the summer of 2022 (and as filmed for the show, which is currently airing on Bravo), there were rumors that Leviss was hooking up with Schwartz and that their attraction came to a head at the wedding of cast member Scheana Shay in late August. Since the show premiered, Leviss has said that it was OK for her to be involved with Schwartz, despite Maloney's wishes, because she and Maloney weren't friends. Shay and Leviss appeared together on the March 3 episode of the "Chicks in the Office" podcast (which was released before news broke) and Leviss said, "Ariana [and Scheana] were the ones that really embraced me into this group and have been there for me since day one, so I know who my true friends are."
How Long Were Tom Sandoval and Ariana Madix Together For?
Sandoval and Madix began dating in 2014. They bought a house together in Valley Village in 2019.
Did Tom Sandoval Cheat on Ariana Madix With Raquel Leviss?
On March 3, TMZ broke the news that Sandoval and Madix had split amid allegations of cheating involving Leviss and that "Vanderpump Rules" was filming the fallout. Other outlets quickly confirmed the news, as did some of their "Pump Rules" costars on Instagram, including Kennedy and Lala Kent. Madix reportedly found out about the affair on Wednesday when she saw Sandoval's phone and his texts with Leviss.
Sources told People that the affair had been going on for six months. During that time, Leviss continued to play up rumors that she was involved with Schwartz. She wore a TomTom sweatshirt to BravoCon in October, and when Maloney accused her of being a "fangirl," she wrote on Instagram that she mostly wore it to be comfy and added, "I also wore it to support BOTH of the Toms." She included #NumberOneTomStan.
Weeks later, Sandoval dressed as Leviss in the sweatshirt for Halloween, as Leviss memorialized in her Halloween Instagram highlight.
What Has Tom Sandoval Said About the Alleged Affair?
Sandoval posted a statement on his Instagram on March 4, asking that people not direct their anger toward Schwartz, who he says knew nothing about his actions until recently. He also asked that people not take their frustration out on their restaurant, Schwartz and Sandy's. "Hey, I fully understand and deserve ur anger and disappointment towards me, but please leave Schwartz my friends and family out of this situation," he wrote. "Schwartz specifically only found out about this very recently, and most definitely did not condone my actions."
"This was a very personal thing," Sandoval continued. "Schwartz & Sandy's might have my name on it, but also there are 3 other partners and 20 employees, who especially rely on the restaurant for income for them and their families. Just like TomTom, I'm a small part of a much bigger thing. Please direct ur anger towards me and not them. They did nothing wrong."
Sandoval went on to apologize to his partners who "have to suffer for my actions." He added that he would be stepping away from the restaurants for now "out of respect for my employees & partners." He concluded his post, "I need some time to address everything else. Sorry for everything." Sandoval did not mention Madix in the statement.
Hours earlier, Schwartz and Sandy's also posted a statement on Instagram asking people to be kind to the workers there who had "nothing to do with this unfortunate situation." The statement also called Madix "a good friend and a great supporter of the restaurant." Schwartz has not commented, but on Saturday fans posted photos of him at the restaurant greeting guests.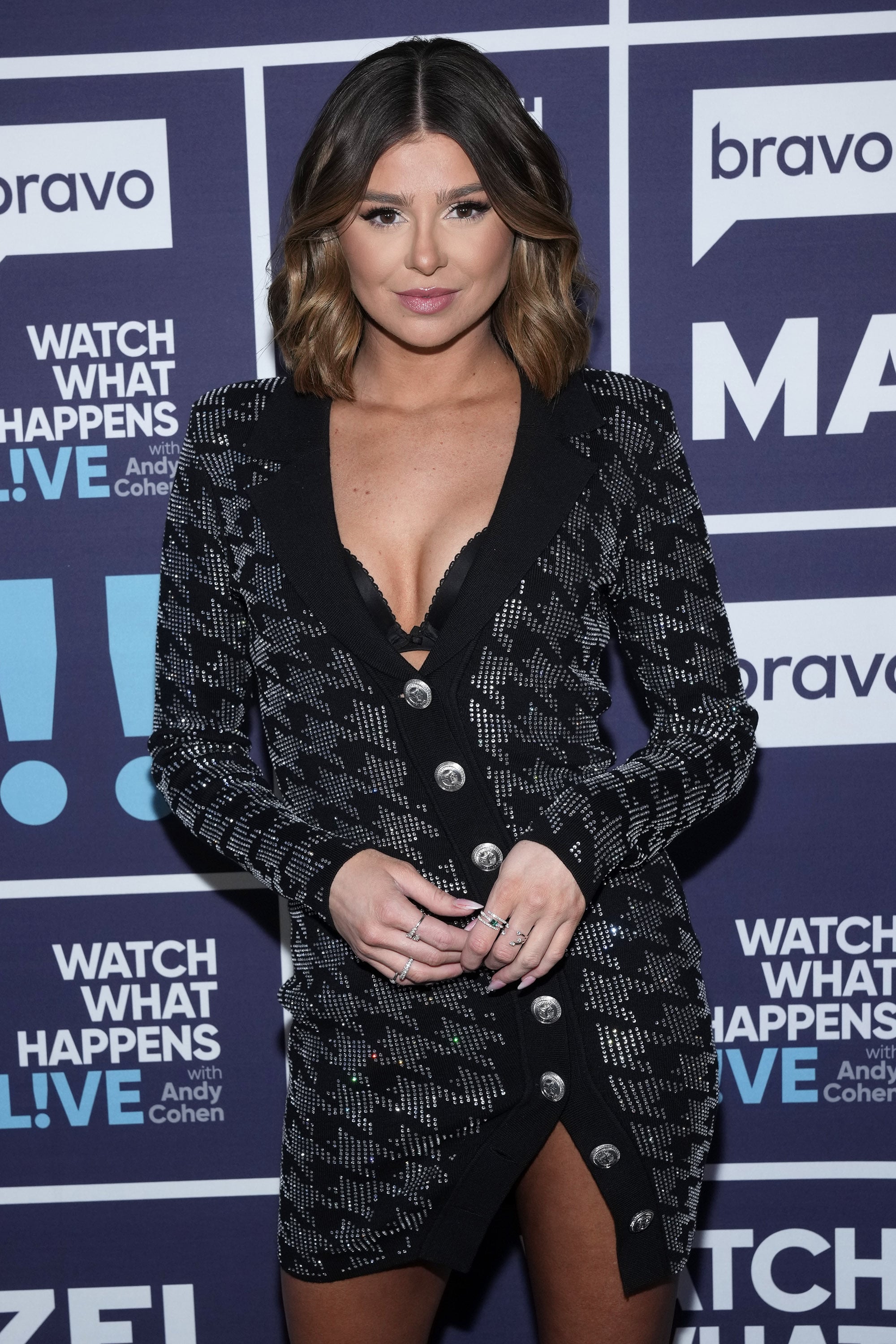 Image Source: Getty / Charles Sykes / Bravo
What Has Raquel Leviss Said About the Alleged Affair?
Leviss has not publicly commented on the allegations.
What Has Ariana Madix Said About Raquel Leviss and Tom Sandoval's Alleged Affair?
Madix has yet to make a post or statement of her own, and deleted her own Instagram account when the news broke. But her friend (and Sandoval's ex-girlfriend) Kristen Doute posted a video on Instagram on March 3 of the pair hugging. Doute assured fans that Madix was not alone and her friends were there supporting her.
Her brother Jeremy Madix also commented on Kennedy's since-deleted Instagram post about the news, writing, "It's funny to watch people social climb and be soooooooo fake that they're willing to sh*t on people that are supposed to be their 'best friend' (a term that gets thrown around very often around here) all just to come up or have some sort of story line," according to Us Weekly.
Will the Cheating Drama Be Part of "Vanderpump Rules" Season 10?
According to reports, the "Vanderpump Rules" cameras are back on and filming the fallout of the cheating allegations and that footage will be included at the end of the season, which is currently airing. The show has yet to film the season's reunion, but Madix, Sandoval, and Leviss are all expected to be in attendance along with the rest of the cast.
Source: Read Full Article