Jenelle Evans & Baby Daddy Nathan Griffith Have VERY Different Responses To Custody Decision!
Jenelle Evans' ex has spoken!
Nathan Griffith clearly feels some type of way, and he's addressing it on social media just as Jenelle's children return to her North Carolina home and their life with the Teen Mom star and her husband, David Eason.
Writing a since-deleted tweet on his Twitter account, Griffith addressed a North Carolina judge's decision to return custody rights to his ex, and he clearly sounds worried his son, four-year-old Kaiser, and the others have been returned to a dangerous home.
Nathan shared a link to a survey and complaint form, and wrote (below):
"I've calm down a bit and just relying on my faith at this moment. I'm not going to put my two cents in but if anyone wants to put their input, you can visit: https://survey.nccourts.org/1480690875 to complete a survey. Any input will help. The judge's name is Pauline Hankins. TY #TeamGriffith."
Hmmm… clearly the father is on edge about the decision made by Judge Pauline Hankins to reunite the children with Jenelle and David. Interestingly enough, though, it was Nathan himself who first suggested the disgraced couple come to Kaiser's recent birthday party late last month.
Everyone seemed to get along there, though Jenelle's mother, Barbara, later called it all an act — even calling David "an evil f**king person."
Geez, Babs, you kiss your Teen Mom with that mouth? Ha!
Barring some sort of re-evaluation by the judge, or another event in the home, it appears the custody decision is final, and Jenelle's kids will now stay with her again as they had before — especially Kaiser and daughter Ensley. (FWIW, son Jace is still living with Barbara, as he has been for years.)
For her part, Jenelle seems be on top of the moon right now with her kids back at home, celebrating their arrival over the last couple days with a celebratory post on her Instagram account, as you can see (below):
https://www.instagram.com/p/BzntCA-FEWz/
Awww! That smile!!
Moments captured on Jenelle's IG Story captured the smiles all holiday weekend long and beyond, too, with the Teen Mom alum painting the picture of a happy family once again (below):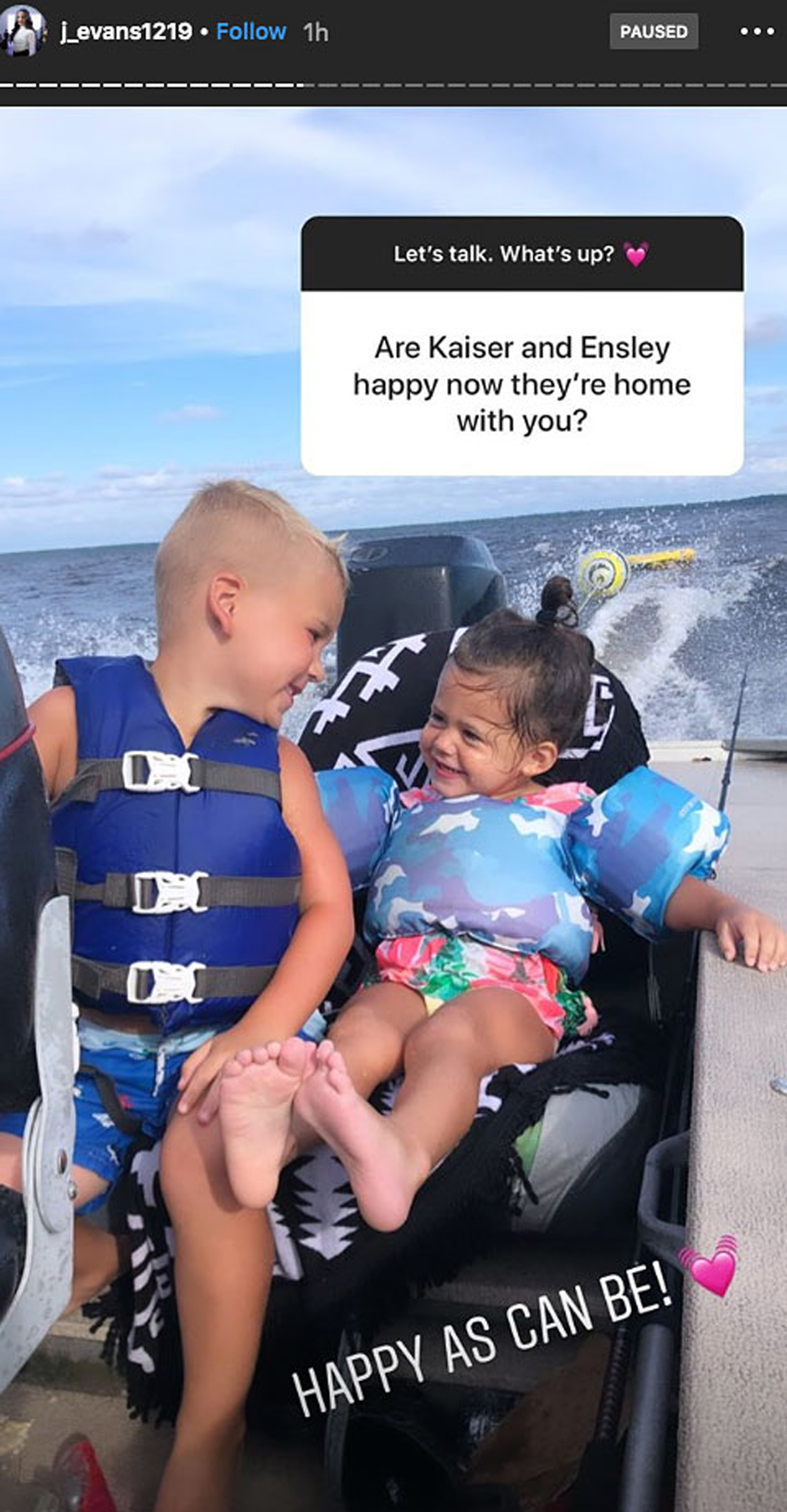 Awww!
Very cute, no doubt about that!!!
They definitely aren't "terrified" of their parents in this particular moment.
Jenelle later answered the question more fully, saying:
"Everything and everyone is doing great. We are super grateful and happy… Court is completely done with. The CPS case is dismissed. Everything they had as evidence was basically all hearsay."
What do U think about Jenelle and David regaining custody of Kaiser and Ensley, y'all?! Sound OFF about Jenelle, David, Nathan, and all the rest in the comments (below)!!!
Source: Read Full Article