Lip Reader Reveals Prince Harrys Instant Reaction To Dianas Statue
Prince Harry was in London on July 1 for the unveiling of a statue of his mother that was erected at the Sunken Garden at Kensington Palace. Harry was joined by his older brother, Prince William, marking the first time that the two had been together since their grandfather's funeral back in mid-April. The brothers put on a united front as they walked together, both seemingly excited to see the sculpture that they commissioned back in 2017. "It was their idea and it was a joint effort," Ken Wharfe, former head of Princess Diana's security team, told People magazine following the special event.
Harry and William approached the covered statue together, both wearing suits and big smiles as they made their way over to where it had been placed. They worked together to grab the green cover and to pull it off at the same time to unveil the bronze statue underneath. The brothers stepped back and admired the statue as guests — including Princess Diana's family — clapped, according to a video provided by the Guardian. Looking closely, royal watchers could see that Harry and William both reacted to the statue, and, thanks to a lip reader, we now know that Harry said upon laying his eyes on the sculpture for the first time. Read on to find out more about his reaction. 
Prince Harry and Prince William seemed pleased with the sculpture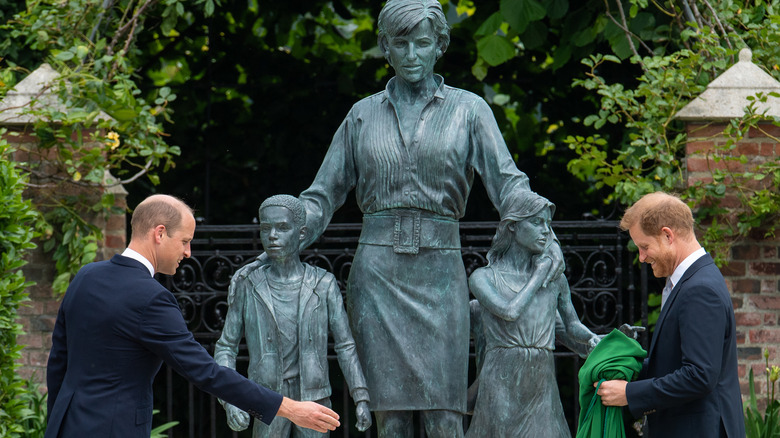 When Prince Harry and Prince William first entered the Sunken Garden at Kensington Palace on July 1, they admired the gorgeous landscaping that had been done in honor of this special day. "More than 4,000 flowers have been planted — in addition to 200 roses, 100 forget-me-nots (Diana's favorite flower) and 300 tulips of three varieties, there are 500 lavender plants, 50 sweet peas and 100 dahlias," according to People magazine. Harry couldn't help but react to the beauty, saying "this is spectacular," professional lip reader Jeremy Freeman told the Mirror.
The Duke of Cambridge and the Duke of Sussex approached the statue and pulled on two strings for the big reveal. As they stepped back to admire the work, Harry commented on how great it turned out. Freeman told the Mirror that Harry said, "wow! Isn't that amazing?" upon seeing the statue for the first time. As he continued looking at all of the detail that sculptor Ian Rank-Broadley included, Harry repeated the word "amazing." Although Harry and William may not be on the best of terms at present time, the unveiling went off without a hitch, and those moments of seeing the statue for the first time will undoubtedly be cherished for the rest of their lives.
Source: Read Full Article