Meghan Markle and Prince Harry's Neighbors Were Given an INSANE List of Demands About How to Behave Around Them
People really don't want to just let the royals live (see: someone getting upset about Prince George's shirt), cause now there's a slightly confusing and somewhat outrageous report coming out of the royal's Windsor estate, which is home to Meghan Markle and Prince Harry's Frogmore Cottage.
Daily Mail reports that at a residents' meeting, Meghan and Harry's neighbors were given a detailed list of the things that they can and cannot do should they run into the royal couple. The list included that they shouldn't approach the royal couple or try to start a conversation with them (though they can say "good morning" if Harry or Meg spoke to them), that they shouldn't pet their dogs even if the dogs come over, that they shouldn't ask to see baby Archie, and that they shouldn't offer to dog walk or babysit. And I think we can all agree that the no dog petting rule is pretty extreme, right?
What makes this even weirder is that the residents who live close to Frogmore Cottage/on the Windsor estate include royal staff, estate employees, and "officials living in grace-and-favor houses"—in other words, people who probably already know how to interact with royals. And apparently, the Queen doesn't even have a list of demands like this! According to one neighbor, "It's extraordinary. We've never heard anything like it. Everyone who lives on the estate works for the royals and knows how to behave respectfully. We aren't told how to behave around the Queen like this. She's very happy for people to greet her."
But before you get too worked up about the no dog petting policy, know that it apparently wasn't Meg and Harry who gave these demands! A spokesman for Buckingham Palace said, "The Duke and Duchess had no knowledge of this briefing and no involvement in the concept or the content. This was a well-intentioned briefing to help a small local community know how to welcome two new residents and help them with any potential encounter. There was no handout or letter. The talk was undertaken by a local manager and was widely viewed as being well received."
Uh, sure. I'm just feeling glad that I don't live in Windsor!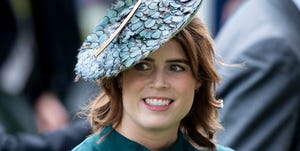 Source: Read Full Article