Molly Yeh's Halva Magic Bars Are a 'Flavor Party That's So Good'
Food Network star Molly Yeh's halva bars recipe is nothing short of magical. Creamy, crunchy, and nutritionally a big win, the chef's sweet treat is definitely worth making. Once you whip up a batch, though, expect this recipe to be in demand.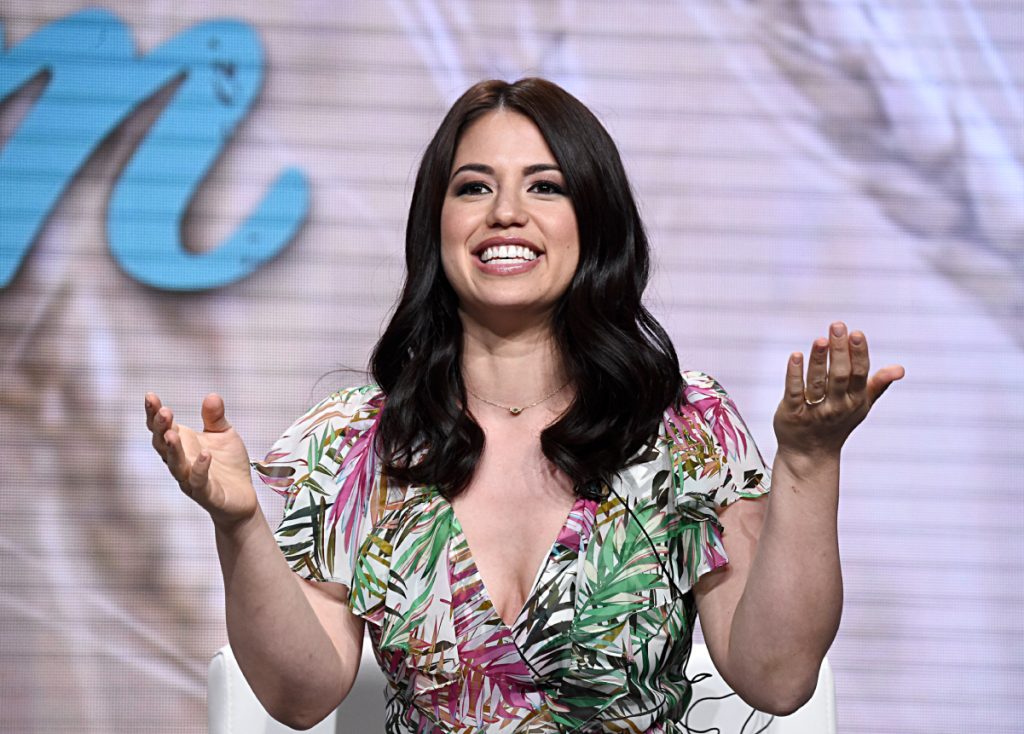 No mixing bowls required for Yeh's Halva Bars
The Girl Meets Farm host's recipe is not just fun to make, but also to eat. With each bite, there's a new taste, texture, and flavor, starring halva, the sweet sesame paste candy.
And it's no wonder, considering the ingredients list of unsalted butter, graham cracker crumbs, dark chocolate, chopped halva, chopped toasted pistachios, sweetened condensed milk, vanilla extract, sweetened shredded coconut, and optionally, rosewater and food-grade dried rose petals.
As Yeh says in her Food Network video, below, for this recipe, her bars are "chewy and sweet and literally magic because they're all made in the same pan. I just add every ingredient to the pan and bake it."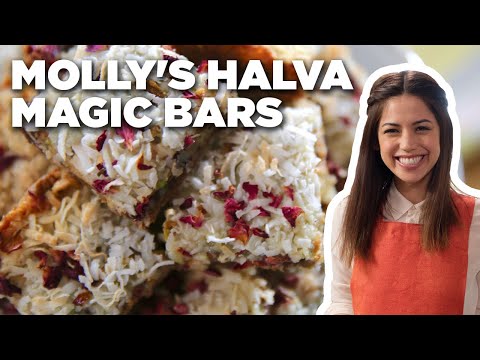 Her easy dessert is a quick and delicious treat
The culinary personality starts with a greased square baking ban lined with parchment paper. "Greasing it helps the parchment paper stick," she says.
She places an entire, solid stick of butter in the pan, melting it "directly in the pan" by putting the pan in a 350-degree F oven for "a few minutes."
While the butter melts, Yeh crushes the graham crackers in a bag.
The greased pan with melting butter is removed from the oven and it's time to bring the magic on! She scatters "the graham cracker crumbs all over the butter" on the pan bottom. And there's no need to pack the crumbs down: "It's just one of the layers."
Dark chocolate that's been chopped is the next layer, followed by chopped halva. "Halva is a Middle Eastern candy that's made of sesame and sugar," Yeh explained. "It's a little bit crumbly, a little bit flaky, kind of fudge-like, totally addictive."
The chopped, salted, toasted pistachios follow as the next layer to "balance out the sweetness, complementing the halva." Condensed milk mixed with the vanilla extract and rosewater is poured all over the pan contents. "If you don't have rosewater in your pantry, don't worry about it. It's optional," Yeh adds.
Shredded coconut and the dried rose petals top off the dessert, and it's baked in the 350-degree oven for about 25 minutes "to form a flavor party that's so good."
Get the complete recipe, video, and reviews on Food Network's site.
Home cooks fell in love with Yeh's fun halva bars
Deliciously satisfying and chewy, Molly Yeh's bars are also sweet, crunchy, and sure to become a favorite, as Food Network reviewers noted.
"Just made it for my kids and they loved it. A yummy treat for all of us. Incredibly easy to make yet had an abundance of different flavors that melded together nicely," one reviewer wrote.
Another person added, "Loved this! Made it last year and it's dangerously good! … I could have snacked on these all.Day.Long, which is why I had to give some away as treats!"
Source: Read Full Article