Morgan Stewart Reveals the Ugly Truth as She Details Painful Struggles With Thyroid Disorder
Noting that the reality isn't always as wonderful as it's seen on social media, the former 'Rich Kids of Beverly Hills' star urges fellow new moms to get checked when opening up about her postpartum health scares.
AceShowbiz –Morgan Stewart has gotten candid about her postpartum health issues. Revealing the ugly truth behind her seemingly wonderful life as seen on social media, the former "Rich Kids of Beverly Hills" star detailed her painful struggles with thyroid disorder in an Instagram Story.
"Another example of everything seeming wonderful on Instagram and the reality being the total opposite," the TV personality began her lengthy message she shared on Wednesday, June 9. In her note, the 31-year-old detailed her health issues. "This is why I have been home the past week. I've had to rest and manage my stress levels/ try get back to normal. We have since ruled out Graves' disease. Will know by the end of the week if it's sub-acute thyroiditis or if it's a nodule on my throat," she revealed.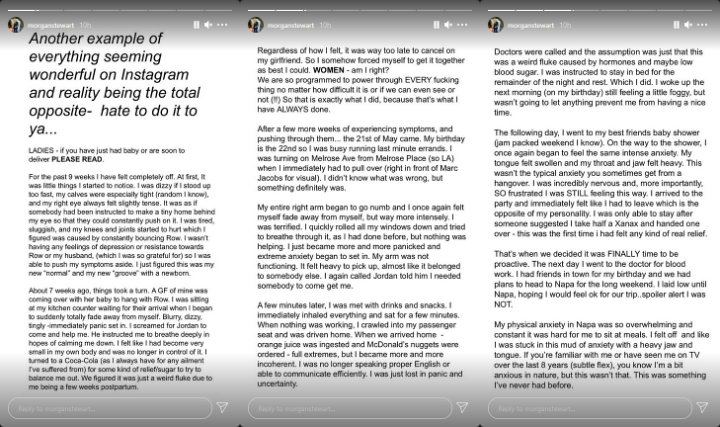 Morgan Stewart revealed her postpartum health issues.
Morgan admitted that she has been experiencing dizziness and tense pain since giving birth in February. "It was as if somebody had been instructed to make a tiny home behind my eye so that they could constantly push on it," she explained, adding that she has felt "completely off" for the last nine weeks. "I felt like I had become very small in my own body and was no longer in control of it." However, at the time, she decided to "push [her] symptoms aside" and considered that was her "new 'normal' and [her] new 'groove' with a newborn."
Morgan went on telling her followers that she began to slur her speech on May 21, a day before her birthday, after experiencing a temporary loss of movement in her right arm. The host of "Necessary Realness" detailed, "I was no longer speaking proper English or able to communicate efficiently. I was just lost in panic and uncertainty."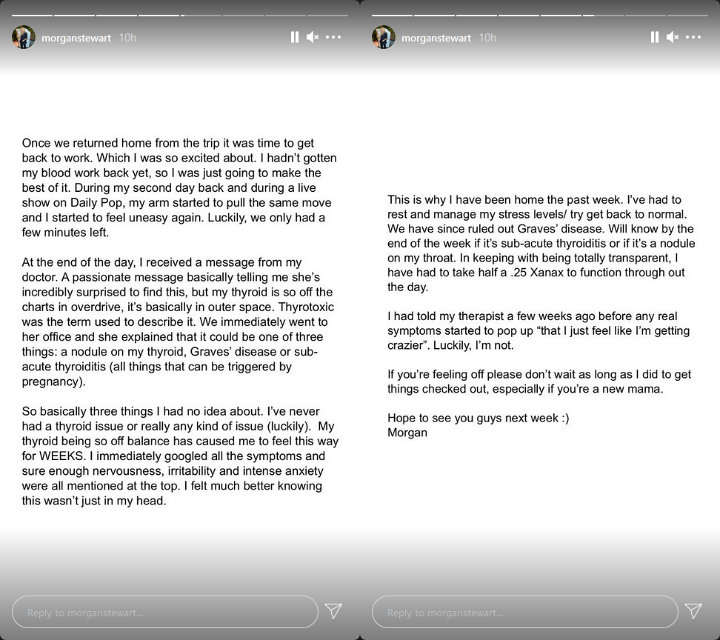 Morgan Stewart opened up that she has been experiencing tense pain since giving birth in February.
During her trip to Napa, Morgan became "stuck in this mud of anxiety with a heavy jaw and tongue." She then sought medical help before returning to work. Her doctor then diagnosed her with a thyrotoxic thyroid, or "so off the charts in overdrive, it's basically in outer space," as she penned on her note.
Near the end of her lengthy message, Morgan confessed that she has "had to take half a .25 Xanax to function throughout the day." She then concluded her post by urging fellow new moms to get checked, writing, "If you're feeling off please don't wait as long as I did to get things checked out, especially if you're a new mama."
Source: Read Full Article