The Real Reason Kim Kardashian Doesnt Drink Alcohol
Kim Kardashian has never been a big drinker. As her younger sister Khloé Kardashian told ELLE in 2016, "Kimberly does not drink alcohol whatsoever…  she's just never been into it." Two years later, an anonymous source shared similar sentiments with People. "[Kim] definitely does not do drugs and hasn't for years — and even then she barely dabbled," they said. "Now she drinks here and there, but mostly abstains," the source continued. "She may have a glass of champagne on a holiday or for someone's birthday, but it's rare."
The same can't be said for most of Kim's sisters, who seem to enjoy a good cocktail. Kourtney, for example, once admitted that her drink of choice is tequila. "I go for either tequila on the rocks, beer or wine," she told ELLE in 2017. "If you're cutting down on sugar, it's good to know that rosé wine usually has less sugar than red or white." Kendall Jenner, meanwhile, once revealed that her "Meow" lip tattoo was a result of a wild night. "I was drunk," Kendall told Ellen Degeneres in 2018. "I was not thinking clearly." Kylie Jenner seems to be partaking too, as she once posted a drunk makeup YouTube vlog with sister Khloé. "Liiiiiistennnnnnn I'm too old for this stuff now lol," Kylie tweeted a few days later. "My hangover was horrible but also with a toddler it's on a different level." 
So, why is Kim the only sober sister out of the bunch? Read more below.
Kim Kardashian stopped drinking after visiting Kourtney in college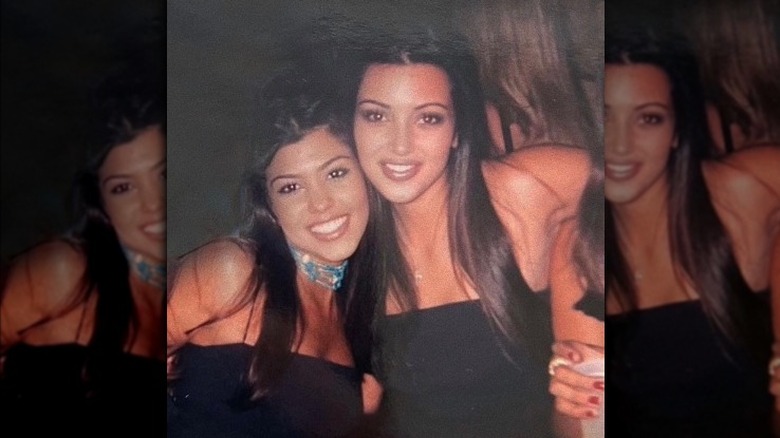 As of late, Kim Kardashian has been having fun sharing throwback pictures from past photoshoots, old outfits, and more. Most recently, on August 18, the reality star posted an old picture of herself and Kourtney on Instagram. "College Years Baby!!!" Kim wrote in the caption. Then, she talked about visiting her older sister in college, and how that made her want to steer away from alcohol and partying forever. "University of Arizona single handedly stopped me from turning into a wild party girl," she explained. "I remember visiting Kourt on campus and being her designated driver. I hated all of the wild parties so much that I stayed home and never wanted to drink or party EVER…so thank you U of A. I was never a student there but u shaped my life more than you know." 
In an earlier interview with Andy Cohen, Kim revealed how she became the family's DD. "I felt this responsibility of driving everyone," she told Cohen in 2017 (via Hello Giggles). "And everyone would take advantage of me, and I would be the designated driver. And they would literally only have me hang out just to drive everyone home." 
Although she lives a mostly sober life now, that doesn't mean Kim never drinks. In fact, a recent episode of "Keeping Up With The Kardashians" saw her chugging on a bottle of champagne … causing some wild Twitter reactions. Scroll on for all the details.
Fans were shocked to see Kim Kardashian drink on 'KUWTK'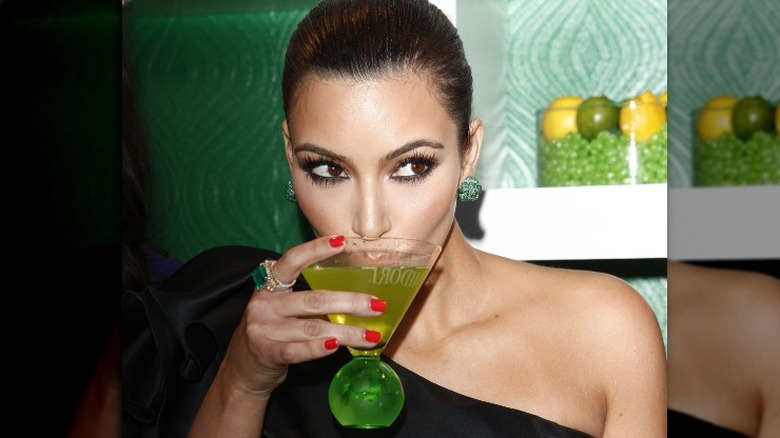 During a March 2021 episode of "Keeping Up With The Kardashians," Kim Kardashian dealt with one of Kanye West's many Twitter rants, in which he accused his then-wife of cheating and called the family's matriarch, Kris Jenner, "Kris Jong-Un." To help get her mind off of things, sister Kourtney Kardashian came to the rescue and dragged Kim out for a girls' night … which involved lots of champagne (via Maoww). In one particular scene, Kim could be seen literally chugging on a champagne bottle, which sent fans of the show into a real frenzy.
"My sisters got me so drunk this night! LOL," Kim tweeted as the episode aired. "Drunk Kim is even funnier than sober Kim," one fan replied. "You've gotten so much better at drinking lol! I remember you would be in TAO sober & just doing your appearances lol!" another one responded. "I love seeing Kim drink because she never drinks," a third fan tweeted. "she be so lit."
Despite not being much of a drinker, young Kim actually went through a "wild phase," and dabbled into party drugs. "I got married on ecstasy. The first time," Kim admitted in a 2018 episode of "KUWTK" (via People). "I did it again, I made a sex tape. Like, everything bad would happen." She continued, "I'm not like that anymore. But I still have fun — don't get it twisted, I'm always the life of the party."
Source: Read Full Article