Here's How Piper Chapman's Story Ends on Orange Is the New Black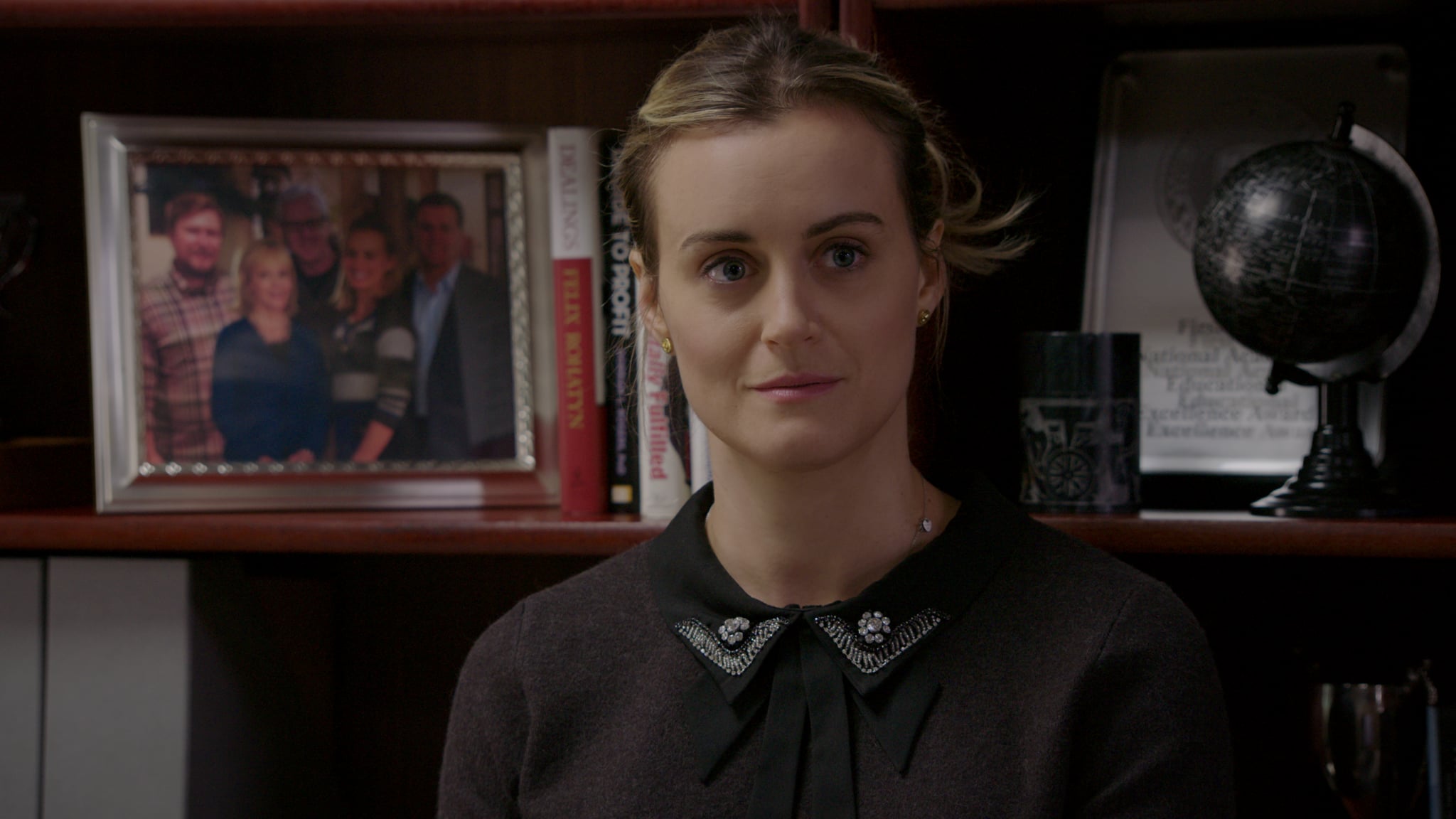 Warning: Plenty of spoilers ahead for the series finale of Orange Is the New Black.
At the end of Orange Is the New Black season six, Piper Chapman (Taylor Schilling) unexpectedly got out of Litchfield early. Good news, right? Well, it was bittersweet, because that means should would be away from her fiancée Alex Vause (Laura Prepon). We had some ideas of how Piper would still be in season seven, despite no longer being behind bars, but now there's no need for guessing. Here's how her story plays out.
Piper is living in a spare room with her brother, his wife, and their new baby. She's having a rough time with the living situation, in addition to finding a good job and keeping up with her probation requirements, not to mention she misses Alex.
Her dad has been giving her the cold shoulder, due to the whole prison thing, but he eventually lets her work in his office. It's not glamorous, but making copies and coffee is more stable than the tips she made serving at a restaurant that doesn't serve alcohol (which was part of her probation).
Piper visits Alex in prison a few times and stays in contact on the phone. One day, Alex tells Piper that she can sleep with someone else, although she ends up questioning her decision soon after that. So Piper sleeps with a man and woman, but she's not comfortable with either and just wants Alex.
It seems like Piper has gotten her life back together. She has a steady job, her parole is coming to an end, and she's feeling like herself again. But nothing stays great for long, as we've come to get used to on OITNB.
In the midst of the open relationship, Alex hooks up with CO Artesian McCullough and they begin somewhat of a romance. McCullough wants to continue their relationship, but Alex only wants Piper. So what does McCullough do? She shows up at Piper's house and sees that she was out with another woman, Zelda, although Piper stopped anything sexual from happening. McCullough tells Piper that Alex has moved on and clearly so has she, so they should end it now. Piper runs back to Zelda.
Then, Piper visits Alex in Litchfield to talk through everything. Alex says she doesn't have feelings for McCullough, but Piper has feelings for Zelda. However, it seems like they both want to make things work, even though Alex has another three years to serve out. But their time runs out before they can say everything.
Zelda tells Piper that she's going to Northampton for consulting gig for a few weeks and she wants her come. Then Piper visits Alex again, and she finds out that she's getting transferred to another facility in Ohio, thanks to McCullough. Alex thinks it's a good thing and tells her she hopes she finds someone else. However, what they're doing isn't working, although they both still love each other.
Piper shows up at the house of her ex-fiancé's Larry Bloom (Jason Biggs), who is still with Piper's old best friend.
"I don't what I'm doing here," she says when he opens the door. Piper starts crying to Larry about how Alex broke up with her. Larry gives her some tough love and talks her into a better place.
Alex goes off to Ohio and Piper decides to go to Northampton with Zelda. Piper continues getting her life back and has fallen back into her healthy lifestyle. Just when I (and probably the rest of fans) thought it was over for these two, Piper visits Alex at the Ohio prison. While they don't say what's going on with the two of them, they grab hands and don't stop smiling and laughing. Will they be together when Alex gets out? For our emotional states, we're assuming the best.
Source: Read Full Article