Kamala Harris Took On Joe Biden's Record On Race In A Dramatic Clash At The Debate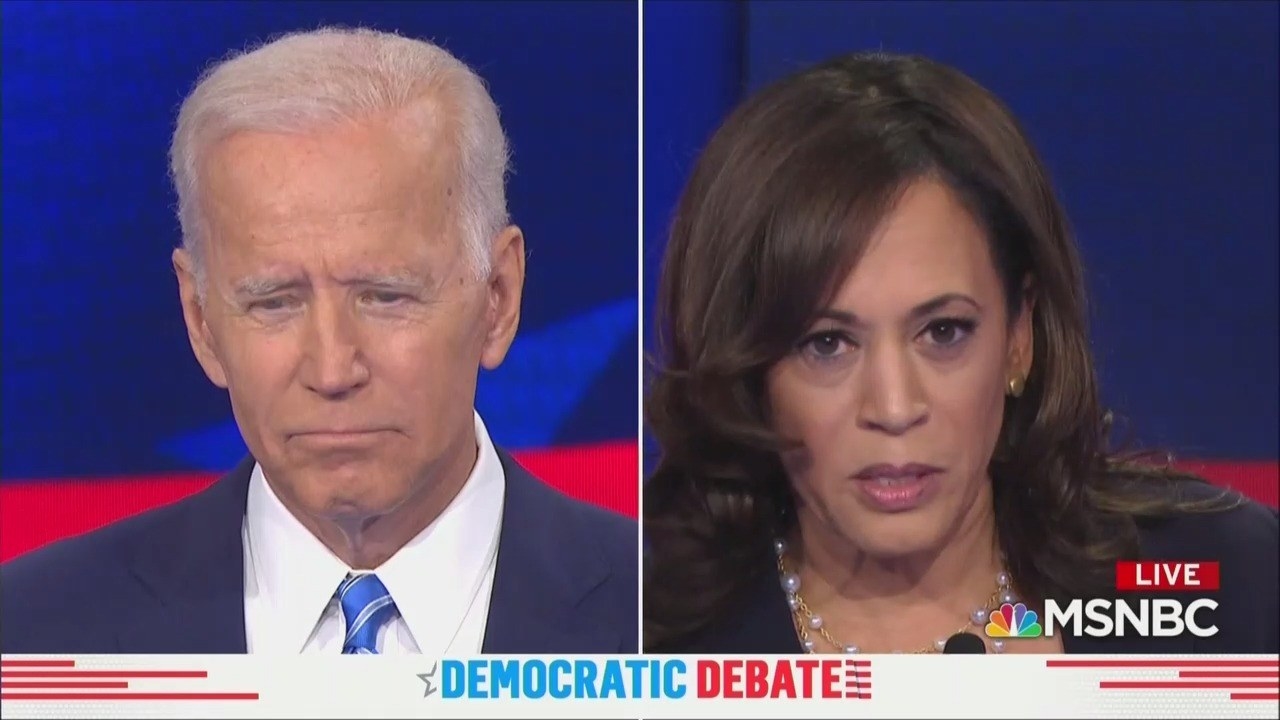 Sen. Kamala Harris criticized former Vice President Joe Biden's record on race at Thursday's Democratic debate, particularly his decision decades ago not to support a federal plan to use busing to integrate schools, in the most dramatic clash of the evening.
As a child in Berkeley, California, Harris said she was among the first black students to be taken by bus from their neighborhoods to attend what had been predominantly white schools. Though school segregation officially ended in 1954, communities across the US continued to effectively divide black and white children.
Busing changed that in Berkeley, Harris said, and the federal government should have required it in every city. Even in the liberal northern California city, it was almost two decades after the Supreme Court's Brown v. Board of Education decision before schools were actually integrated, she said.
"That's where the federal government should step in," she said. "That's why we have the Voting Rights Act, and the Civil Rights Act. That's why we need to pass the Equality Act. That's why we need to pass the [Equal Rights Act], because there are moments in history where states fail to preserve the civil rights of all people."
She then pressed Biden to answer on his past statements, pointing to her own childhood.
"Do you agree today you were wrong to oppose busing in American then?" she said.
In the 1970s, as a senator representing Delaware, Biden opposed busing in his state. In March, his spokesman Bill Russo told the Washington Post he stood by that position.
"He never thought busing was the best way to integrate schools in Delaware — a position which most people now agree with," Russo said. "As he said during those many years of debate, busing would not achieve equal opportunity. And it didn't."
At Thursday's debate, Biden said he believed the issue should have been up to individual communities, not the federal government.
"I did not oppose busing in America," he said. "What I opposed is busing ordered by the Department of Education."
He then pointed to his past work as a public defender, his support of the ERA and the Voting Rights Act, and his work in President Obama's administration.
"I ran because of civil rights," he said. "I continue to think we have to make fundamental changes in civil rights, and those civil rights, by the way, include not just only African Americans, but the LGBT community."
Watch the full exchange here.
Claudia Koerner is a reporter for BuzzFeed News and is based in Los Angeles.

Contact Claudia Koerner at [email protected].

Got a confidential tip? Submit it here.
Source: Read Full Article