LORENZ.OG is The Color Designer Lighting Up Your Favourite Kicks
The custom sneaker community might have blown up in popularity in the last few years, but it's there are some designers standing out among be masses with their bespoke approach to design. One man on a mission to do exactly that — and break away from the 'customizer' tag in the process — is Virgil Abloh-approved, UK color designer Lorenzo G Federici.
Over the last few years, Lorenzo has steadily built his own approach to sneaker design, with his pastel-colored panache having gone on to become a breakthrough hit on Instagram feeds all over the world. Using his trademark hand-dyed method on a slew of kicks and Arc'Teryx jackets, Lorenzo has built up a cult following of sneakerheads and streetwear enthusiasts, all eager to see which item his paintbrush will land on next.
Raised as an avid football fan, the St. Albans-born footwear connoisseur constantly searched for the season's finest boots and relished every moment from purchase to playing with a football at his feet. Alongside his love for the game, footwear played a prominent part in his upbringing, spearheaded by his schoolmates and their annual expeditions to London's Crepe City sneaker festival.
Lorenzo discovered a deep connection with
Shahinaz Alotaishan2 of 2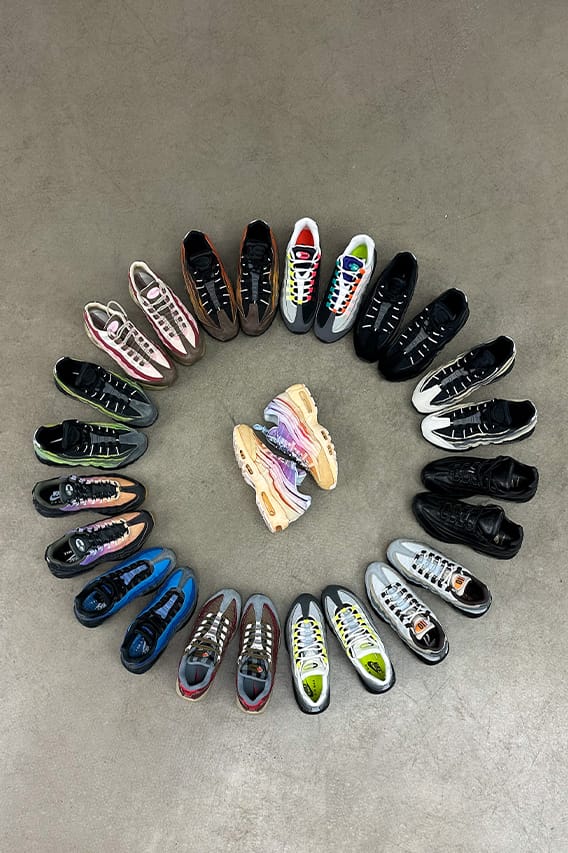 Shahinaz Alotaishan
Tell us the story behind the Air Max 95's that you've created using your custom dyeing method.
LF: I created the "Dusk" colorway a few months after I started doing this. I was always big on faded when it came to TNs, but during lockdown, I would always see crazy sunsets from out my window. As I'm really inspired by nature, Iwanted to replicate that fade and feeling of escapism. That was always my aesthetic since I started, using the detail inside color, stretching from one hue into the next in a subtle way.
After around five tries and studying the 'sunset' style colors, I found a process that I could try on so many different silhouettes. Originally I was doing an all-over "Dusk," but it gets copied the most on Instagram, so now I like to do "Dusk" in just one part of the shoe and then play around with the color in smaller sections. It's probably been my most well-known colorway to date.
You've previously created custom pairs for Drake, Lil Yachty, and Virgil Abloh. What was that process like?
LF: The experience with every one of those people was very different. When Drake happened I wasn't ready for it to happen, I wasn't taking it seriously. I wasn't popping on Instagram either, I didn't have a following. When Drake's manager approached me, it woke me up. I thought that I really needed to take it seriously and present myself in a proper way – because perception is everything when it comes to sneakers and life, really. If you're talked about because your pieces are worn by Drake, Virgil, and Yachty, then they perceive you with such a high level of respect, even if you're just a kid doing your thing. Drake was the moment when everything changed.
Lil Yachty was a sick one because it came a long time after Drake. Originally his friends had seen the CDGs that I had made and they wanted a pair. I saw that Yachty was coming to London last June because he had a show here. He messaged me because he saw a pair of the Jordan 5s that I had made and I told him to shout me when he was in London. I didn't even tell him what I was going to make for him. I bought about six pairs of shoes and did them all in a rush because he was coming within four weeks. We linked up and he was gassed with every pair, he studied them and he really got that feeling when you get a new pair of shoes.
The next day Yachty messages me just a screenshot of a conversation he was having with Virgil about my designs. He sent them a picture of the Off-White 5s that I made him, and Virgil absolutely loved them. Within a week Virgil followed me and we started speaking every day about my work. When I was so keen to show him everything I was working on, so I sent him a few new sample colorways I was working on and he simply replied "PATENTED COLORSCHEMES®". I've used that phrase to describe my work ever since.
View this post on Instagram

A post shared by LORENZO G FEDERICI (@lorenz.og)
With Virgil, it really didn't feel real. Straight away he sent me a pair from his The 50 Dunk collection because it was always his intention for people to dye them. Afterward, Virgil bought a pair of Air Max 95 CDGs from me in my "Raisin" colorway. I had also made a yellow Off-White Air Force 1 that I had planned to give him, but, unfortunately, he passed before we could meet up. It was such a hard loss to take because Virgil was sort of my mentor, and we'd formed this great relationship.
While working with the late Virgil Abloh, did you ever receive any advice on design that you would like to share?
LF: He suggested that we do an Off-White collaboration on handbags and heels and that really changed my perspective because I was always so focused on sneakers. When Virgil's first suggestion was for me to do something that wasn't in sneakers, I just thought that it was such a good idea because I could touch a whole new audience. That's something that I've been thinking a lot about since he suggested that and that is why the direction I want to go in now is a bit away from sneakers, as you can see with my work on jackets.
View this post on Instagram

A post shared by LORENZO G FEDERICI (@lorenz.og)
What has inspired you to continue your journey into sneaker design?
LF: I truly believe that this is the work that I'm meant to be doing and what inspires me is to continue exploring my own creativity and not having too much of a plan. I always want to do the best work I can and to stay true to myself. The best I can offer to the sneaker and fashion worlds is being myself in its truest form, so I just want to continue refining that and see where it goes. I like to trust in my faith rather than have everything figured out.
Do you have any exciting projects or collaborations in the pipeline?
LF: There will be something coming before the end of the year, my first physical drop.
In other footwear news, the Travis Scott x Air Jordan 1 Low OG WMNS "Olive" receives a release date.
Source: Read Full Article