Veronica Mars: All the Details You Need to Know About the Love Triangle in Season 4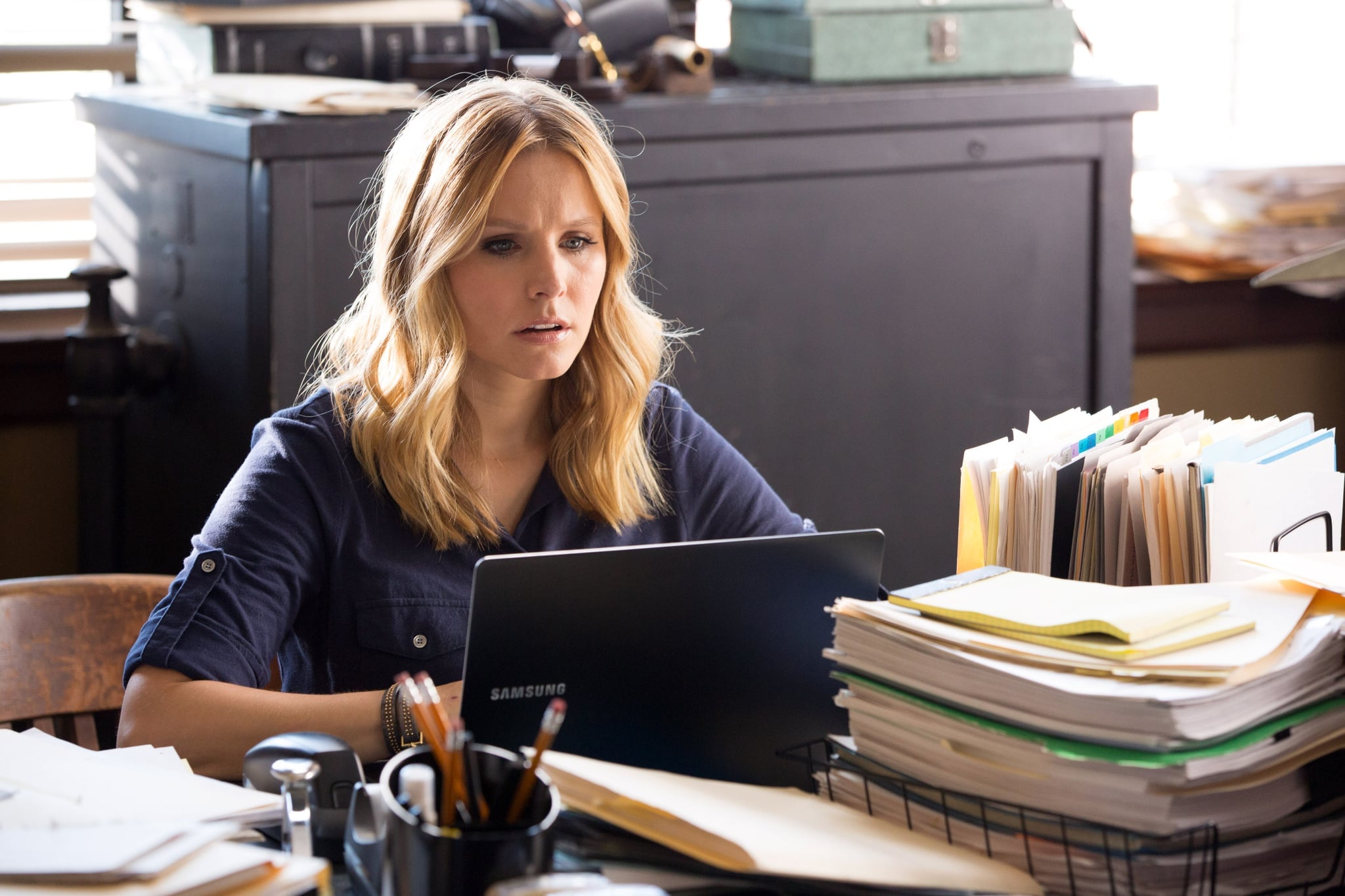 Warning: We've got spoilers for season four of Veronica Mars up ahead!
On Veronica Mars, Logan and Veronica's ship name might spell LoVe, but it doesn't mean that there can't be a love triangle. Max Greenfield's Deputy Leo D'Amato is officially back on the series' fourth season, only now, he's an FBI agent helping Veronica crack the Neptune bombings. Throughout the Hulu revival, we're pretty much wondering if Veronica and Leo will get together. Even with Logan's vastly improved maturity levels, it's not easy to shake off Leo's charms — his sweet-guy demeanor that's a total 180 from Greenfield's best-known role as the work hard, play hard Schmidt on New Girl. So does Veronica cave? Oh, she very nearly does, and we've got all of the piping hot spoilers ahead.
Uncannily enough, it all begins with a pizza delivery in episode four. Things are shaky between Veronica and Logan, because although she loves him, Veronica rejects Logan's marriage proposal. Shortly after, Leo pops up at her door with a pizza but it's only Logan who's home. He's definitely a blast from the past: Veronica has as much history with Leo as she does with Logan, as he had worked with her father as Deputy Sheriff. Whenever she needed information from him, Veronica, as Leo mentions, would bring him food. It turns out that he's back in Neptune with the FBI to work on the bomber case, and how much time they spend together slightly irritates Logan.
Veronica gets close to hooking up with Leo, a fresh divorcee. They bump into each other at Nicole's bar, where they have a grand old time drinking and dancing together . . . to Billie Eilish. As he walks her home, they talk about how he hasn't seen The Big Lebowski. When they get to her place, they hear some clattering. It turns out to be Matty, and it's implied that something could have maybe happened if the teen sleuth wasn't around. Still, Veronica insists to everyone that they're just friends, though Leo propositions her to watch The Big Lebowski the next day, even going as far to inviting himself at her place since she has a special DVD. It's definitely weird, so Veronica firmly replies to Leo with a hard no.
There's a sequence where Leo pops up at her house and shares a passionate night with her, which, of course, turns out to be a wild sex dream. Right before leaving, Leo eventually apologizes to her, and the two of them hug it out. Right after accepting Logan's proposal, Veronica divulges in a voiceover that she realized how much she loved Logan since he was the only person she thought of after the sex dream and almost getting killed at Carol's cabin.
But is Leo completely out of the picture? Maybe not. Nice things don't last for too long in Neptune, and Logan's heartbreaking fate could leave an open door for Veronica and Leo, should the series pick up after its fourth season.
Source: Read Full Article