'Friends Reunion': Did Courteney Cox and Tom Selleck Date in Real Life?
Finally — Friends: The Reunion is available to stream. After years of rumors, fans can dig into the nearly two hours of footage which includes guest stars, a table read with the cast and behind-the-scenes tidbits. Of those guest stars is none other than Blue Bloods royalty Tom Selleck who appeared over three seasons of the sitcom as Monica Geller's (Courteney Cox) boyfriend. Did Selleck and Cox date in real life?
Tom Selleck and Courtney Cox dated on 'Friends'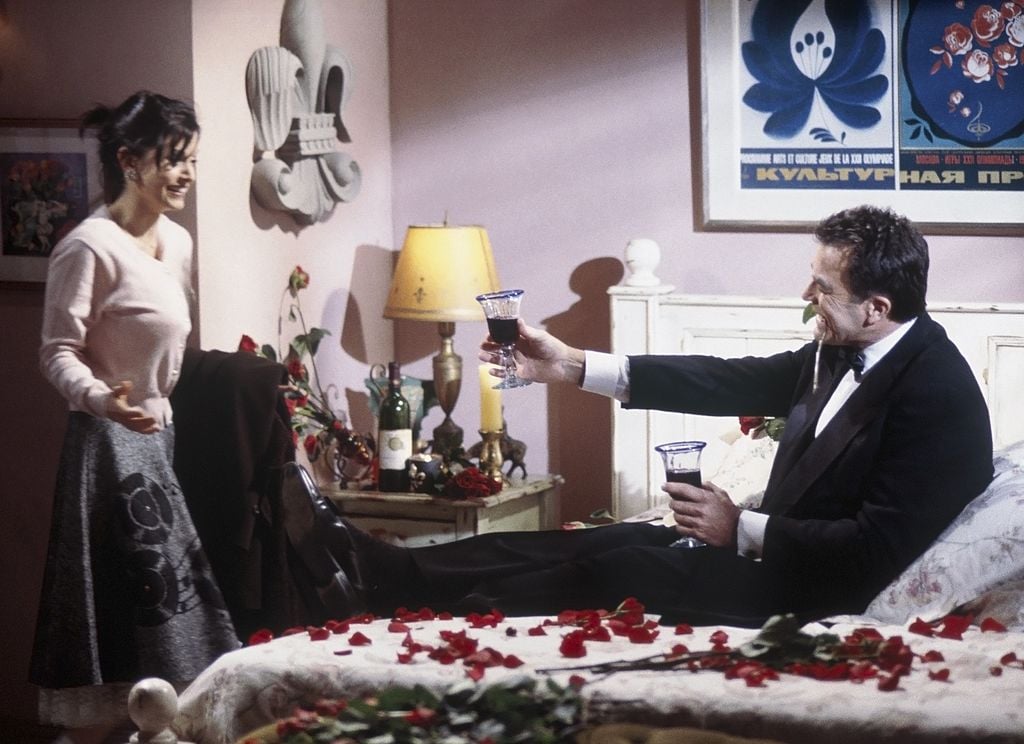 In season 2 of Friends, Selleck came on to star as Dr. Richard Burke, an ophthalmologist 20 years Monica's senior. The two knew each other long before, but it's not until Monica caters one of his events does he begin to see her as something more.
Through the course of three seasons and 10 episodes, Richard and Monica's love story developed but their age difference — and Monica's desire to have children — ultimately ended things.
Monica and Richard attempted reconciliation at a later point but by then, it was too late and their differences were even more of an obstacle. Still, Selleck became such a fan favorite, he had to re-shoot his entrance scenes due to the massive crowd reaction.
Did Selleck and Cox date in real life?
While Monica and Richard dated on Friends, Cox and Selleck never had a relationship outside of the show. In fact, Selleck has been happily married to Jillie Mack since 1987.
Selleck met his wife when she appeared in Cats and things blossomed from there. The notoriously private couple only allowed Polaroids on their wedding day and remain private to this day.
At the height of Selleck's popularity (Magnum P.I. days), he stepped back to focus on his marriage and family life.
"I worked 90 hours a week and did a movie every break. I quit Magnum to have a family," he told People in May 2012. "It took a long time to get off the train, but I try very hard to have balance, and this ranch has helped me do that." He added, "My first priority is time with my family."
He continued, "It's important to nurture your marriage. I think wanting time away from work has been good for that."
Years later, he's only fallen more in love with his wife.
"I think love has gotten deeper. Simpler. I have a wonderful wife," he told GQ in September 2014. "There's just not a lot of bulls**t. We know we love each other. We both keep busy with stuff. Both of us get [mixed] up with whether our anniversary is 8/7/88 or 8/8/88. Jillie doesn't get offended. Jillie's obviously of this business, you know—her background. She understands that."
Likewise, Cox married Scream costar David Arquette in 1998 further emphasizing she and Selleck had nothing but a professional working relationship.
'Friends: The Reunion' has plenty of other guest cameos
As of now, the reunion special is available to watch on HBO Max. Selleck isn't the only one making a return appearance. Reese Witherspoon, Maggie Wheeler, James Michael Tyler, Elliot Gould, Christina Pickles, Larry Hankin, Thomas Lennon, and more, pop in to celebrate.
That said, the cast of Friends said they'll never do another public reunion again.
"Honestly, this will really make me cry, but this will be the last time that we're ever asked about the show as a group that we will do this," she said. "Like, we're not going to do this again in 15 more years," Cox said at the end of the special.
Friends: The Reunion is available to stream on HBO Max now.
Source: Read Full Article