Christina Aguilera Is Releasing Two New Albums. Heres What We Know
Since making her mark on the music scene in the late 1990s, Christina Aguilera has cemented herself as one of the 2000s' most celebrated pop stars. According to Chart Masters, her first two studio albums — "Christina Aguilera" and "Stripped" — sold over 22 million copies combined, getting her career off to an incredible start.
As noted by Billboard, Aguilera has scored herself seven top 10 albums on the .U.S Billboard 200, two of which reached the top spot. On the U.S. Hot 100 singles chart, she has racked up 5 No. 1's and 11 top 10's. At the Grammy Awards, the powerhouse vocalist appears to be well-respected as she has taken home five golden trophies after being nominated an impressive 20 times. 
Aguilera's last studio album, "Liberation," dropped in 2018 and peaked at No. 6 on the U.S. Billboard 200. The LP featured collaborations with a bunch of high-profile names, some of which included Demi Lovato, Ty Dolla Sign, and 2 Chainz. In a recent interview, the "Come On Over Baby (All I Want Is You)" hitmaker has shared the exciting news that she is working on not one, but two new albums. Keep reading to find out more.
Christina Aguilera has an English and Spanish album on the way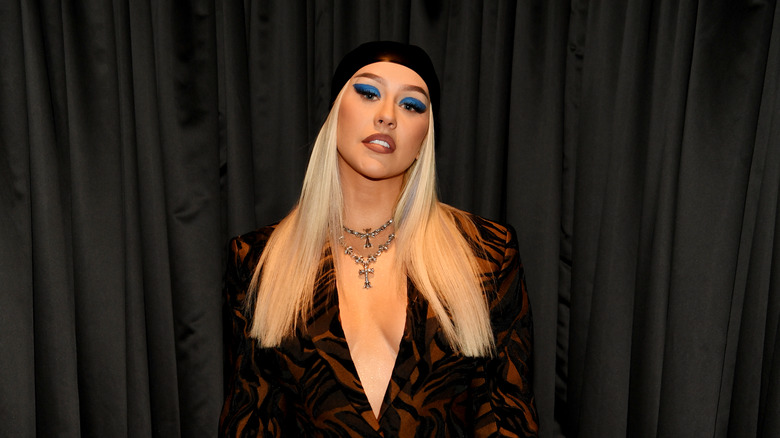 Demand for a new Christina Aguilera album is expected from fans. With that being said, the Grammy Award winner has revealed she is wasting no time and will be treating fans with TWO new records. In a July 2021 interview with TooFab, the "Dirrty" chart-topper has revealed one will be another English LP, while the other will hear her revisit her Latin roots and be in Spanish.
"I've always kind of inserted different styles within my albums," Aguilera said, adding, "The last record kind of explored me coming out of a time where I was feeling like I was coming out of a place where I wasn't so happy and I wanted to rediscover who I was as an artist and being able to do that again and have the freedom to do that, so now I'm in really great place." The two upcoming releases are "two different feels." She joked she was a "freakin' teenager like baby" when her first Spanish album "Mi Reflejo" came out. The outlet notes fans can expect a more mature sound in 2021.
"I'm culturally exploring my roots a little bit more, I'm singing about my father and that's kind of always been sort of an interesting, private but layered topic for me," Aguilera continued. "So I'm really exploring that on the Spanish side with a really special song, and hopefully the fans will really appreciate that honesty and love, coming from the place I am now."
Source: Read Full Article