Everything We Know About Doja Cat's New Album
It's quite fair to say that Doja Cat has been living the high life over the past couple of years. The "Like That" hitmaker released her debut album, "Alama," in 2018 and has since found herself performing on some of the biggest stages in the world.
Doja Cat's 2019 sophomore LP, "Hot Pink," took her career to new heights and includes some of her biggest hits to date. According to Billboard, "Say So" became her first chart-topper on the US Hot 100, while the album became her first top 10 entry on the US Billboard 200. At the 2021 Grammy Awards, Doja Cat earned herself three nominations — Best New Artist, Best Pop Solo Performance, and Record of the Year for "Say So." 
In 2021, Doja Cat made Forbes' "30 Under 30" music list at the age of 25. In April of the same year, she released "Kiss Me More" with R&B singer SZA, which will be taken from her upcoming third studio album. Since dropping the song, Doja Cat has revealed what fans can expect from the highly-anticipated project. Keep reading to find out more.
Doja Cat has bagged herself some A-list collabs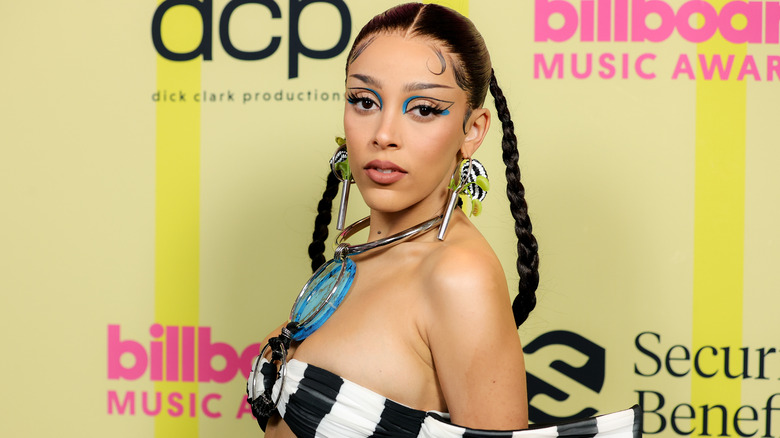 After teasing the album for some time, Doja Cat has announced via Instagram that her third studio album, titled "Planet Her," will be released on June 25. The "Streets" hitmaker attached the official artwork where she appeared nude with glitter on her body in front of a futuristic backdrop. The snapshot attached saw Doja Cat floating in the air, wearing a white NASA jacket. For her caption, she credited iconic photographer David LaChapelle.
"Planet Her" will consist of 14 tracks, five of which include features on them. Along with the already-released hit "Kiss Me More" with SZA, there is a song called "Pay Day" with rapper Young Thug and another titled "Options" with JID. Doja Cat and powerhouse vocalist Ariana Grande have already worked with one another a couple of times and will give fans one more song together titled "I Don't Do Drugs." Also, after appearing on the remix of The Weeknd's "In Your Eyes," the duo are back with "You Right."
In a 2021 interview with SZA for V magazine, Doja Cat discussed the upcoming features with her fellow collaborator. "It's people that I respect and I'm extremely excited about having on the album and it's a full-circle moment for me, basically," she said, adding, "Just knowing that I have you on it is just sexy. It's perfect. I feel confident. It doesn't feel like something out of myself, you know? I feel like I'm doing what I want to do."
Source: Read Full Article