Rappers Who Said Theyre Ashamed Of Their Past Lyrics
Those who've tried their hand at songwriting, painting, or another art form, then stuck with it until they dramatically improved, probably cringe at their early work. Because usually, one's first crack at creating art reveals the efforts of a novice since, more than likely, that person hasn't established their own style yet. And that means many artists will often be extremely critical of their first few creations since it may be hard for a person to ignore whatever errors were made.
But there are other artists who are critical of their work because they're ashamed of a past lyric or don't like a certain project they released for various reasons. It often happens with songwriters, rappers included, because after getting older and having enough space from a song, some rappers said they felt differently about what they said or thought they could've done better with their album. So here it is: Rappers who've admitted to being ashamed of their lyrics, with some of them claiming they didn't feel like their album was up to snuff.
Jay-Z can't stand his former outlook on women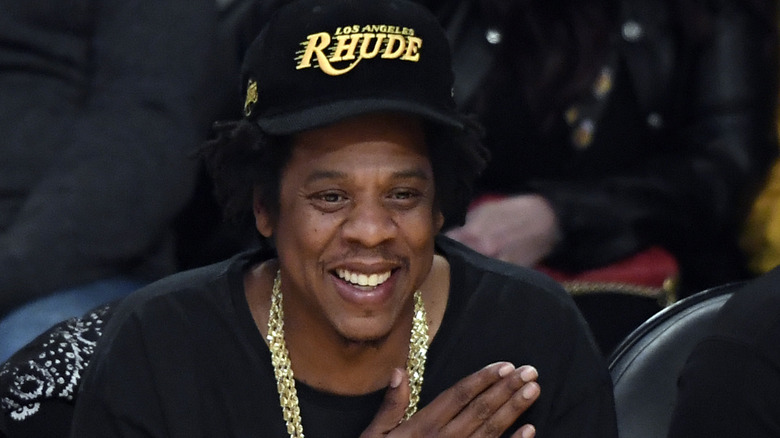 What a difference age, millions of dollars, and a bit of refinement can make, which seems to be at least partially why Jay-Z felt differently about the lyrics to his 2000 song "Big Pimpin'" 10 years after its release. Because in 2010, while the rapper was promoting his book "Decoded," which breaks down his lyrics and songwriting approach, he talked about how some of his lyrics are  "profound" but not the words in "Big Pimpin.'" But before we get into how Jay-Z felt about the popular single, let's dive into some of the lyrics and overall concept.
In short, Jay raps about keeping beautiful women around for occasional flings but nothing else, and if things even begin to resemble a relationship or a woman expresses dissatisfaction in any way, he's "breezin," as he puts it, meaning he's not sticking around for anything short of a good time. "Me give my heart to a woman? Not for nothing, never happen," he raps in the song. "It was like, I can't believe I said that. And kept saying it," he told The Wall Street Journal about "Big Pimpin.'" "What kind of animal would say this sort of thing? Reading it is really harsh."
Mac Miller talked about his lyrics lacking substance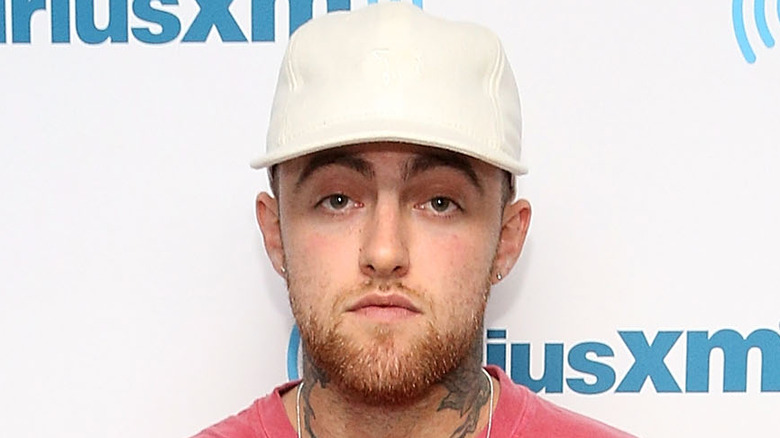 One of the things that late Pittsburgh rapper Mac Miller was known for was his work ethic because there are stories of him being holed up in his home studio for incredibly long periods of time with little to no breaks in between. For example, in 2013, Miller told Complex that while working on his 2012 jazz EP "You," he spent two straight weeks in the studio without showering. And in that same interview, he talked about his debut album "Blue Slide Park," released in 2011, and said he didn't care for the lyrics in the songs""Up All Night" and "Party on Fifth Ave," which both have words dedicated to having wild, careless fun. 
And those songs are different from the cuts that Miller made afterward since he wrote verses that had depth and were full of introspection, something that he obviously felt "Up All Night" and "Party on Fifth Ave" lacked. "I can't make 'Up All Night' right now," he explained to Complex. "That's the only record I regret. 'Party on Fifth Ave' — great song, I guess. It's fun. But when I listen to that song and those verses, I hear nothing. I don't say anything." 
Presumably to the shock of many, Miller died on September 7, 2018, at 26 after accidentally overdosing on cocaine, fentanyl, and alcohol. And although the rapper was only famous for only a handful of years, he left a giant-sized mark on music that'll probably never be rubbed out.
Rick Ross lost a major business partner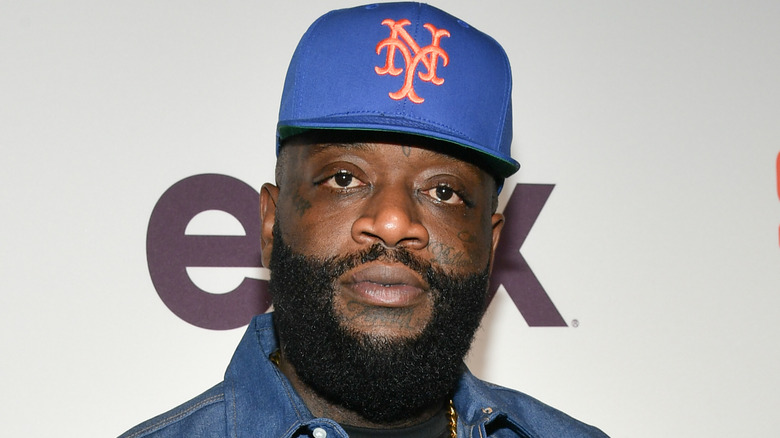 The beaches in Rick Ross' hometown of Miami are known to have some nice, warm water for swimming (considering the year-round tropical temps), but those sun-baked waves are nothing compared to the hot water Ross found himself in after rapping an ultra-creepy lyric. "Put Molly all in the champagne/She ain't even know it/I took her home and I enjoy that/She ain't even know it," he rapped on Atlanta rapper Rocko's song "U.O.E.N.O." 
"Molly" is the slang term for the drug MDMA, and Ross of course was blasted for the lyric on social media. But his response, considered cold by many, made things worse for him. "I don't condone rape. Apologies for the lyric interpreted as rape," tweeted the rapper.
Then in April of 2013, Reebok, one of Ross' business partners, ended their relationship. "Reebok holds our partners to a high standard, and we expect them to live up to the values of our brand. Unfortunately, Rick Ross has failed to do so," the company said in a statement given to TMZ. While we do not believe that Rick Ross condones sexual assault, we are very disappointed he has yet to display an understanding of the seriousness of this issue or an appropriate level of remorse." Shortly after, the Florida rapper gave a full-on apology and showed a lot more contrition. "To suggest in any way that harm and violation be brought to a woman is one of my biggest mistakes and regrets," he said in a statement.
Iggy Azalea called one of her lyrics 'tacky and careless'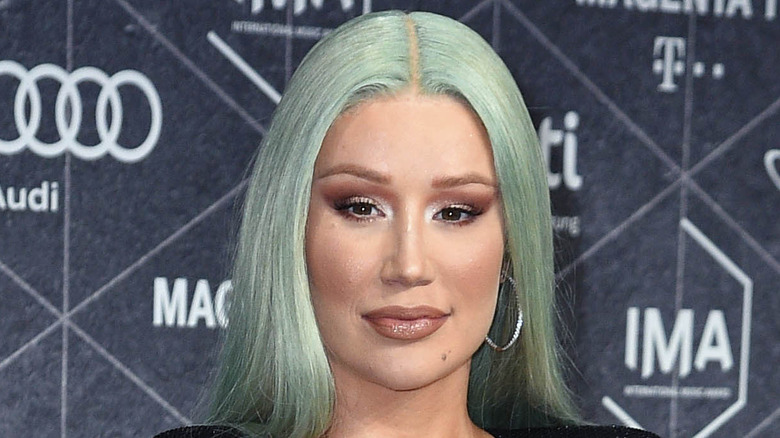 Even before Iggy Azalea broke onto the scene with her album "The New Classic" in 2014, she's had to deal with a lot of criticism on social media, whether it was from rival rappers, music critics, or just the general public. Plus, more times than not, Azalea stood her ground and shot back. But in 2012, she took a different approach after many were offended by a line in her song "D.R.U.G.S.," featuring Los Angeles rapper YG. "Tire marks, tire marks / Finish line with the fire marks / When the relay starts, I'm a runaway slave master," she rapped.
Some considered the line racist toward Black people due to Azalea, who's White, using the word "slave master," and Harlem rapper Azealia Banks was one of the first to call her out. So eventually, Azalea issued an apology letter, which was posted to MissJia, then published by HipHopDX. According to the Aussie artist, "D.R.U.G.S." was inspired by rapper Kendrick Lamar's song "Look Out for Detox" and she played off his words. "This is a metaphoric take on an originally literal lyric, and I was never trying to say I am a slave owner," Azalea explained. She also called her line "Tacky and careless," while saying, "I regret not thinking things through more."
J. Cole said he should've known better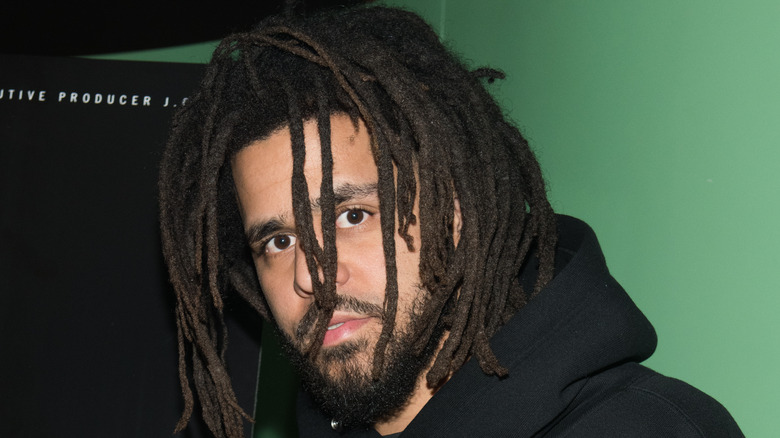 In author Junot Díaz's epic novel "The Brief Wondrous Life of Oscar Wao," he writes, "But if these years have taught me anything it is this: you can never run away. Not ever. The only way out is in." Basically, Diaz is saying although confronting a problem head-on is daunting, it's what you have to do to conquer it, so you can move forward. Now, whether North Carolina rapper J. Cole read Díaz's book is unclear, but he sure seemed to use his reasoning to address some backlash he received after delivering an offensive line on Drake's 2013 song "Jodeci Freestyle."
First, Cole calls himself "artistic" in the line, then says his competition is "autistic," as well as "retarded." He was obviously playing off the similar words of "artistic" and "autistic," but many didn't find his wordplay clever, just offensive. "Last week, when I first saw a comment from someone outraged about the lyric, I realized right away that what I said was wrong," wrote Cole in a now-deleted blog post, captured by Rolling Stone. "I was instantly embarrassed that I would be ignorant enough [to] say something so hurtful. What makes the crime worse is that I should have known better." Cole then said that he hopes those in the autistic community can forgive him, writing they all "Deserve medals."
The Beastie Boys grew up
The Beastie Boys have released some well-received albums during their impressive career, namely the masterful "Paul's Boutique" but one could say that no matter how much Adam "Ad-Rock" Horovitz, Michael "Mike D" Diamond, and the late Adam "MCA" Yauch grew as artists over the years, it's hard to forget that image of them as wild, crazy, frat-guy types. That mainly has to do with their 1987 song "(You Gotta) Fight for Your Right (To Party!)" and the accompanying video since it shows them as rebellious young people eager to anger parents everywhere.
The song was off the group's smash debut "Licensed to Ill," which was supposed to have another name that was super offensive but was eventually changed. And on that same album, the Beasties spewed some homophobic lyrics that they regretted years later, like on the song "Hold It Now, Hit It," where they said, "You drippy nose knucklehead, you're wet behind the ears, you like men, and we like beer." 
"I would like to formally apologize to the entire gay and lesbian community for the sh*ty and ignorant things we said on our first record," wrote Horovitz in a 1999 letter for Time Out New York, which was shared by Entertainment Weekly. "There are no excuses. But time has healed our stupidity … We have learned and sincerely changed since the '80s … We hope that you'll accept this long overdue apology." It's crazy what a little maturing can do, right?
Lil Wayne apologized to an entire family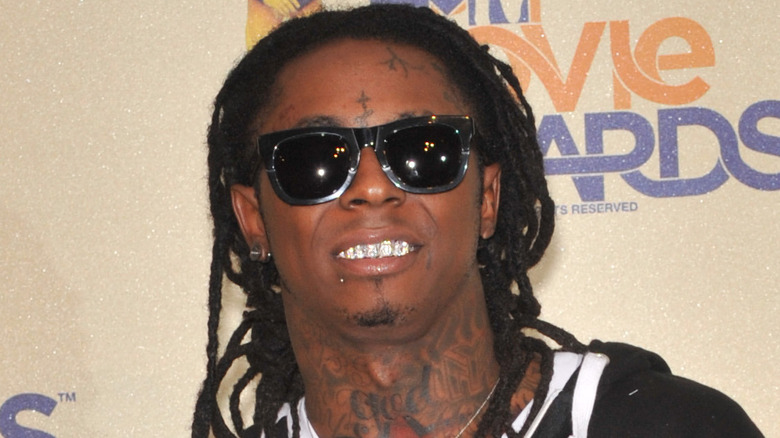 In August of 1955 Emmett Till, a 14-year-old boy who was Black, was kidnapped, beaten, and murdered by a white husband in Money, Mississippi, who believed he made an aggressive pass at his wife. The man's half-brother also helped commit the murder, but they were both acquitted. Then one year later, according to Biography, they admitted to the crime, and in 2007 Carolyn Bryant, the woman who claimed that Till flirted with her, said she lied about the whole thing. The savage act committed against Till helped spark the civil rights movement, with activist Rosa Parks once saying, "I thought of Emmett Till and I couldn't go back [to the bus]," speaking about her famous 1955 protest.
Throughout the years, rappers like OutKast have honored Parks for what she did on that bus and some have also paid tribute to Till. So it seemed like a shock to many after Lil Wayne used Till's tragedy to describe what he would do during sex on Future's 2013 song "Karate Chop." Then after heavy backlash, Wayne's label Epic Records issued an apology to Till's family and so did Wayne, saying he regrets the hurt he caused. "Moving forward, I will not use or reference Emmett Till or the Till family in my music, especially in an inappropriate manner … I will not be performing the lyrics that contain that reference live and have removed them from my catalogue," he wrote, according to Rolling Stone.
Eminem thought he went too far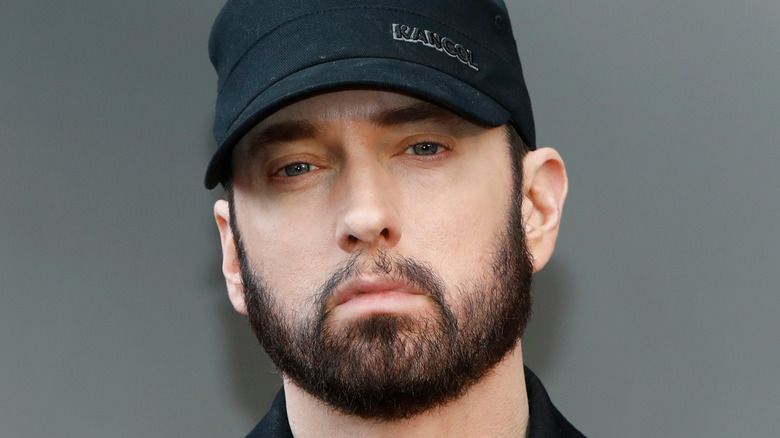 If there's anyone in hip-hop who never seemed big on expressing regret, it's Eminem because when he broke onto the scene in the late '90s, he offended many with his lyrics, and in 2001 he was protested by gay-rights groups at the Grammys. But many years and millions of albums later, Eminem showed that he'd changed some because he was regretful about a lyric that he aimed at California rapper Tyler, the Creator on his 2018 song "Fall." It was after Tyler implied that he's gay and that he hated Eminem's 2014 compilation album "Shady XV." "Tyler create nothing, I see why you called yourself a f****t, b****h," rapped Eminem.
Then during a 2018 interview with Sway Calloway, Eminem said that he wanted to get back at Tyler for speaking badly about his album but stepped over a line. "I think the word that I called him … on that song was one of the things where I felt like, this might be too far," he explained. "Because in my quest to hurt him, I realize that I was hurting a lot of other people by saying it … It was one of the things that I kept going back to and going, 'I don't feel right with this.'"
Kanye West did it for the money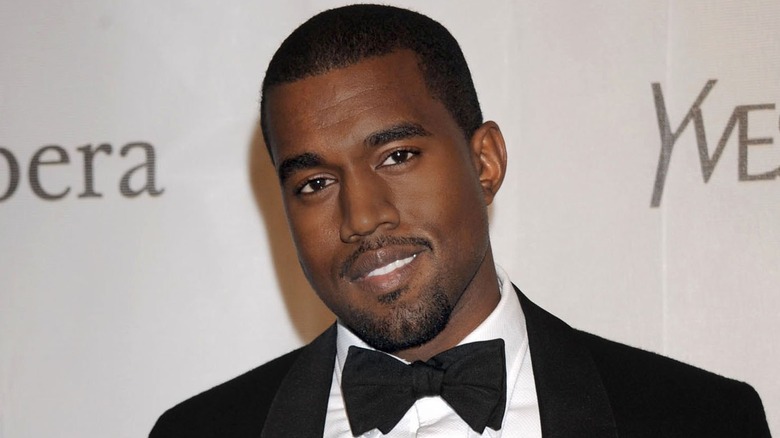 Sometimes when an artist says he or she doesn't like one of their songs, it has to do with it not charting well, but Kanye West didn't like his 2005 single "Gold Digger" that spent 39 weeks on top of Billboard's Hot 100 chart. "I never really liked that song, but I knew I would get paid for doing 'Gold Digger,'" he told Zane Lowe on Beats 1 in 2013. The song is off West's sophomore release "Late Registration," and according to Complex it was originally meant for fellow Chicago rapper Shawnna but she passed on it.
"Gold Digger" also features Jamie Foxx singing part of Ray Charles' 1954 song "I've Got a Woman." In fact, West decided to include Foxx on the song after seeing him play Charles in the film "Ray," considering the actor sounded almost identical to the R&B icon. Plus, Jon Brion, the famous producer known for working with Fiona Apple, co-produced the song with West and they both laid down a solid foundation for it on their first day of recording. "I was playing something on a track and he was completely psyched, and then he left after a few hours and said, 'I'll see you tomorrow,' " Brion told MTV in 2005. That being said, one has to wonder how Brion felt after West said that he didn't like "Gold Digger," right?
Big Sean said that his lyrics are hurtful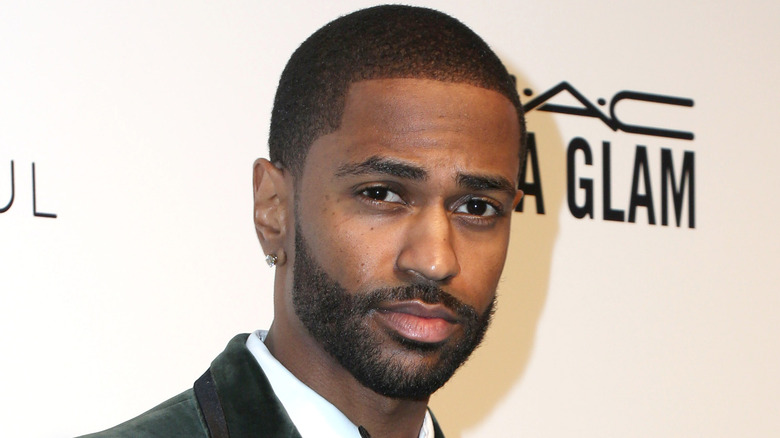 Big Sean and late actress Naya Rivera started dating in 2013 after meeting on Twitter and got engaged afterward. But by April 2014, they parted ways, which was confirmed by Sean's representative. Then a few months later, the Detroit rapper released a song called "IDFWU," featuring E-40 that many assumed was about Rivera based on the lyrics. "I heard you gotta new man/I see you takin' a pic/Then you post it up, thinking that it's making me sick/I see you calling I be making it quick," Sean raps. The song created plenty of controversy, which died down over time and eventually, there wasn't much talk of it or the former couple's split.
But that changed on July 8, 2020, after Rivera died by drowning in California's Lake Piru because many brought up her past relationship with Sean, as well as "IDFWU." Later, the rapper said that he regretted making the cut because of everything that his ex accomplished. "She's made such an impact on people, and she's done so many great things in her life and her career that it was hurtful to even have that [song] be associated with her," he told Vulture in 2020. Sean also said that he played the song to Rivera before it was released and she "liked" it. But from here on, it's probably safe to assume that he won't be performing "IDFWU," because it would be super awkward, not to mention wrong.
Meek Mill was blasted by a hoop legend's wife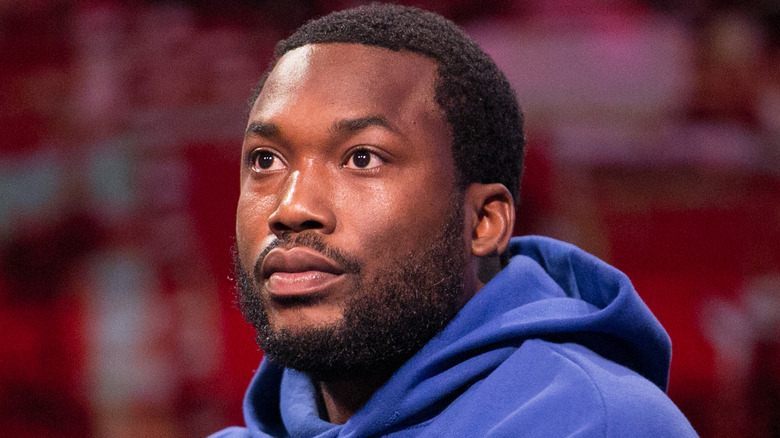 Meek Mill found himself in a world of controversy for delivering a line in an unnamed song that many considered tasteless, including Kobe Bryant's wife Vanessa Bryant. Because in February of 2021, Mill released a snippet of a cut that features Atlanta rapper Lil Baby, and in one of the lines he referenced Kobe's death. "I'll go out with my choppa it'll be another Kobe," rapped Mill. For those not in the know, a chopper is slang for a large automatic weapon, like an AK-47, that when fired sounds like a helicopter, hence the name.
Of course, many found Mill's line super offensive since Kobe died in a helicopter accident around Calabasas, California on January 26, 2020, with his 13-year-old daughter Gianna Bryant and seven others. Then on February 22, 2021, Vanessa sent a message to Mill on Instagram Stories, published by HotNewHipHop, writing, "Dear @meekmil, I find this line to be extremely insensitive and disrespectful. Period," she wrote. "I am not familiar with any of your music, but I believe you can do better than this. If you are a fan, fine, there's a better way to show your admiration for my husband. This lacks respect and tact." Mill responded to Vanessa, as well as the overall backlash, and on the following day tweeted that he "apologized" to her offline. 
Method Man wished that Diddy didn't produce his album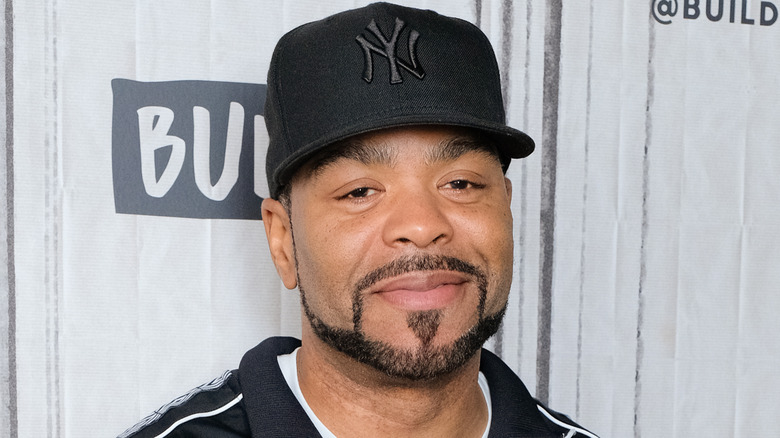 If you look at Method Man's career in 2021, it's quite different compared to when he first hit the scene with his group the Wu-Tang Clan in the early '90s. Because these days, besides being a highly respected rapper, Method is also a successful actor, a game show host, and one doesn't have to know the least thing about rap music to know who he is. But in his younger days, Method had a gritty image that had a no-frills approach to rapping.
So that's probably why many seemed shocked when Sean "Diddy" Combs was tapped to produce his third album "Tical 0: The Prequel," released in 2004. Since Diddy's overall brand is associated with opulence and all things glittery, it seemed he'd be the last one to help Method concoct his hard-edged songs. The rock and roll equivalent would be like one of the glitzy hair-metal bands of the '80s producing a cut for Kurt Cobain, the face of grunge music. 
Although Method didn't say that he was ashamed of the lyrics that he wrote on his album, he didn't care for the LP at all. "I wasn't true to myself [on 'The Prequel'] for the simple fact that, look at who I was working with," Method told MTV in 2006. "I'm not trying to take nothing away from Puff … But Puff with Meth don't mesh. We don't party the same way."
Machine Gun Kelly doesn't want to be a cookie-cutter artist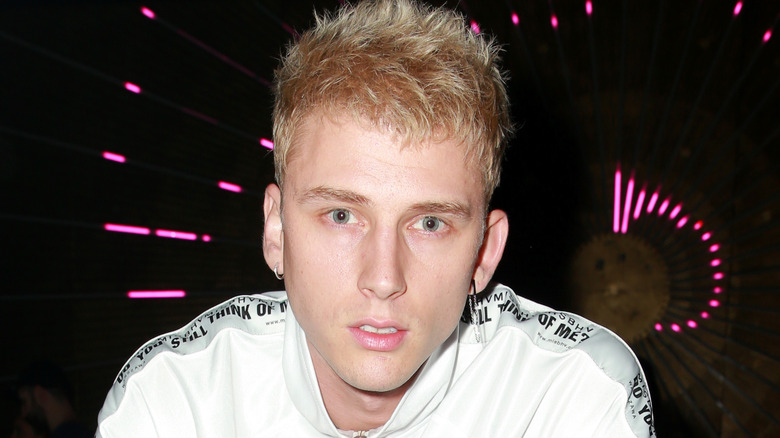 In rap music, just like in most genres, there are two kinds of artists: The ones who seem to enjoy songwriting, and the ones who seem to focus more on the business end of things and could care less if they write a song or not, as long as it charts well. Machine Gun Kelly appears to be the kind of artist who's into songwriting because he was bothered that his label Interscope Records forced him to do a song that was halfway done before it got to him. The single is 2012's "Invincible," featuring his former labelmate Ester Dean and produced by Alex Da Kid, which is on Kelly's debut album "Lace Up."
The way it appears, the suits at Interscope wanted to ensure the Cleveland rapper had a hit on his first album and release something that would be extremely palatable and constantly played on the radio. But although Kelly didn't say he was ashamed of the lyrics that he penned for the song, he didn't like not being able to work with Dean in person, as her vocals were already on the chorus and he wasn't in the studio with Alex Da Kid either. "I don't operate like that. I hate cookie-cutter songs … I write all my hooks," said Kelly on Tampa Bay radio station WILD 94.1, per HipHopDX. "So when I got this hook I was offended. You guys think I'm a cookie-cutter artist. I don't work like that."
Drake wanted to write lyrics that reflected his real life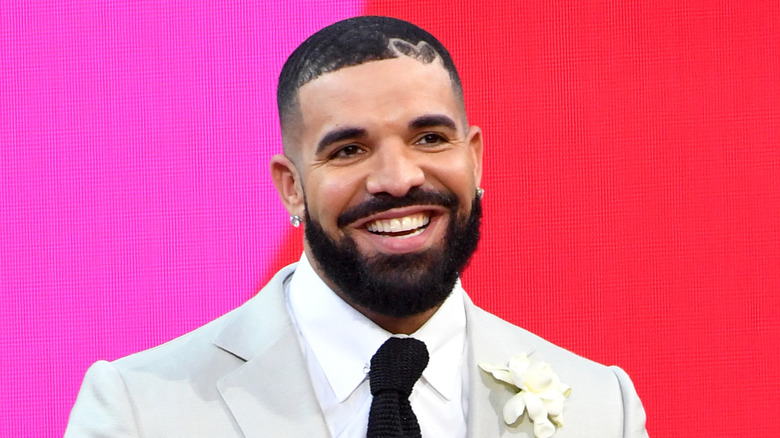 When Drake was talking about the release of his sophomore album "Take Care" in 2011, he told The Los Angeles Times the lyrics "were really important" to him, while implying that wasn't the case with his debut LP "Thank Me Later." In fact, the Canadian rapper said he wasn't all that fond of his first album and wish he had more time to craft it. "To be 100% honest, I wasn't necessarily happy with 'Thank Me Later,'" Drake admitted. "People loved it [but] I just knew what I was capable of with a little more time … When you get a young artist and they are on the rise, often the music becomes not what they have going on in their lives or surrounding things, but it starts to lose substance."
But as Drake said, people loved "Thank Me Later," as it spent a ridiculous 92 weeks on Billboard's album sales charts, peaking at number one. The album also helped usher in a new era in hip-hop music, where a male rapper can show sensitivity without being criticized or called weak. And that's not bad for an album that Drake didn't wholly like.
Source: Read Full Article