The Original Lead Singer Of No Doubt Wasnt Gwen Stefani
Gwen Stefani is a superstar. From her high-profile marriages to Gavin Rossdale and, now, Blake Shelton to her acting career and hosting gig on "The Voice," everything Stefani does makes headlines. 
And as fans of the longtime singer know, it all started with her breakthrough role as the lead singer of No Doubt. Their album, "Tragic Kingdom," was a 1990s mega-smash, and gave us such sing-along songs as "Don't Speak," "Just A Girl," "Spiderwebs," and "Sunday Morning" — tunes that still hold their importance today. And, as Gwen revealed in an interview with People, the whole album was about her breakup with No Doubt bassist Tony Kanal. "The whole purpose for the Tragic Kingdom is the breakup, the heartbreak. There's a lot of feelings," Stefani said. "Even in that record, when you say the words 'tragic kingdom,' my heart still kind of is broken. 'Cause those songs were about a really sad time for me."
But did you know that the original lead singer of No Doubt wasn't Gwen Stefani? We decided to do some research and find out who the first lead singer of No Doubt was when they first started in the 1980s.
Inside the tragic origin of No Doubt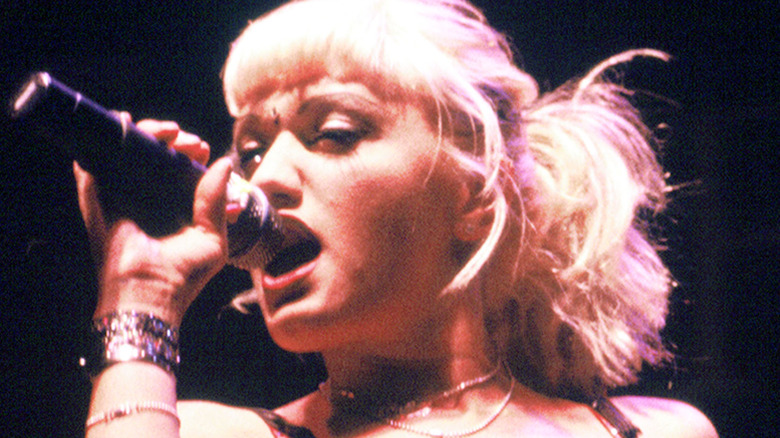 Newer fans of No Doubt might not know that the original lead singer was a man by the name of John Spence. He was a friend and co-worker of Gwen's brother, Eric Stefani, and in 1986, the duo decided to form No Doubt on a whim, with Spence inspiring the name because he often said, "no doubt," according to Rolling Stone. As Eric told the OC Register, Gwen Stefani only occasionally did backing vocals.
Sadly, in December 1987, John Spence died by suicide, just a few weeks before No Doubt (in its original lineup) was scheduled to perform at an iconic music venue in Los Angeles. "I guess I didn't really know him [Spence]," Eric shared with the OC Register. "He was hurting so badly that he couldn't talk to anyone about it." No Doubt disbanded for a brief period to regroup, and while Alan Meade briefly took over the lead vocals, he ultimately left the band. In 1988, Gwen Stefani got the spot. "She tends to be shy by nature," Eric Carpenter, another ex-band member, revealed to People (via Interview Magazine). "It took a lot of convincing."
Of course, Spence's influence on the band can't be understated, as he's the one who inspired its name. And in honor of his contributions and enduring friendship, the band released the song "Dear John" in 1989. "My friend, you're gone // Someday I hope we meet again," the lyrics read in part.
If you or anyone you know is having suicidal thoughts, please call the National Suicide Prevention Lifeline​ at​ 1-800-273-TALK (8255)​.
Source: Read Full Article