The Real Meaning Behind BTS Not Today
The dominating band in the world of K-pop is, without a doubt, BTS. The seven-person boy band, formed in 2013, definitely isn't the first K-pop band to be a success, but they are the first to reach such a high level of international recognition. Case in point, BTS fans like to refer to themselves as ARMY because they are that loyal to J-Hope, RM, Jungkook, Suga, V, Jin, and Jimin.
As with any other K-pop band, BTS' work ethic is unmatched. They haven't even been together for a decade, and they've dropped five studio albums, appeared on the cover of Time, nearly nabbed a Grammy, and released two fully English singles (a big deal for a K-pop band). In 2021, they also released such a lucrative McDonald's collab that two Indonesian franchises had to close, thanks to the overly excited fans, per BBC.
All of this is to say that BTS is pretty frickin' good. While their entire catalog is worth a listen, we highly suggest you check out "Not Today" if you need somewhere to start. What's it all about, anyway?
Read on below to find out.
BTS has something to say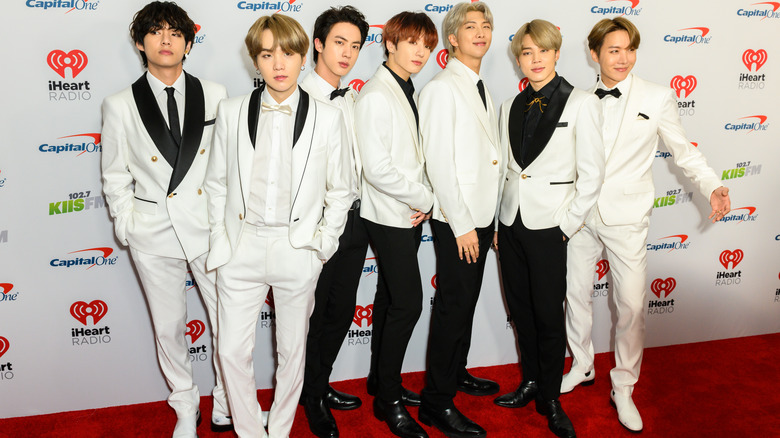 BTS' "Not Today" is a bit more aggressive than some of their other songs.The beat is choppy and synthetic. To go with the angry or rebellious feeling provided by the musical tempo, the lyrics are rapped in a hip-hop meets pop style. 
"Not Today" is as much an homage to the fans as it is to anyone else. For proof, look no further than the music video, which depicts the band "training" what can only be described as a BTS army — a definite nod to ARMY. "Yeah, we are extra, but still part of this world, extra + ordinary. That's nothing at all. We won't ever die today," they sing (via Genius Lyrics).
The song is all about fighting authority and "breaking the glass ceiling." Its 2017 releases coincided with civil unrest in South Korea as a response to governmental corruption, per Billboard. RM confirmed as much when asked about the song by the Korea Herald. "I wrote the lyrics for BTS so we do not stay silent against social issues and injustice and continue to solve it and raise problem," he said. "We talk about social issues, read books and meet with experts and ponder together. We still have a long way to go, but we will think hard and embrace criticism."
BTS: a band with a message.
Source: Read Full Article