The Real Meaning Behind Chloe Baileys Have Mercy
Have you ever seen a booty so big, it makes you shout "have mercy!" and you feel so frozen, you feel like you were turned into stone? No? Well after hearing and seeing Chlöe Bailey's new single and music video for "Have Mercy," you most certainly will. This sexy, twerk-inducing single and the sultry music video dropped together at midnight on September 10, and fans across social media are going "daffy" for it. "Have Mercy" is Chlöe's first solo single away from the critically acclaimed sister duo group, Chloe x Halle. It is rumored to be the lead single from an upcoming untitled debut solo album and will be performed for the 2021 VMAs on September 12. The song was first teased in a tweet on her 23rd birthday in July, and was set to release back in August, but was ultimately pushed back to its September release.
After watching the video over 20 times and listening to the song twice as much, we are here now to break down the meaning behind this bootylicious bop.
Chlöe Bailey addresses the critics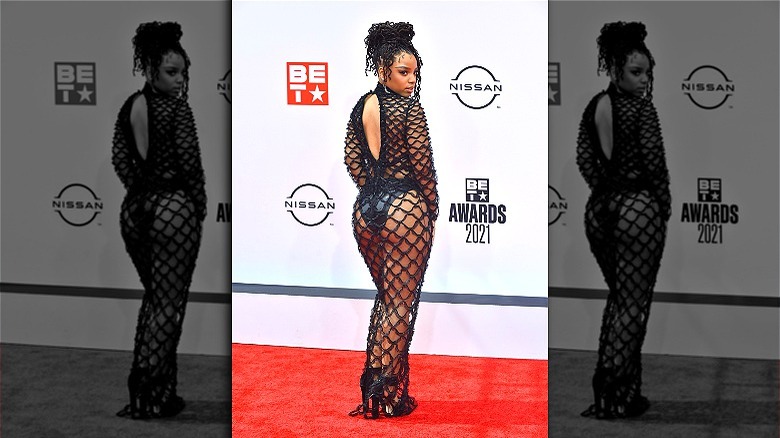 Chlöe Bailey's lyrics in "Have Mercy" are almost reminiscent of her mentor Beyoncé's "Diva" era. Bailey addresses her haters' constant questions about her sexuality on social media. "Why I keep bossing like I do? / Why I keep flossing like I do? / Why I keep saucing like I do? / Why it keep costing like it do?" she asks rhetorically in the chorus. "All this ass up in my jeans / You can't get up in between / You tryna get a piece of me/ I can teach you a couple things," she continues, punctuated by a voice hollering, "Lord, have mercy!"
Chlöe also addresses her viral, voluptuous, and very real internet-breaking booty — specifically, how hard it can be for these men (and everyone else, if we're being honest) to think about anyone else but her. "You can't get this thickness out of your mind/ He say he like that Laffy Taffy," she teases. She goes on the describe how her attractiveness has people acting out: "He so goofy, call me daddy/ He go stupid, he go daffy/ Introduce me to his papi/ He can never live without me," she raps. It ends with the infamous sample "'Cause my Booty so big, Lord, have mercy," which definitely hits the nail on the head about our collective feelings for Ms. Bailey.
While the lyrics are playful, the sexiness of the track and music video actually represent Chlöe taking a stand after a previous controversy. Keep reading. 
Chloe tells a Greek tragedy with a modern twist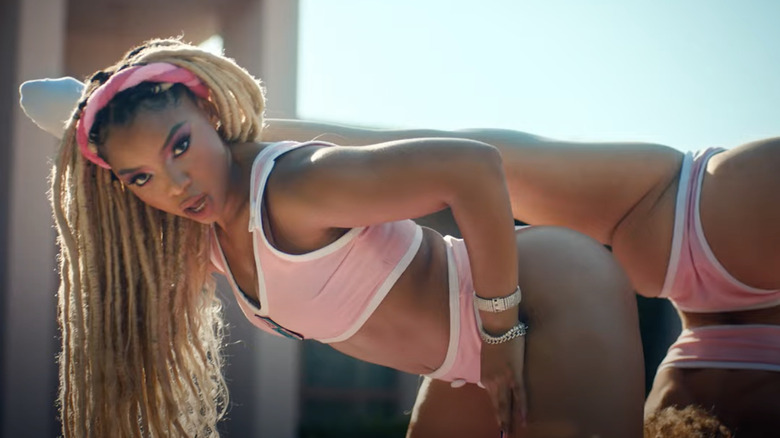 The music video accompanying the "Have Mercy" single also dropped on September 10, and the concept is giving greek-mythology energy with a modern twist. Chlöe Bailey embodies the tragic Greek maiden, Medusa, by luring unsuspecting fraternity men to their deaths by turning them into statues in her entrancing sorority mansion. Talk about having looks that can kill! The "Have mercy" music video serves body confidence and sexiness to the utmost capacity, with multiple scenes showing Bailey twerking, stretching, and flexing her assets. Within 12 hours of its release, the clip had racked up over two million views and counting.
The praise Chlöe has received stands in contrast to some body-shaming the singer experienced in late January. When some netizens criticized Chlöe's evolving, more sexual image, the singer tearfully addressed them and her past insecurities in an Instagram Live. "And a lot of people who know, who's on my private Instagram, they see that's how I find my confidence because it has taken me a lot to appreciate myself and my body," she said. "There's been so many times when I felt I wasn't pretty enough, where I have a lot of issues with my weight, so — it's a pivotal time for me."
Chlöe's love for herself and her work is something we can all appreciate, and we are so excited to see what's next in her journey to superstardom.
Source: Read Full Article