The Strange Connection Between Shaquille ONeal And Paula Abdul
Before she became a mega pop star, Paul Abdul made a name for herself as a member of the Laker Girls during the 1980s when the Los Angeles Lakers were dazzling audiences as the "Showtime Lakers." At 19 years old, Abdul auditioned with close to 1,000 other women for a chance to join the famous cheerleader roster, per Los Angeles Magazine. During her time with the team, people often asked Abdul if she was related to NBA legend Kareem Abdul-Jabbar. "Because of my name, people used to ask me if we were married all the time," she told the Los Angeles Times in 1989.
Besides the action on the hardwood, there was plenty to see in the crowd as Lakers games attracted a plethora of celebrities. Abdul's impressive dance skills led to her being noticed by Michael Jackson and his family, and she was asked to choreograph portions of their tour. "My only problem was how to tell the Jacksons how to dance," Abdul recalled to the L.A. Times. "Imagine me telling them what routines to do." That gig helped catapult her singing career, as she became a full-time choreographer and eventually launched her solo career. "A lot of amazing things happen in Los Angeles," she wrote for L.A. Mag in 2011. "L.A.'s a tough city, but it's a magical city."
Abdul left the Laker Girls by 1986, and Shaquille O'Neal did not join the franchise until a decade later in 1996, but their personal lives still overlapped. Keep reading to find out their unique connection.
Shaquille O'Neal bought a house because of Paula Abdul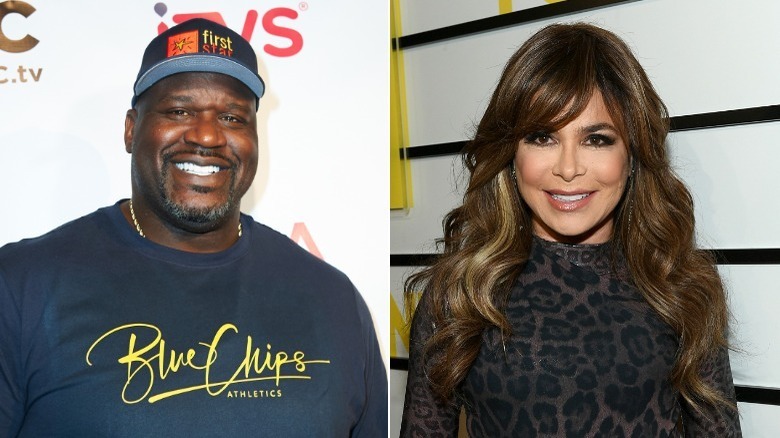 Former Lakers big man Shaquille O'Neal appeared on "Jimmy Kimmel Live" on September 10, where he shared some candid personal anecdotes. During a segment of the true or false game "Shaq or Bullshaq," the NBA Hall of Famer was asked if he once bought a house because it was close to Paula Abdul's home. O'Neal confirmed that was true. "I was here in L.A. I was looking," he told the host. "I didn't really like the house, and the [real estate agent] was like 'Paula Abdul lives across the street.' I was like … 'I'll take it,'" O'Neal said. According to the NBA icon, he would interact with Abdul whenever the opportunity arose. "I would look, and every time she came outside I would 'accidentally' go outside," O'Neal joked.
Abdul shared a revealing story about being O'Neal's neighbor when she appeared on an episode of his "The Big Podcast" on September 3. One New Year's Eve, O'Neal dragged Abdul to join a party at his home. "He came to my house with a three-piece pinstripe suit," Abdul recalled on the podcast when talking to O'Neal and hosts. "I was wearing my sweats and you picked me up and you planted me in your house," (via ). The former NBA MVP had a cheeky way of ringing in the new year. "When the clock strikes midnight, he pulls down his pants and moons everyone," Abdul said. "Paula, you're telling all my business," O'Neal replied, laughing.
Source: Read Full Article