The Strangest Things Blake Shelton Has Said About Gwen Stefani
Blake Shelton and Gwen Stefani haven't exactly kept their relationship under the radar since they first went public with their romance back in 2015. Understandably, fans never exactly expected the two very different "The Voice" coaches to get together after they met on the set of the NBC show, and it is no exaggeration to say they are pretty much asked about one another in just about every interview they give.
Stefani in particular loves to gush over her man and has repeatedly made her feelings for the country music star quite clear. "Blake saved my life, everybody knows that. Like, we're just having the time of our lives, and we never expected that this late in our lives, so we're just trying to savor every moment together," she told Entertainment Tonight in December 2019. "Just to be back on 'The Voice' as well… but working together again has been really fun, and I love being here and I love being with him."
While Stefani is more likely to share sweet sentiments about her fiancé, Shelton tends to head to the other end of the spectrum. Sure, the "Austin" singer has said plenty of nice things about his love over the years. However, he has also uttered some, erm, strange things about Stefani. 
Blake Shelton said he 'lives off' Gwen Stefani when they're on the West Coast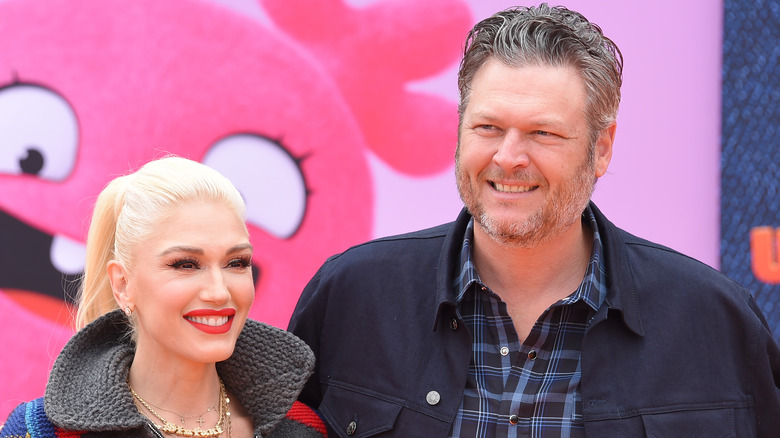 Sugar Mama? Not quite, but Oklahoma boy Blake Shelton did joke that when he spends time with Gwen Stefani in Los Angeles, he is pretty much a kept man.
The country singer made the confession to Zane Lowe on Apple Music 1 in June 2021. "You know what, I'm weird anyway. I live out in the middle of nowhere in Oklahoma and I mean, I am in L.A. half the time, but I'm pretty much a slug here," he shared. "I live off of Gwen here and I just hide in the house so I got it pretty good."
Shelton hardly has it bad staying indoors while in L.A. though — and we actually don't blame him for wanting to hang out at home. In 2020, Dirt reported the two put their feet up in a $13.2 million estate when they're in California, which reportedly has three full floors and spreads over around 13,000 square feet. It's also said to have a home theatre, pool, wet bar, a garage with room for four cars, and even an outdoor kitchen. Yes, seriously. Can you blame the guy for wanting to "hide in the house" when he's in town?
Blake Shelton shared a peculiar detail about an ex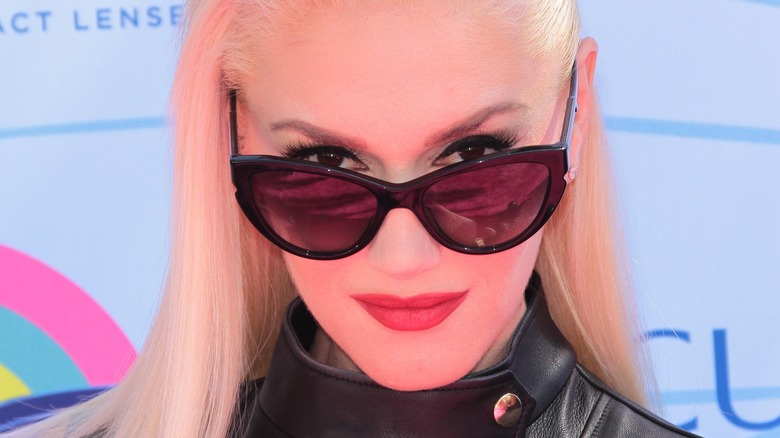 Okay, so this one's a little odd. While it's usually pretty flattering to hear someone's a big fan of yours, we're guessing Gwen Stefani was a little caught off guard by this confession from Blake Shelton. During an appearance on "Jimmy Kimmel Live" in 2018, she revealed that her beau said he once dated a Gwen Stefani superfan. 
"He did tell me that he dated a girl for like three months that had my face plastered all over her bedroom," the "Wind It Up" singer shared with Kimmel. Understandably, the talk show host found the whole thing to be pretty entertaining and agreed that it was "really weird." Weird as it may be, it is apparently something that can happen when you enter into a relationship with someone who has been tremendously famous since she was in her 20s. 
The identity of Shelton's Gwen Stefani-loving ex doesn't appear to have ever been revealed, though Kimmel responded by joking that the No Doubt frontwoman should find out what she looked like and get a little payback by plastering photos of her all over her walls. We're guessing Stefani didn't take the late night host's advice, but she definitely appeared pretty entertained by the idea.
Blake Shelton thought Gwen Stefani could be a rebound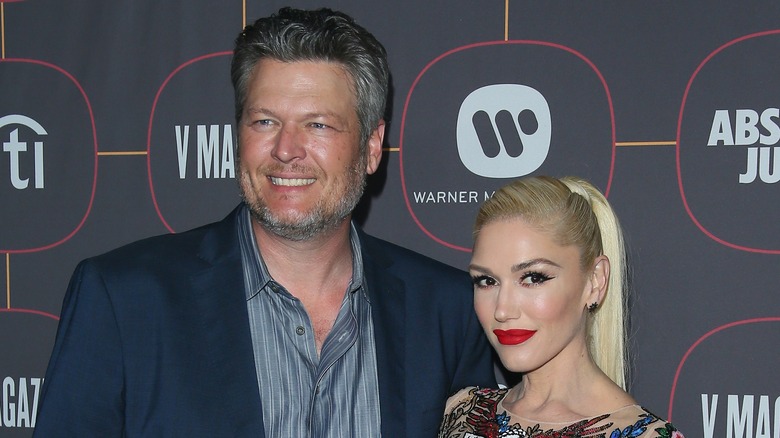 No one likes to hear they're a rebound, but Blake Shelton admitted both he and Gwen Stefani initially thought that about their now solid relationship. Shelton made the confession to Apple Music 1's Zane Lowe in June 2021, sharing that he was so thrown off by both the suddenness and their personality differences that he didn't think they'd go the distance.
He revealed they were both "getting over [their] crap with each other" in the early days, saying, "I remember at that time we were just starting to see each other and we were both going through horrible breakups, divorces — horrible in that it was just sad. There was times where Gwen and I would be like, 'Are we rebounding here? Is that what we're doing together? Because this makes no sense.'"
The star was, of course, referring to their respective high-profile splits which took place mere months before they began dating. Shelton and Miranda Lambert announced their divorce in July 2015, while Stefani and Bush frontman Gavin Rossdale separated in August of that year. Shelton and Lambert's divorce was finalized mere hours after the news hit the headlines, according to Us Weekly. As for Stefani and Rossdale, People reported they didn't reach their settlement until the following April. 
Why does Blake Shelton keep saying Gwen Stefani is pregnant with twins?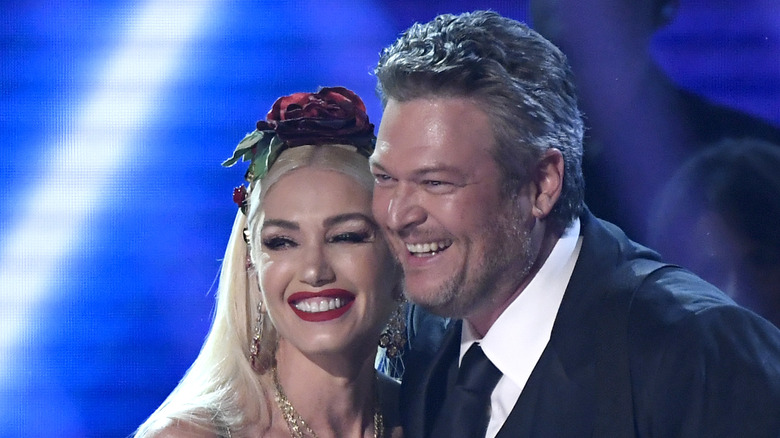 Though Gwen Stefani and Blake Shelton are yet to have any children together, that hasn't stopped the latter from joking on more than one occasion that his partner has been pregnant with twins. 
He first made the quip back in 2019 when he cheekily wrote on Twitter that he and Stefani — who shares three sons with Gavin Rossdale — had been doubly blessed while promoting her Target childrenswear line. Shelton quoted a tweet of hers that included a photo of two kids modeling her line and wrote, "Ohhhhhh @gwenstefani this stuff will be great for our twins!!!!" And in March 2021, he joked again about having multiples on an episode of "The Voice." While trying to get reggae artist Pia Renee on his team, he pointed out Stefani is a big fan of the genre.
"To say that I don't know anything about the music that she's performing would kind of disqualify the fact that, who knows, even by the time this airs, Gwen Stefani, she could even be my wife," he teased (via Us Weekly). "She's even delivering twins right now. She's pushing them out, but I'm here working." Of course, Stefani wasn't actually giving birth at that moment, and it was all a glimpse at the country star's signature sense of humor
Blake Shelton thinks it's 'strange' he's even with Gwen Stefani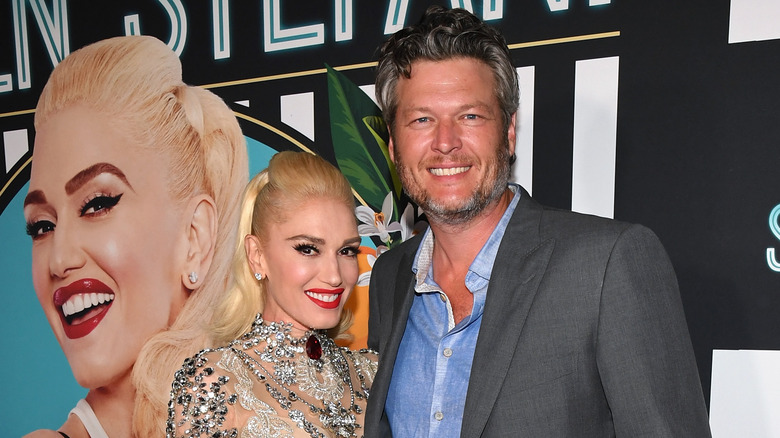 It's no secret that Blake Shelton and Gwen Stefani make a bit of an unlikely pairing, and even Shelton knows it. The two come from totally different worlds — Stefani is a glamour girl who hails from Southern California while Shelton feels more at home on his Oklahoma ranch — and the country artist has not been afraid to brand his relationship "odd" in public.
Shelton has opened up multiple times about how bizarre he finds the whole thing, even telling Entertainment Tonight Canada in April 2021, "It's strange enough that she and I are together to begin with; let's be honest." And back in November 2016, the "Honey Bee" singer got candid about the unexpected coupling on "Today." "It's a little weird. We could not be, on paper, any more different," he acknowledged to Savannah Guthrie. "I mean, I'm a country singer and she's a ska, rock, pop, whatever it is… and it's just an odd idea." 
The twosome know their relationship is so out of left fiend that they even poked fun at it in a 2021 Super Bowl ad which also starred fellow "The Voice" coach Adam Levine, who, in the TV spot, sets them up on a blind date. Odd or not, these two prove opposites really can attract.
Blake Shelton isn't averse to 'cashing in' on his love life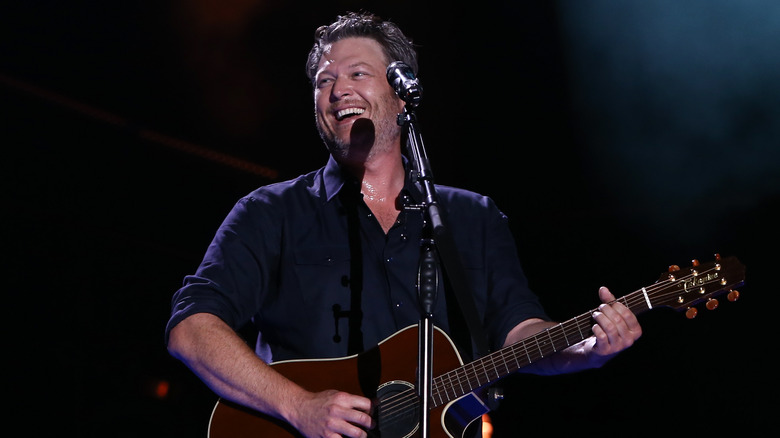 Not only are Blake Shelton and Gwen Stefani an unlikely pairing, but they're also a crazy rich duo. Stefani is worth a whopping $150 million according to figures from Celebrity Net Worth, while the same database puts Shelton's estimated wealth a little behind that at $100 million. It's safe to say that neither are exactly strapped for change, but that didn't stop the country singer from once joking he's "cashing in" from his romance.
Shelton made the confession about his 2016 album, "If I'm Honest," which he revealed was inspired by Stefani's own 2016 tell-all release, "This Is What The Truth Feels Like," which featured songs about her and Gavin Rossdale's divorce (per Gigwise). The country crooner admitted the album included tracks not only about his divorce from Miranda Lambert but also about his relationship with Stefani.
"I just want to tell the truth about what happened," Shelton told "American Idol" mentor Bobby Bones during an event to promote the album (via People). "I had a similar [thought to Stefani], 'What if I tell the truth?' So I was like, I can't use the word truth now so…" He did previously maintain that the album wouldn't be all about his romantic life, but said of his U-turn, "I figure since everybody else is cashing in on my life, I might as well get some of that too."
Gwen Stefani is in charge of Blake Shelton's ensembles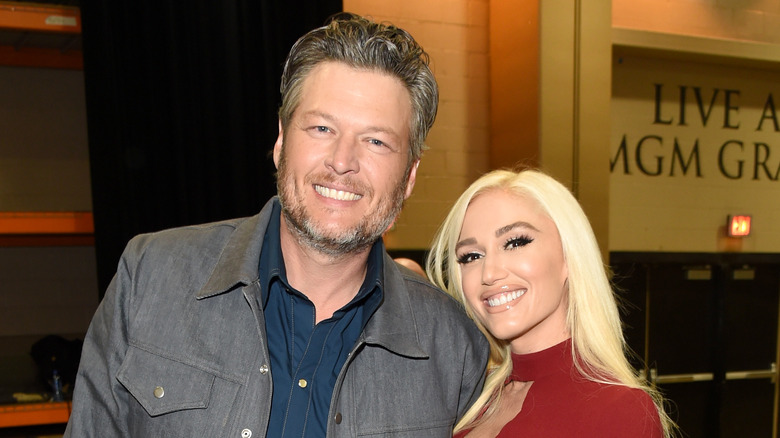 Is there anything Gwen Stefani can't do? Singer, businesswoman, reality TV personality, doting mom — the list goes on. As if she wasn't busy enough, it looks like she can add "Blake Shelton's stylist" to her resume. "I never pick my own clothes unless I'm doing one of these FaceTime calls with [the media] and I put on a cap and shirt," the "God Gave Me You" singer admitted during a May 2021 interview with USA Today.
Shelton went on to reveal that he makes good use of Stefani's fashion sense, saying, "She picks my clothes for things like… something formal with the family." She gets a little rest though when it comes to any more high-profile work events, as he revealed he has a stylist who helps him pick out his outfits for shows like "The Voice."
But it's not just Stefani helping Shelton with his fashion choices. It seems like the latter's aesthetic has also rubbed off on the mom of three as she's incorporated country looks into her wardrobe since the two started dating. In May 2021, she even shared a photo to Instagram Stories of herself in one of her man's flannel shirts as she dove into his closet for a clean out. "We're for sure keeping this shirt," she wrote, per People.
Blake Shelton forgets Gwen Stefani is a mega celeb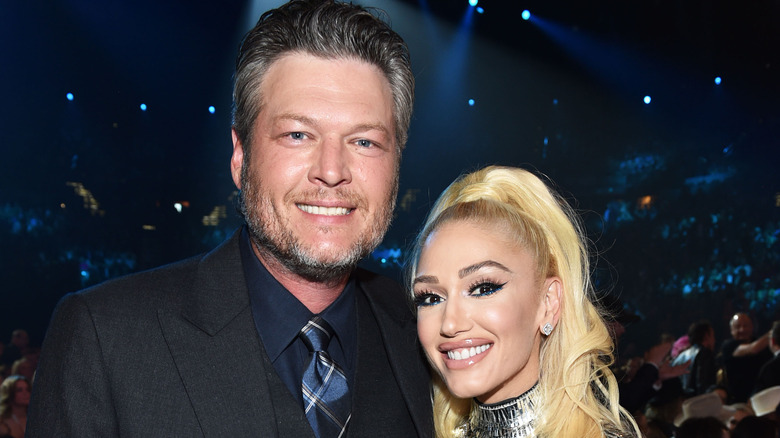 Yep, you read that correctly. Evidently, Blake Shelton totally forgets who his fiancée Gwen Stefani is. This one may sound a little alarming at first, but allow us to explain. "The Voice" veteran revealed that he's so close to the "Used To Love You" singer and is so used to having her by his side at home that there are moments when he actually fails to remember that she has been a global superstar for multiple decades.
While chatting with 103-3's "Morning Koffy" in May 2021, Shelton opened up about this unique phenomenon. "My favorite thing is, sometimes I forget that she's Gwen Stefani," he shared before recounting a recent example. When a healthcare worker stopped by his home just that morning to give him a COVID test, Stefani happened to walk by at one point. Afterward, the aforementioned healthcare worker thanked Shelton — much to his confusion. "I go, 'What? What are you talking about?'" he said. "She goes, 'When you came to the door, I got to see her and thank you.' I go, 'You're welcome! No problem!' She has that effect [on people]." No doubt about it.
Gwen Stefani's pivot to country music was 'hilarious' to Blake Shelton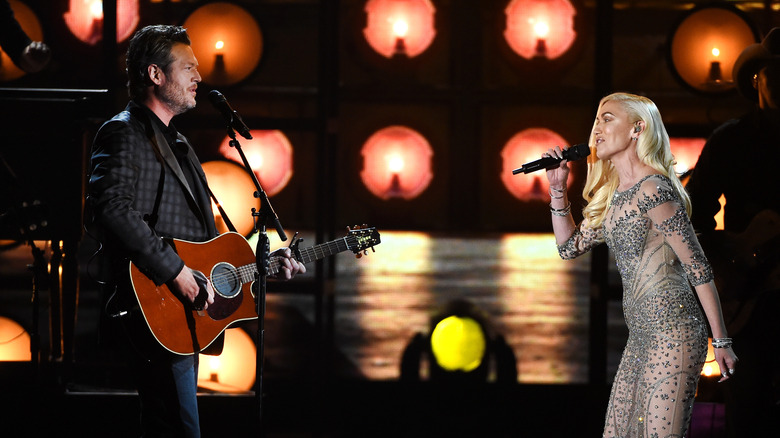 We're guessing Gwen Stefani probably never expected to have a hit on country radio, but, apparently, the notion was so outlandish to Blake Shelton that he thinks the whole thing to be pretty hysterical. Shelton made the confession while speaking about their 2020 duet "Happy Anywhere," which hit the top spot on Billboard's US Country Airplay chart and made it to number three on Billboard's US Hot Country Songs chart.
"It's hilarious that listening to the radio the last couple of years that Gwen Stefani is going to be singing the 'countriest' song to come out of Nashville," he said during a July 2020 livestream (via Entertainment Tonight). "It's ironic. It's funny."
That's not the only hit Stefani has had on country radio, though. The two also teamed up for "Nobody but You," which also went to number one on Billboard's US Country Airplay chart and number two on Billboard's US Hot Country Songs chart. The track is also certified Platinum by the RIAA, so, just like her man, Stefani is pretty much a bona fide country music superstar at this point.
Blake Shelton got a little too candid at a meet and greet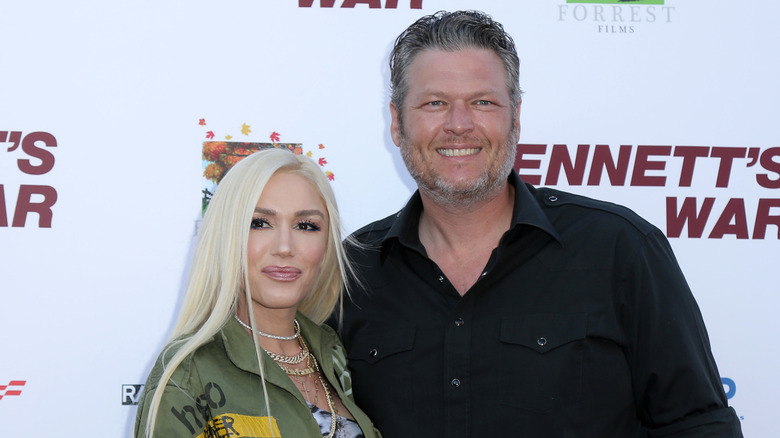 Okay, this one's a little TMI — and it was all caught on camera and posted to Twitter by a fan. At what looks to be a 2018 meet and greet session, Blake Shelton got a bit risqué when talking about Gwen Stefani. And it all happened after a fan asked, "What is your favorite thing about L.A. or one thing you love to do there?"
In classic Blake Shelton style, the country singer had an answer all fired up and ready to go. "Really, my favorite thing about L.A. is that Gwen lives there. That's the God's honest truth," he replied. Awww. Yes, at first his response was super sweet and G-rated and didn't at all seem like something that would belong in a roundup of strange things he's said about the "Don't Speak" singer, but he didn't end it there.
"And the one thing I like to do there… I can't say her name again there can I? It's inappropriate," he continued. "You guys need to grow up, seriously." The crowd laughed and hollered. We're not sure how Stefani felt about this one, but we're surely blushing.
Source: Read Full Article