Who Has Jimin From BTS Dated?
Jimin is one of the most popular members of the K-pop group BTS that has taken the world by storm. Billboard describes him as hardworking, caring, and fan-focused, despite being one of the youngest members of the group. He's also considered to be BTS' strongest dancer and was top of his class at the contemporary dance school that he studied at.
The group has done phenomenally both in South Korea and globally, even when the COVID-19 pandemic shut down their live concerts, with Time naming BTS as the biggest band in the world and awarding it the title of "Entertainer of The Year" for 2020. According to Vox, the group's ability to sell out tickets at enormous global venues has been compared to some of the most iconic music groups of all time, such as the Beatles and the Jackson 5. Their ticket sale records in North America alone have topped those of Ariana Grande and Taylor Swift.
Will this level of fame, BTS literally has an ARMY of adoring fans, so you'd think Jimin would have an active dating life, yet much like his bandmates, he's single. According to the South China Morning Post, this may be because K-pop bands are often subject to strict no-dating policies, although "the official line is they are too busy" — apparently not even having the time to see much of their families. Nevertheless, the band has alluded to dating (per Rolling Stone), and that made us wonder… who has Jimin from BTS dated?
Jimin and Seulgi from Red Velvet have been romantically linked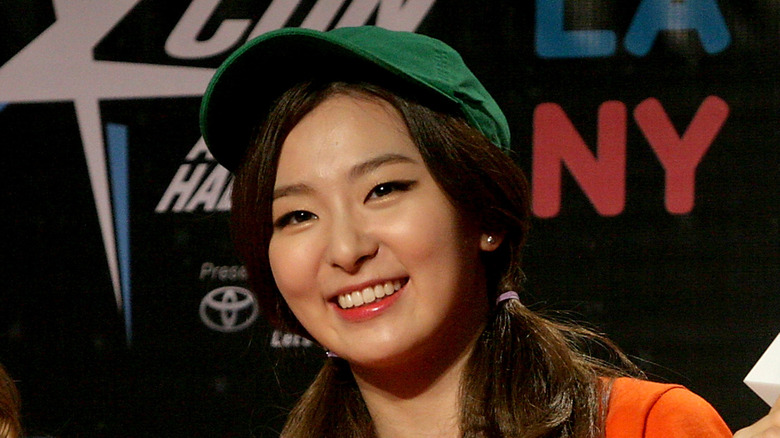 According to PopSugar, Jimin has been linked to several female K-pop stars, including Seulgi, the lead singer and dancer of the girl group Red Velvet. Described as "calm and nonchalant" by her fellow bandmates, according to the South China Morning Post, Seulgi herself admitted that she tends to focus more on her work rather than "succumbing to her emotions." This is a far cry from Jimin, who has broken down in tears on several occasions, according to Teen Vogue.
Nevertheless, according to Koreaboo, there has been ongoing speculation since 2017 that the two have been an item. This is largely based on the fact that both Jimin and Seulgi have taken similar-looking selfies, using the same facial expressions (such as winking) or similar filters. They've also been seen wearing similar accessories, such as a ring, bracelet, and beanie. However, detractors have noted that the accessories and selfie poses are similar for other members of Red Velvet as well, not just Seulgi.
Neither Jimin nor Seulgi has ever spoken out about the rumors, but Inquisitr has noted that it's common for K-pop fans to assume romantic links based on mere interactions or similarities, warning that unless the news comes from Big Hit Entertainment or SM Entertainment (the labels that manage BTS and Red Velvet, respectively), it's likely nothing more than speculation.
Han Seung-yeon from the group Kara admitted to having a crush on Jimin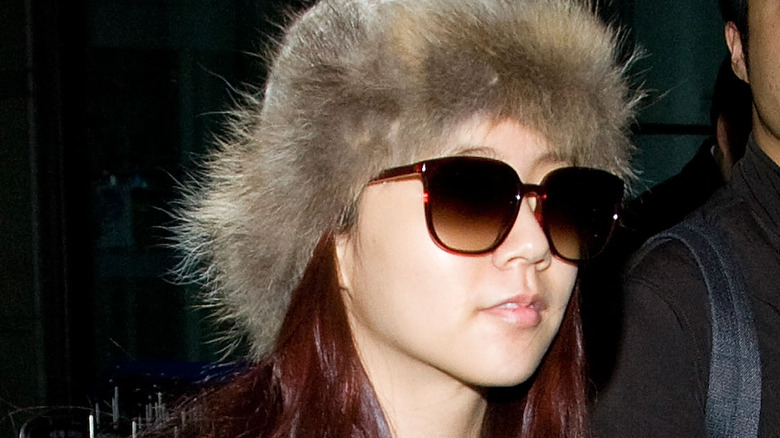 Jimin has also been linked to Han Seung-yeon from the K-pop girl group Kara, according to Capital FM, which is considered Jimin's biggest dating rumor. According to the Korean Herald, Han Seung-yeon, with her "outstanding talent in singing, acting, and entertainment," was one of four members of the group, which found fame in South Korea and Japan. The group disbanded in 2016, and she has subsequently gone on to develop her acting career, with a lead role in "Hello, My Twenties," according to Koreaboo.
The rumor about the relationship with Jimin is likely due to the fact that Han Seung-yeon admitted to having a crush on the BTS idol in an interview on MBS's "Weekly Idol" in 2018, according to Koreaboo. In the interview, she said Jimin had "caught my eye ever since" the promotion of Kara's single "Mamma Mia." Many fans described the way she twisted her hair during the interview as a sign that she felt shy about admitting her crush. For his part, Jimin appeared flattered by the revelation, responding by saying "daebak," which means "that's great!"
Han Seung-yeon may no longer be part of the K-pop scene, but that has done little to kill the rumors about her and Jimin. Many fans believed that the two overlapped their schedules deliberately in an effort to see one another. Nevertheless, there is little evidence that the two ever dated, according to PopSugar.
A Twitter rumor linked Jimin with Hwasa from Mamamoo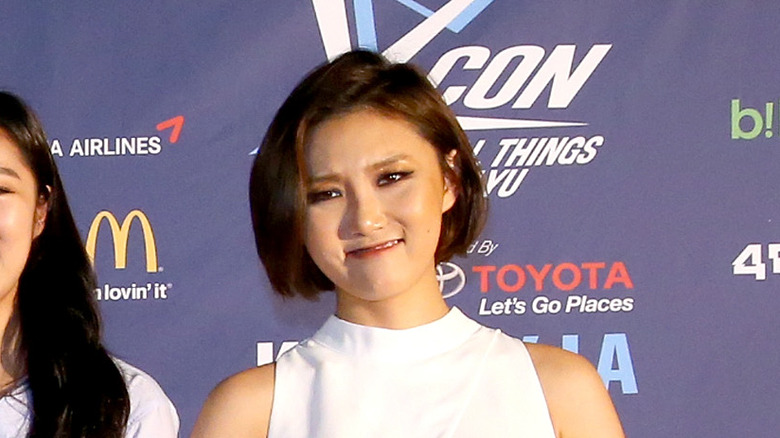 One of the more recent rumors surrounding who Jimin is dating was started in 2020 when Twitter user OKt179h tweeted that the South Korean publication Dispatch had confirmed a relationship between the BTS member and Hwasa from the K-pop girl group Mamamoo.
The original tweet has subsequently been hidden within a protected account, but it read "CONFIRMED Dispatch couples that to be revealed BTS Jimin & Mamamoo Hwasa Apink member (?) & MONSTA X Shownu NCT Jaehyun and (G)I-DLE Miyeon." No link to the alleged Dispatch article was provided to confirm the content of the tweet, leading many fans to dismiss the rumor entirely.
However, some took the news seriously and began tweeting angry messages about Hwasa, as the hashtags "Jiminandwho" and "SaveJimin" exploded on social media, according to Scoopbyte. One user tweeted "ARMYs hate Hwasa" while another posted "Jimin can date whoever he wants but imma still s*** on miss Hwasa." Tweets like these were met with resistance, with users cautioning, "These types of rumors happen EVERY YEAR AND 99% ARE NOT TRUE. If they are dating good for them, if they aren't good for them there doesn't need to be unnecessary fan wars and hate towards fandoms every time this happens."
Despite the uproar on Twitter, and despite the fact that neither idol nor their labels have commented on the rumors, there is no evidence that the Dispatch ever published an article linking Jimin to Hwasa romantically.
Twice member Jeongyeon and Jimin have been seen exchanging glances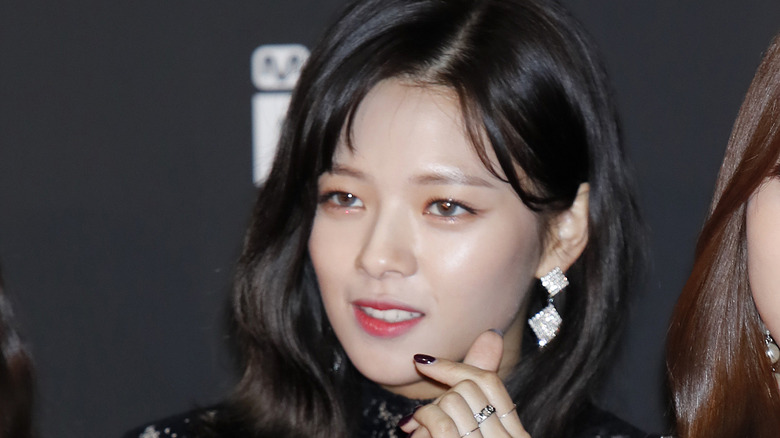 Another rumor that surfaced suggests that Jimin and Jeongyeon from the K-pop girl group Twice could be in a secret relationship. Jeongyeon launched to fame in 2015 when the nine-member band debuted, according to Time, winning awards and consistently topping charts every year. The band has a grueling release schedule — at least three times every year — which has helped Twice rapidly rise in popularity.
Jeongyeon's relationship with Jimin first became the subject of discussion back in 2016, when she seemed unimpressed to see the BTS member during the Korean show Music Core by MBC, according to Riri Nano, who collated a series of videos to help demonstrate the apparent connection between the two idols. At the time, fans believed there might be animosity between the two, but rumors of romance began to surface at the 2016 Mnet Asian Music Awards, where Jeongyeon seemed shy to be around Jimin.
Since then, fans have spotted the two exchanging glances in a series of videos that went viral. Even the videos where the idols appear to be disinterested in each other have been used as evidence of a secret relationship, Somagnews reports, with viewers interpreting these moments as proving that the couple could be experiencing relationship problems.
However, Koreaboo has identified this as a "ridiculous dating rumor," however, saying that Jeongyeon and Jimin seem to barely know each other in real life and that baseless dating rumors are extremely popular among K-pop fans.
Jimin was spotted attempting to hide someone in the background of a video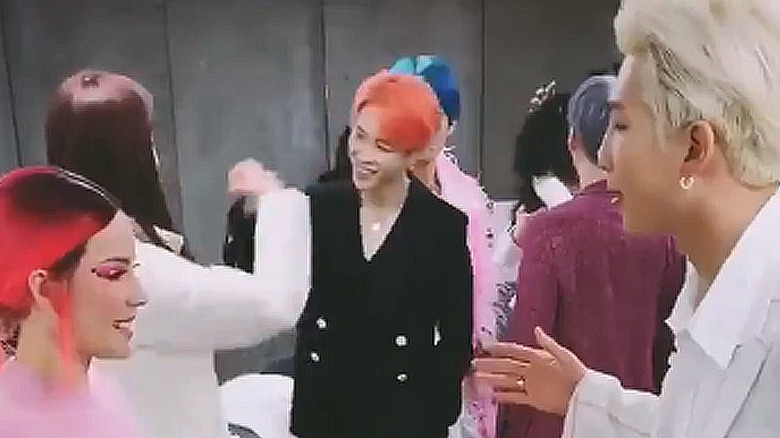 Another rumor about who Jimin is dating arose in 2019 from a video of the BTS idol play fighting with a female staff member. Singer Halsey, who worked with the K-pop band on their single "Boy With Luv," posted the video of her and RM demonstrating a coordinated handshake. What many fans were quick to notice, however, was that Jimin and a woman were "playfully boxing" in the background, according to Elite Daily. When Jimin noticed the camera pointed at them, he carefully moved the woman out of the frame.
Many fans believe that the gesture was an attempt by Jimin to protect the privacy of the woman. However, some have suggested that the two may be romantically involved. One user responded to Halsey, asking "Jimin's girlfriend??" while another asked, "Can I dream that the girl in Halsey's video is really Jimin's girlfriend?" Of course, these rumors have very little basis in fact, as many other fans were quick to point out, with one saying, "You see how Jimin took his stylist away from the video … He knows that some of you will react like a delulu girlfriend."
While these rumors are entertaining to consider, for the most part, they do seem to be baseless. So, who has Jimin from BTS dated? The truth is that we simply can't be sure until he (or Big Hit Entertainment) officially announces it to the world.
Source: Read Full Article