Who Is Rick Rubin?
On July 16, Hulu will release its six-part docu-series, "McCartney 3, 2, 1," in which legendary musician Paul McCartney sits down to talk about his 60 years in the music industry. The trailer for the series just dropped and it has fans of McCartney and the Beatles excited to hear all the "untold stories, unheard music, and unforgettable memories" the singer-songwriter has to share, per Consequence.
McCartney covers his early days working with George Harrison, Ringo Starr, and in his words, "this bloke John." "McCartney 3, 2,1" is getting rave reviews, with Consequence saying the series' host Rick Rubin is "hardly a hard-nosed interrogator; instead, he's deeply curious, laidback, serving up questions to McCartney … Legendary producer though he may be, he still looks to McCartney with all the amazement of a little kid, which makes his particular interview approach really endearing."
Everyone knows McCartney, of course. But who is Rubin and what qualifies him to host the docu-series? Keep reading to find out.
Rick Rubin is a legendary music producer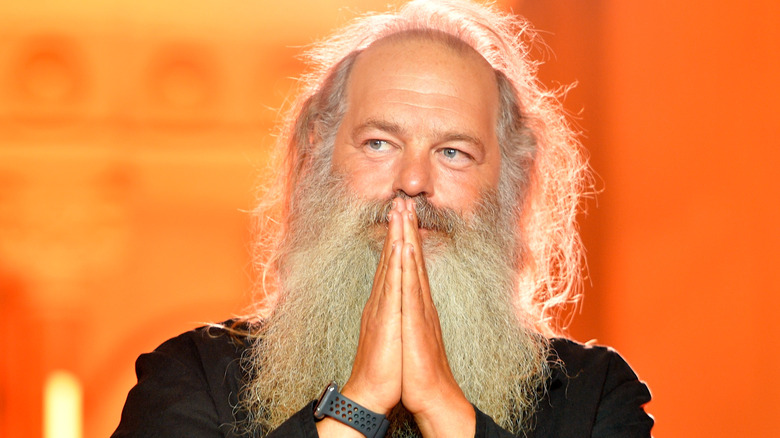 The Black Crowes' "Shake Your Money Maker," Kanye West's "The Life of Pablo" and "Yeezy," Red Hot Chili Peppers' "Californication," LL Cool J's "Radio," The Beastie Boys' "License to Ill," Adele's "21," and Run DMC's "Raising Hell" all have one thing in common — they were produced by legendary music producer Rick Rubin, per The Ringer.
Rubin is the former co-president of Columbia Records and the co-founder of Def Jam Recordings, which he started from his NYU dorm room with a $5,000 loan from his parents, per TMhome. Rubin was a key figure in the rise of hip hop music, per Rolling Stone, as he is a known champion for the genre, as well as thrash metal, country, alt-rock, and rap. Rubin's discography is a who's who of the most popular music of the last three decades.
Rubin practices transcendental meditation (via TMhome) and comes across more like a yogi than a high-powered and highly sought-after music producer at the top of his game. About his success, Rubin told Rolling Stone, "I don't really think that much about how I got here," he says. "I just show up and try to make music that excites me. Sometimes there will be an idea that'll make a record great, sometimes it'll just be patiently waiting for a magic occurrence to happen or setting the stage to allow it to happen."
Source: Read Full Article