3 Ways the New 'Charlie's Angels' is Different From Past Takes in the Franchise
Charlie's Angels finally has a solid release date, and after Sony put out the trailer this past Thursday, people are excited and they have questions. It's been more than 15 years since the girl-powered team has been in theaters, but this time will be different.
After being pushed back a few times, Charlie's Angels will be in theaters on November 15. If you haven't had a chance to see the promos yet, know that Elizabeth Banks wrote the screenplay, directed it, and is starring in it too.
According to Entertainment Weekly, Banks describes this version as a "continuation" of previous Angels showings, rather than a reboot or remake. Make no mistake, it's still an action-comedy. In a way, some may call it a sequel to the TV show from the mid-70s (or 2011) and the films starring Drew Barrymore, Cameron Diaz, and Lucy Liu. With that said, there will be some key differences in this modern take on the Angels, played by Kristen Stewart, Naomi Scott, and Ella Balinska.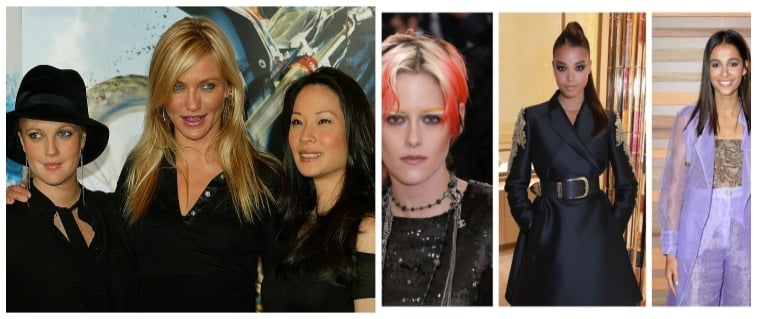 There will be guns. Lots of guns.
An unexpected addition to the 2019 Charlie's Angels is a weapons cache for the women to use. A stockpile of glitzy and glamorous shoes, clothes, and jewelry isn't the only thing sitting in the closet. There's an entire arsenal of sophisticated weaponry at these ladies' fingertips. Click-clack!
In the trailer, you'll see pistols, machine guns, and explosives being used by the team, which is somewhat of a departure from tradition. The Angels from the '70s carried handguns, but Drew Barrymore was adamant that her movie left the weapons alone. She felt that the Angels could be kickass without them, and that's why audiences saw more stunts and hand-to-hand combat.
There will be all that and more in this new version. Advanced gadgets, tech, and what's been described by Banks as a "gritty" Mission Impossible vibe are taking this spy movie in a different direction.
Global alliance
Where the other Charlie's Angels franchises positionedthe trio of detectives as the sole set of Angels in existence, this installmentturns that idea into a global organization. There are Angels all over theworld, with their own cases and teams.
https://www.instagram.com/p/BwH1sDEnsUa/
However, this story focuses on this particular group ofwomen and their dynamic as they do an international sprint to stop a villain. Lastyear, ETshared a statement Banks made about how she wanted this to be a fresh twist,saying:
"This film honors the legacy of Charles Townsend and his agency while introducing a new era of modern and global Angels. I couldn't be more excited to work with Kristen, Naomi and Ella to bring this chapter to fans around the world."
With this in mind, wouldn't it be cool to see a few cameosfrom Angels of past franchises? Such an expansion could possibly open the doorfor more sequels and even more new faces in the Charlie's Angels canon.
Multiple Bosleys
There will be at least three Bosleys—possibly four—in this movie, with one of them being played by Elizabeth Banks. Traditionally, Bosley has been a singular male character, so fans will have to see how this strategy works in the new film. Banks told EW that each Bosley, whether it's her, Djimon Hounsou, or Patrick Stewart, will act as a handler for this set of Angels. As for Charlie, it's unclear who will be filling his mysterious shoes in this movie.
While fan reactions to the new movie trailer have been mixed, perhaps there's no reason to fret. Banks expressed that she wants this film to be a great representation of women's empowerment, and along with combat, leadership, and adventure, she plans on bringing the laughs.
Source: Read Full Article