'Better Call Saul' Season 6: Bob Odenkirk Promises We'll See Gene Takovic Again
Better Call Saul Season 6 was the first season that did not start with a black and white Gene Takovic scene. Instead, the final season began with a scene that did not involve Bob Odenkirk or any of the main cast members, though creators promise Easter eggs galore. In a recent interview, Odenkirk promised we haven't seen the last of Takovic.
[Warning: This article contains spoilers for Better Call Saul.]
Odenkirk spoke with the AMC blog on April 19 about Better Call Saul Season 6. When asked about Takovic, Odenkirk had an answer, albeit cryptic. Better Call Saul Season 6 airs Mondays at 9 p.m. on AMC. Part 2 of Season 6 will air later this summer.
Who is Gene Takovic on 'Better Call Saul'?
The Breaking Bad prequel began with a bizarre black and white scene. A very recognizable Saul Goodman (Odenkirk) somewhere very different. He's working at a Cinnabon in a mall in Omaha, Nebraska. His name tag says Gene and we later learn his full name is Gene Takovic. We see Gene before we meet Odenkirk as Jimmy McGill in the pre-Saul days.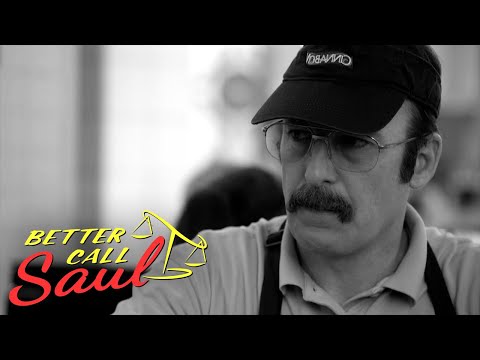 One might guess that Omaha is where Jimmy is now relocated in witness protection after his dalliances with Walter White. In those scenes, Gene tries to keep a low profile, but he can't help himself when he witnesses mall security apprehend a shoplifter. Gene shouts advice not to talk to the cops and to hire a lawyer. 
Gene gets recognized from his old Saul Goodman ads, despite claiming the fan is mistaken. The last we saw Gene, he was asking for another extraction, which was going to cost him more than the last time. 
When will Bob Odenkirk play Gene Takovic again on 'Better Call Saul' Season 6?
Even though Better Call Saul Season 6 premiered with a scene of movers cleaning out Saul's house, they haven't forgotten about Gene. Odenkirk teased when viewers will see Gene again.
"Oh, you're going to see Gene again!" Odenkirk told AMC. "Everything [the writers] start in Breaking Bad and Better Call Saul they take somewhere. Nothing just disappears. And the character of Gene and what happens in his life after Breaking Bad, is going to be explored. But I will say that probably the thing that is most curious and that I can't wait to see is the story of Kim and what happens to her."
Bob Odenkirk's parting words
Whenever you see Gene again, and when the Better Call Saul series finale finally airs, Odenkirk has some final thoughts for the loyal fans. Odenkirk is grateful Breaking Bad fans gave his show a chance.
It was an amazing experience that first season to see people just have an open mind to watch the show and see what we had to offer, and I'll never stop being thankful for that opportunity. And I would say one of the reasons is because Breaking Bad ended before people were tired of it or kind of exhausted by it. Most shows last a little too long and Breaking Bad didn't, and I think that helped us an awful lot. If Breaking Bad went two more seasons, I don't think we could have had this opportunity because I think people would have been like, "Yeah, yeah, we had more than our fill of it." But that was not the case at all. People were very hungry for more.
Source: Read Full Article