Did Erika Jayne And Danielle Staub Know Each Other Before Real Housewives?
"The Real Housewives of Beverly Hills" star Erika Jayne and "The Real Housewives of New Jersey" alum Danielle Staub might have starred in shows on opposite sides of the country, but it looks like these two reality stars share a connection beyond quirky tag lines and on-camera drama. What's more, Danielle — who has had well-documented fights with her co-star Teresa Giudice — has been giving Erika some well-meaning life advice via the press. 
Commenting on Erika's legal and monetary woes with her estranged husband Tom Girardi, Danielle told the Daily Mail: "Erika has put herself in a position to be judged. I think that she's handling it very poorly." She then suggested that Erika should sell her expensive belongings in order to pay back some of the people she allegedly embezzled money from with her ex. "That would have impressed me, that would have redeemed her in my book," she further explained. "But, when you knowingly have caused harm to not just widows and not just orphans, but a multitude of people … it cuts me some place very deep because I don't come from that."
With that said, a lot of people can't help but wonder just how Danielle and Erika knew each other before their "Real Housewives" fame. And for some fans, the answer isn't surprising at all. Keep scrolling below to find out more.
Danielle Staub and Erika Jayne used to work at this club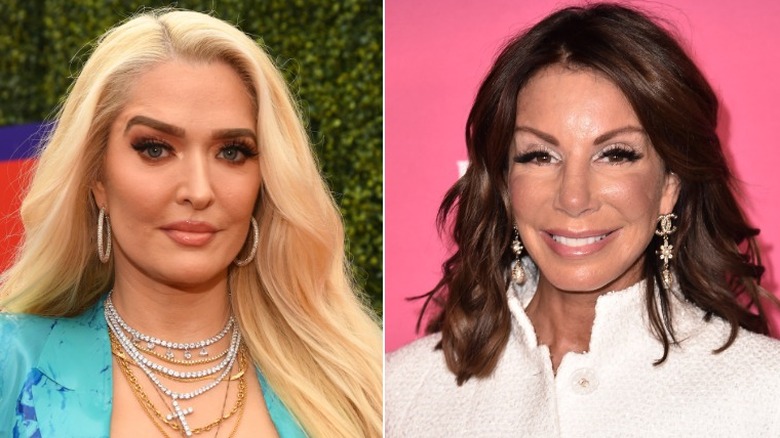 Danielle Staub has made it no secret that before she became a housewife, she was an exotic dancer. In fact, in one episode of "The Real Housewives of New Jersey," Danielle demonstrated her skills in front of the cameras. Erika Jayne, meanwhile, shocked her co-stars on "The Real Housewives of Beverly Hills" when her dancer past was revealed during the Season 10 premiere. When Erika's co-star and friend Lisa Rinna said she couldn't imagine seeing her two daughters dancing for money, Erika shot back with, "Maybe if I grew up with wealthy parents, I wouldn't have been working at a place like Shakers," according to People.
Some "Real Housewives" fans put two and two together on Instagram and realized that Erika, who is an East Coast native, was talking about the same Shakers that Danielle danced at in Carlstradt, New Jersey. In her book, "The Naked Truth: The Real Story Behind the Real Housewife of New Jersey – In Her Own Words," Danielle recalled the last time she visited her old stomping grounds. "I stopped by my old employers, Shakers and Satin Dolls, but I didn't take the stage. I'd already had my last dance," she wrote.
So, just how does Erika feel about her past and is she still friends with Danielle today?
Erika Jayne and Danielle Staub are not close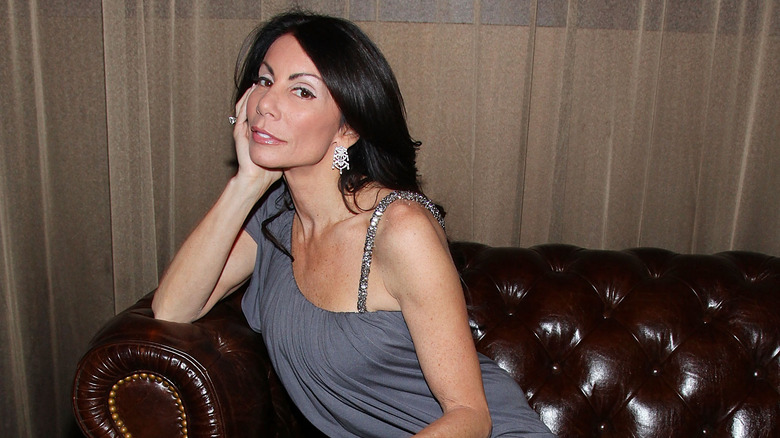 Erika Jayne doesn't appear to be ashamed of her dancing past. In an interview with Bravo's Daily Dish, the "XXPEN$IVE" singer hinted that what was in the past stays in the past for her, as she's more focused on her present and future. She also said she had no issues taking her fellow housewives to the place that helped her pay her bills. She told the site: "I'd written about this in my book. But taking them there, and actually smelling and seeing and feeling the place is a whole 'nother experience and, you know? I'm happy to have done it and I'm happy it's over and you know, it's a story. You know? It's one of those stories that you can tell about your life."
Now, as far as whether or not Erika had ever shared the stage with Danielle Staub, no one knows, but it doesn't seem like the blonde bombshell wants to talk about it, either. After Danielle appeared in the Hulu documentary, "The Housewife and the Hustler," to comment on Erika's legal situation, Erika took to her Twitter account to write: "I watched these people talk about me on TV like we were friends. Truth is, I don't know them. Bizarre," alongside a GIF of Heather Ledger as the Joker.
While they share a similar past, it does not seem that Erika and Danielle would identify as friends. 
Source: Read Full Article