'Donn Gunvalson' Parody Unmasked: How Fake Donn Sent Shockwaves Through Bravo and Sparked 'Housewives' Smackdowns (Exclusive)
The Donn Gunvalson parody account began innocently enough … a snarky comment here, a salty remark there. But what began as fodder for Jordan Ross Meyers, the mastermind behind the Donn Gunvalson and Lee Radziwill parody Twitter accounts, exploded into a viral sensation. With close to 17,000 following Lee and more than 43,000 following Donn, Meyers created exaggerated alter-egos for two unassuming public figures.
Meyers' accounts became the storyline at one of the Housewives reunions. And he has angered and frustrated a slew of Bravolebs, including Vicki Gunvalson.
But it all started with Lee …
Before there was fake Donn Gunvalson, there was fake Lee Radziwill
Meyers spoke exclusively with Showbiz Cheat Sheet and shared that his parody account fascination began with American socialite Lee Radziwill. He launched the Lee Radziwill parody when she was still alive and said her daughter-in-law, Carole Radziwill from The Real Housewives of New York was amused with the account … initially.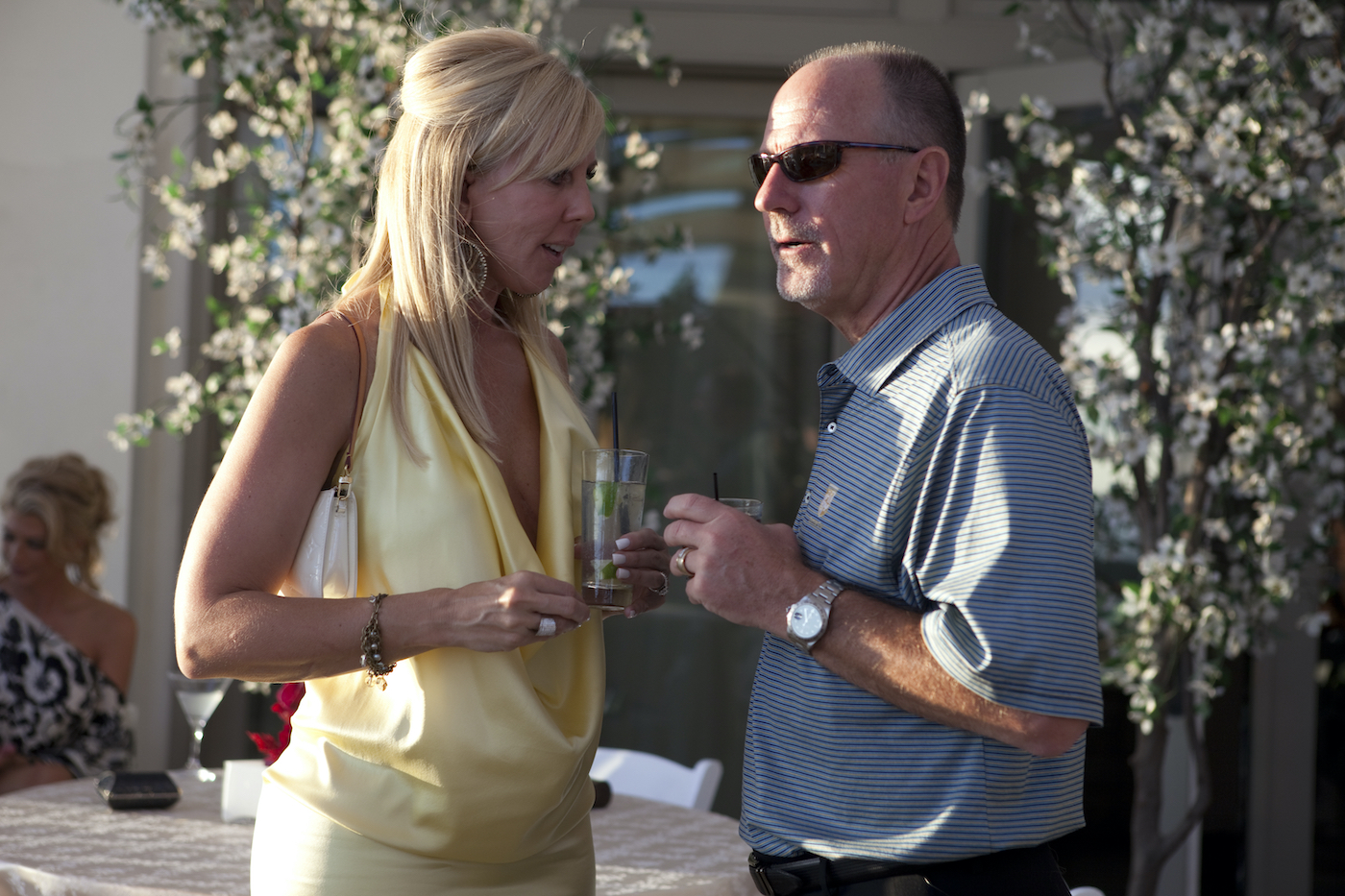 "At first Carole liked it, followed, we messaged," he recalled. "Then we kinda had a falling out. At the New York reunion where Luann [de Lesseps] tells Carole like, 'I don't think the Radziwill family approves of what you're doing on the show' or something. The point is, what she was doing was using my tweets thinking I was Lee. And it created a fallout between Carole and Luann! And that's when Carole put two and two together and blocked me. Before, she thought it was amusing. But then when Lu brought it up and thought I really was Lee, I became problematic."
The Hilton family may have helped Lee Radziwill go viral
Meyers revealed that one of fake Lee's earlier followers was Kathy Hilton from The Real Housewives of Beverly Hills. "She's actually been a big help to me," he said about Hilton. "I'm not friends with her personally, but she was one of Lee's first followers. That's probably where my whole parody game started."
"In the early days of Lee, Kathy thought I really was Lee," he dished. "Told her Beverly Hills friends about me. They followed me. Paris and Nicky [Hilton] follow me. It's cool." He added joking, "I haven't been to her manor, yet."
A Donn [Gunvalson] parody account is born
"The Lee account was taking off," he recalled about how Donn Gunvalson came to fruition. "But Lee is a bit classy [laughed]. And I wanted something where I could be a bit edgier. A little bit more offensive or crass. And so I was thinking of other random names people wouldn't think to register in the Bravo community."
"And Donn was available," he laughed. "He was perfect because he was always quiet on screen. Nice guy. And I think that's why people are always so shocked [when they see Meyers' tweets as Donn]."
No one is more annoyed with the Donn Gunvalson account than Vicki Gunvalson. "Vicki is a whole issue," Meyers dished. "Not issue, but she knows about it, and she did an interview maybe a month or two ago on Access Hollywood where they talked about my account. She said like Donn himself has tried to take it down a few times. Twitter won't do it. I clearly state I'm a parody and I'm within the rules. And she still hates it. But he's grown to find it funny. I don't think he's on social media, so when people approach him about it, like at this point he just finds it funny."
Bethenny Frankel and PK Kemsley did not find Fake Donn Gunvalson to be funny
"Bethenny, they pointed out in the middle of her meltdown on social media that it was fake," he laughed. "Then she called me a loser."
"But also PK, I pointed out that they don't own their house," Meyers recalled. "Think with their first house in Beverly Hills. I looked up the title and was like they don't even own it. And that started to snowball. And he too thought I was real. That was a few months ago. And he called me again an effing loser and stay out of his and his wife's business. And I don't think they realize they're just fueling me! It's great. Good or bad. Any acknowledgment just gets people's attention."
Thanks to fake Donn and fake Lee, Jordan Ross Meyes has a podcast
And while Meyers had angered a few Bravolebs, he's made some Bravo friends thanks to fake Donn and fake Lee. "I made friends through it, too," he shared. "Because of that, I have a podcast, Pretty Corrupt Podcast. And it's about taking people inside reality TV with my experiences and my work and stuff. And I've made friends through it, like Jerry O'Connell, Brandi Glanville. I'm good friends with Brandi, we hang out!"
Meyers also works in the entertainment business and admits he has a voracious appetite for Twitter. "I am a social media manager. So whether it's for Donn or Lee or work, I'm always on. I have an encyclopedic memory of stupid Bravo trivia," he said.
Source: Read Full Article