Everything We Know So Far About 'The Handmaid's Tale' Season 5
The fifth season of The Handmaid's Tale is just days away and if you, like me, are wondering WTF is going to be in store for the dystopian hellscape, then don't worry! Because we're about to break down everything we know. Elisabeth Moss (aka June Osborne herself) confirmed a fifth season of the show all the way back in December 2020, before the season 4 even aired. So that means we've had damn near two years to build up anticipation and speculate wildly about all things Gilead.
With season 4 having left us on the absolute cliffhanger of the ex-handmaids brutally tearing Fred Waterford apart and the impending fallout of said murder pending, all we can say is season 5 is going to be WILD. We can expect to see many of the familiar faces we know and love—and in some cases, hate (I'm lookin' at you Serena Joy)—but there have also been cast changes that'll make season 5 hit a bit different.
So without further ado, here's everything we know so far about The Handmaid's Tale season 5.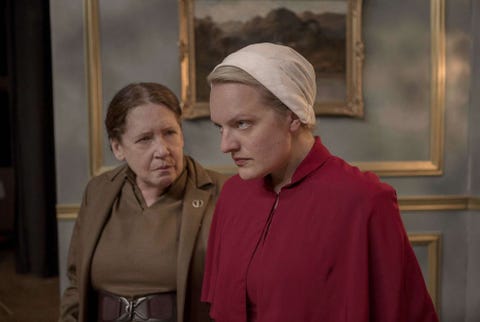 Handmaid's season 5 will return this fall
The good news is you won't have to wait too much longer for season 5 It's going to premiere on Wednesday, September 14, 2022, with new episodes coming out each week after that.
The September release date is an interesting one considering the other seasons have mostly premiered in April, but with 10 episodes expected, we'll be getting hours upon hours of kind-hard-to-watch-but-you-can't-look-away TV this fall…aka the perfect excuse to stay inside on the couch as the weather gets colder.
The plot could take a turn
The Handmaid's Tale isn't exactly known for following a predictable storyline, but from the sound of it, the show's creator Bruce Miller has even more twists and turns up his sleeve for this season. In an interview with The Hollywood Reporter in December 2020 (after season 4 was already in production), Miller said he feels the show has reached a "pivot point."
"It just feels like it's a good time to reassess what you were thinking, just because the story world has opened up because the real world has changed so much," he added. Whatever that means, I'm here for it!
The end of season 4 left us with SO many questions that the show is going to have to address in the upcoming episodes, the biggest of which is WTF is going to happen now that Fred is dead?? Is Serena going to become even MORE of a monster? Is June going to get a taste for killing commanders? And will she face any consequences?? There's also the whole issue of the Waterfords (and Gilead in general) having supporters in Toronto. We saw a bit of this last season, and the trailer for season 5 shows even more of it, so I'm willing to bet we start to see the dictatorship's influence spread even further north of the border.
The season 5 trailer also shows Serena back in her Gilead wife clothes, strutting her way off an airplane and then appearing in front of Gilead's council, so that can only mean she's leaving Toronto at some point and heading back to the terrifying motherland. In fact, it looks like there's a massive funeral being held there for her husband, so I shudder to think what Gilead will do in response to Fred's death (even though, technically, they were the ones to arrange it??).
In dissecting the trailer even more, there are also shots of June and Luke in the woods, including one that looks like they're running while being surrounded by vans and people wearing black and I STG if June gets captured by Gilead AGAIN, then I give up on this show!
https://www.instagram.com/p/ChpYHyavRFC/?utm_source=ig_embed&utm_campaign=loading
A post shared by The Handmaid's Tale (@handmaidsonhulu)
There's also a seemingly unrelated shot of Luke being hauled away and pushed down to the sidewalk by some sort of law enforcement, and another showing Mrs. Putnam screaming that then cuts to Nick with blood splatter on his face. My personal guess is he shoots her husband, but only time will tell!
Not all cast members will make it to season 5
Handmaid's is known for liberally killing off its characters, so it's clear not everyone even made it to season 5 unscathed. The most obvious that we know of right now is Fred, who did not live to see the new season, but other characters like handmaids Alma and Brianna, marthas Beth and Sienna, and Commander Keyes also died in season 4, so they won't be coming back.
Perhaps the biggest shock of all will be Emily's absence. Actress Alexis Bledel announced in May that she won't be in the fifth season of the show, which leaves her character Emily's fate uncertain. After four Emmy nominations (including one win) and countless praise for how amazing she is in the role, it's kinda surprising Alexis wouldn't return. But we do know that she has the third installment of The Sisterhood of the Traveling Pants coming, and it was recently revealed that she and her husband Vincent Kartheiser decided to end their marriage after eight years, so she obviously has a lot going on.
She always knew her life would be difficult, but this is more than she ever imagined. Watch Emily's journey to freedom in Seasons 1-3 of The #HandmaidsTale now on @Hulu. New episodes arrive April 28. pic.twitter.com/Mij1XetEcg
Once you get over the shock of no more Emily, you can find some comfort in the safe assumption that all the other main characters like June, Moira, Luke, Nick, Serena, Commander Lawrence, and (*insert massive eye roll*) Aunt Lydia, will be on our screens this season. So at least there's that!
Source: Read Full Article