Golden Globes 2022: How Guillermo del Toro's 'Nightmare Alley' Fell out of the Running
The Golden Globes 2022 bring an abundance of true stories and music-based movie nominations to the table. Guillermo del Toro's Nightmare Alley was initially an awards contender ahead of its release. However, it missed out on any nominations. Here's why Nightmare Alley fell out of favor with the Golden Globes 2022.
'Nightmare Alley' didn't land a single nomination at the Golden Globes 2022
Del Toro's last feature directorial effort was 2017's The Shape of Water. He earned Oscars for Best Motion Picture of the Year and Best Achievement in Directing, which instantly gave him more prestige. Del Toro switched gears to primarily a producing role. The talented filmmaker had all eyes on him when details started to drop for Nightmare Alley.
The Golden Globes 2022 are now upon us and del Toro's Nightmare Alley didn't score a single nomination. Some analysts were anticipating a nomination for Bradley Cooper or Cate Blanchett. Unfortunately, that never came to be. As a result, its Oscar potential is squandered.
'Nightmare Alley' failed to capitalize on the Guillermo del Toro, Bradley Cooper, and Cate Blanchett hype train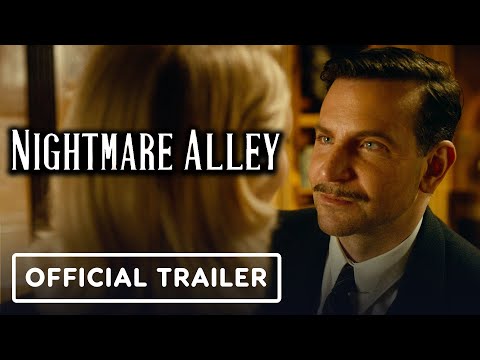 Distributor Searchlight Pictures posted the official Nightmare Alley teaser trailer on Sept. 16. Next, the full-length trailer hit YouTube on Nov. 18. Social media couldn't stop talking about del Toro's adaptation of the 1946 novel of the same name. As a result, many awards analysts thought the movie could hold some awards potential.
Unfortunately, the problems started with Searchlight Pictures' marketing efforts. The trailer is attention-grabbing, although the posters do nothing to captivate audiences or show why they need to rush to the theater during the pandemic. This communicates that either the movie is a stinker or it simply isn't a very marketable film.
Cooper and Blanchett sit at the center of the film. However, Willem Dafoe, Toni Collette, Richard Jenkins, Ron Perlman, and Rooney Mara fill out a stellar cast. They all deliver phenomenal performances, but the marketing just wasn't there to push them.
Nightmare Alley finally hit theaters on Dec. 17 to mixed but leaning positive reviews. It competed against the behemoth Spider-Man: No Way Home, pushing the film further under the radar. Nightmare Alley earned $8 million at the box office against a $60 million budget.
Cooper and Blanchett still earn praise for their performances, but it's clear that the Golden Globes 2022 didn't acknowledge them.
Golden Globes 2022 genre nominations
Nightmare Alley is a neo-noir psychological thriller. It has some horror elements, which isn't too surprising for del Toro. However, awards shows tend to skip over movies with genre influences. The Golden Globes 2022 is no exception.
Dune is the only sci-fi movie to earn nominations this year. Spencer has gothic horror elements that also push it into the conversation. Both titles have much stronger word-of-mouth buzz and performed better at the box office.
Hopefully, awards shows will feature more genre filmmaking in the future. The Golden Globes 2022 is not that time, but this year has an assortment of strong movies in the awards race regardless.
Source: Read Full Article