Gospel Singer Leah Shafer to Sing at 'Dog the Bounty Hunter' Star Beth Chapman's Memorial
Gospel singer Leah Shafer will perform at Beth Chapman's memorial, she shared exclusively with Showbiz Cheat Sheet.
The Dog the Bounty Hunter star died last month at age 51. Chapman was diagnosed with stage two throat cancer in 2017 but was cancer-free only a few months later. However, her cancer returned in May 2019 and Chapman died on June 26.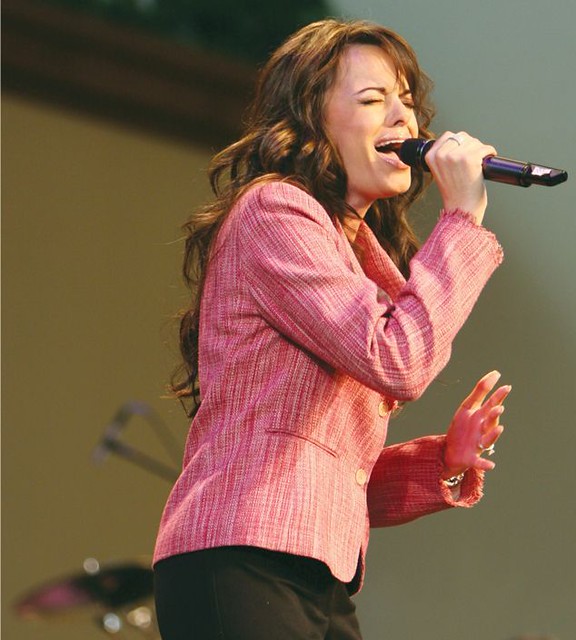 Shafer, who recently announced she is in a relationship with Captain Sandy Yawn from Below Deck Mediterranean, is not only a recording artist but also delivers the National Anthem at Denver Broncos games and is well-known in Denver.
Shafer was deeply touched when she was asked to sing
The memorial will be held on July 13 at the Heritage Christian Center in Aurora, Colorado. Shafer says she's been a guest singer at Heritage Christian Center for years. Plus, she learned the Chapmans were fans of her music.
"Michelle Leonard, the wife of Dennis Leonard who was the former pastor of Heritage who passed away recently, reached out to me and thought of me to sing in honor of Beth. I was truly honored," Shafer said. "They reached out through Facebook, Instagram, phone, and email. It was cute. They know I'm a pro and will live up to the music standards they are wanting. Beth was a beautiful loved woman."
https://www.instagram.com/p/ButsHQuFlb5/
This opportunity was a reminder that God works in mysterious ways, Shafer added. "It made me realize that when God wants to use you, despite other's opinions, He will place you," she said. "He continues to show me over and over that, He will use my gifts in ways that are unexpected and for His greater purpose. When I try and force things, it never turns out the way I think it will. But when I let go and let God, doors open in ways that have a far greater purpose."
She's preparing a beautiful tribute
Shafer's richly beautiful voice is the perfect pairing to many of the emotional gospel songs she often delivers. So when it comes to the memorial, she plans to review some of the more compelling songs that are filled with emotion.
"I usually send song selections that I already know, and that I know are powerful, since funerals are unexpected, it's always important to know 'go-to songs' that you can depend on," Shafer remarked.
https://www.instagram.com/p/BsG7ETeF4Q0/
"But sometimes the families have certain requests and when I receive that request I rehearse all week long," she continued. "I take any singing opportunity seriously, whether is for a funeral, wedding, conference. I put my entire heart and soul into any opportunity whether its for singing the National Anthem for Broncos for 80,000 or for 20 people or for the 'I Believe Tour' Sandy and I are doing together. Music is such a powerful universal message."
She's moving forward after making her announcement last month
Not all comments were positive when Yawn and Shafer went public with their relationship last month. Shafer told Showbiz Cheat Sheet in May some religious houses turned their backs on the singer when they learned she was in a relationship with a woman. However, since then, Shafer is trying to focus on the people who are welcoming.
"I have honestly gotten over the gospel industry judging me because there have been many churches and friends and leaders who have been nothing but loving and supportive through it all," she remarked.
https://www.instagram.com/p/Bs3A7hCFfvB/
"The lesson I've learned is the negative can stand out from all the positive, just like one small match can show in complete darkness," she said. "But I reversed my thinking, and Sandy helped me see this too. I will surround myself with more light, positive thinking, and the more light I carry it drowns out any darkness. Sandy is a huge light in my life and I cherish every opportunity we have to make a difference."
Source: Read Full Article