Harry Styles Might Be Cast as Elvis in a New Movie and I Don't Know How to Feel
Hello. Good morning. I've come to you with some very important yet potentially highly upsetting news. There is reportedly an Elvis Presley biopic in the works, and the amount of hot men that's being considered for the role is downright outrageous.
According to Deadline and the Hollywood Reporter, the dudes in the running are: Miles Teller, Ansel Elgort, Aaron Taylor-Johnson, Austin Butler, and Harry motherf*cking Styles. HARRY MOTHERF*CKING STYLES.
This is major news if you're a human with eyes and can appreciate the beauty/cool factor in this lineup, but every guy has serious pros and cons. Only one can come out on top, and we're here to help you weigh all these factors and make an educated decision on which mans to support.
For reference, here is a picture of Elvis. You should also know that Baz Luhrmann is directing this film. He made the most recent Gatsby movie with Leonardo DiCaprio.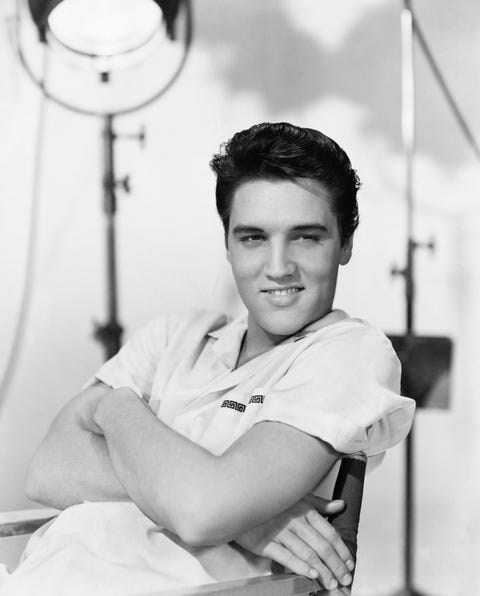 I would highly recommend queuing up some Elvis on your Spotify while reading this to help set the mood. Okay, let's dive in.
Miles Teller
Miles Teller. MILES Teller. You fell in love with him in that rager party movie Project X and even more in love with him in The Spectacular Now playing a damaged boi alcoholic with Shailene Woodley. Since then, he's done a lot of movies that are action-y in nature (Fantastic Four, anyone?).
And, I mean, look at him….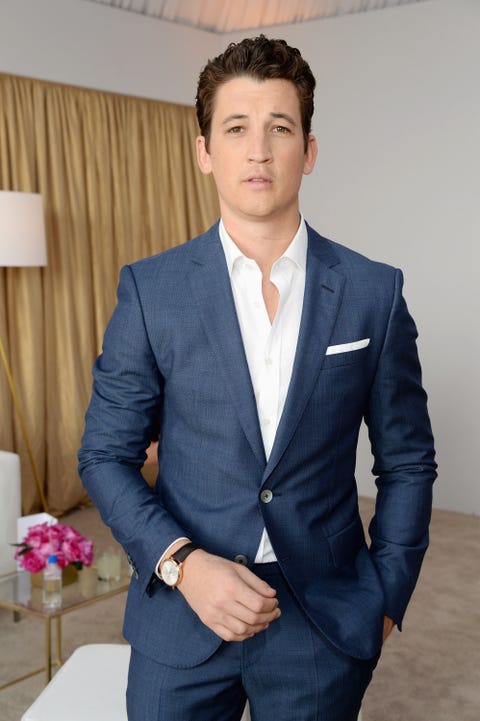 He's a dead ringer for Elvis. Also, he's about to be in the new Top Gun movie, so if Elvis's military service is part of the film, he's already got that down. And he could definitely pull off "drug-addicted."
The big question is: Can he sing? Who cares. He can learn. A solid contender, IMO.
Ansel Elgort
Next contestant in the running for the final rose role of Elvis is Ansel Elgort. Upside, he can (kinda) sing. Or, he can DJ. That's not quite the same thing, but we'll give him some points. He can obviously pull off a soft boi thing, as you saw in The Fault in Our Stars.
He is starring in West Side Story, so he'll have had musical training by the time this movie starts filming.
https://www.instagram.com/p/BohrV4pAMBI/
meeting the first 200 people that get a bottle of @poloralphlauren #PoloRed at @Macys Herald Square in New York City on October 11th. 6pm-8pm. Link in Bio for details.
A post shared by Ansel Elgort (@ansel) on
He doesn't look as much like Elvis, but I'm pretty sure that's what hair and makeup are for.
Let's move on!
Aaron Taylor-Johnson
Gonna be totally honest and say I don't know that much about Aaron Taylor-Johnson, but based on looks alone, I'd say he has a lot to offer. He played the hot kid in Angus, Thongs and Perfect Snogging back in the day, so…that's major. He was also in Avengers: Age of Ultron.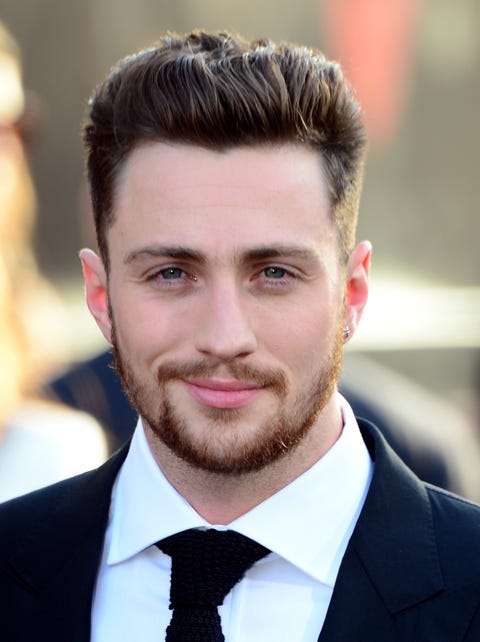 Thoughts?
Austin Butler
Alright, Austin Butler. You probably haven't seen him in that much since The Carrie Diaries, but since then, he's been a supercute Instagram boyfriend to Vanessa Hudgens, which we wholeheartedly stan.
https://www.instagram.com/p/ByniN_ah5mj/
My 👸🏻
A post shared by Austin Butler (@austinbutler) on
And seriously, look at him. He could be Elvis's long-lost great-grandson or something. It's honestly kinda freaky. In case you need more proof:
https://www.instagram.com/p/BHz8NPaA80g/
mān.ïn.thē.mïrrør
A post shared by Austin Butler (@austinbutler) on
He certainly has the ~swag~ to pull it off. And he'll be fresh out of Once Upon a Time in Hollywood, so people will be talking about him. A surprising but top choice, IMO.
Harry Styles
Alright. This is going to be the most controversial opinion in this post, but I'm willing to sacrifice myself and say it anyway: Harry Styles cannot play Elvis.
Look, I love Harry as much as the rest of you, and I thought he was perfectly not a distraction in Dunkirk. I WANT to see him in another movie. Plus, he has the voice of an angel. ALL THAT SAID, it doesn't add up for me.
https://www.instagram.com/p/BkOMhJwj01B/
Boston, Live On Tour.
A post shared by @ harrystyles on
Yes, he has an undeniable charm, but it's a different kind of charm than Elvis. And if I were going to pick a rock star for Harry to portray in a movie, it wouldn't be Elvis. It'd be more of a soft boi, because that's why we all love Harry. What I would like, however, is a Harry cover of Elvis's "Love Me Tender" as a consolation prize for him not getting this role.
Feel free to @ me, Harry stans. I'm ready for you.
People they obviously overlooked
Yeah, I have suggestions here. Thanks for asking. First things first, this brilliant idea.
(Shawn Mendes exists, y'all) https://t.co/Fa39L5Snoi
I mean, yeah.
https://www.instagram.com/p/BzZDFi_A2NG/
🖤
A post shared by Shawn Mendes (@shawnmendes) on
Would also like to submit G-Eazy for consideration because he is quite literally the second coming of Elvis.
https://www.instagram.com/p/Bxygq_zgIlT/
The birthday rage is approaching… 😈 Gemini season
A post shared by G-Eazy (@g_eazy) on
Can he act? Probably not. Who cares!
Also, hello, did everyone just conveniently forget about Adam Scott's performance at the Otter Bay fundraiser in Big Little Lies? Please enjoy this janky-ass YouTube video. (That's not actually him singing, BTW, but the idea is there.)
And last but certainly not least…Kristen Stewart. You heard me.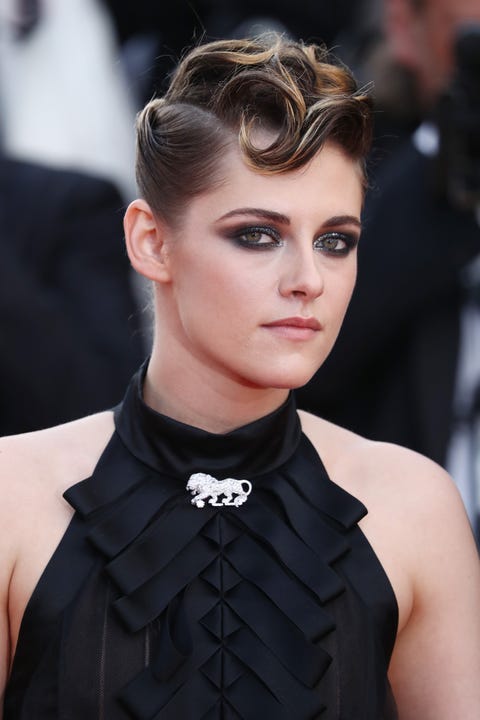 Source: Read Full Article