Here's a Quick Update on Ted Bundy's Girlfriend Elizabeth Kloepfer
Are you one of those people who has watched every single minute of every single Ted Bundy documentary and you're still left wanting more? Well, good news. No Man of God, a brand new film that is based on transcripts of Ted Bundy's conversations with an FBI agent, is finally here. But one thing we can't forget is the documentary Falling for a Killer, which tells the story from the perspective of his longtime girlfriend Elizabeth Kloepfer and her daughter, Molly. If you're still wondering what happened to Elizabeth after watching these films, you're not the only one. That's why we had to do a deep dive to find out all the info about what happened to her.
Here's everything you should know about Ted Bundy's former girlfriend Elizabeth Kloepfer.
First up, how did they meet?
Bundy and Kloepfer met in 1969 while they were both living in the Seattle area. She was a divorced single mom working at the University of Washington, where Bundy attended school. Among other terrible tendencies, he cheated on her pretty early on in their relationship, dating his ex-girlfriend Stephanie Brooks in 1973 without ever bothering to tell Kloepfer about her existence.
Of course, the question on everyone's mind is, did Kloepfer know Bundy was moonlighting as a serial killer? The answer? It's complicated, but more on that in a minute—let's watch this preview real quick for a Zac Efron palate cleanser.
Okay, so did she know?
Yes and no. There were definitely things that made her suspicious. It's unclear exactly when Bundy first murdered anyone, but his spree had certainly started by the early 1970s—when he and Kloepfer were dating. Kloepfer was actually one of the people who reported Bundy as a possible suspect when she recognized his likeness in a police sketch in July 1974. Truly, can you even imagine worrying that your life partner was a killer?!
In August of that same year, Bundy and Kloepfer were still together, even though he'd moved to Salt Lake City and secretly begun seeing other women on the side. Kloepfer became even more suspicious of her boyfriend once several women turned up murdered in Utah, where Bundy had relocated, so she called the police to report him twice—once in November and then again in December 1974. But in January 1975, the pair spent a week together in Seattle and she didn't mention her suspicions.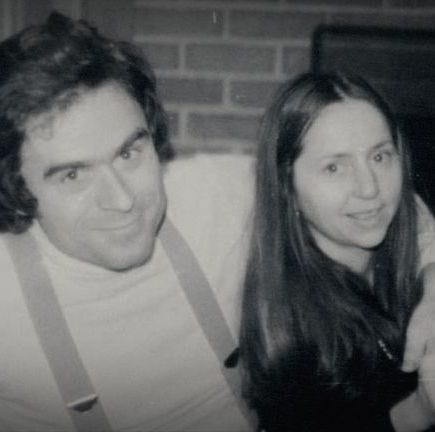 Things took a turn in August when Bundy was put on "surveillance" after a policeman found a bunch of questionable stuff in his car (think: a ski mask, handcuffs, etc.), and detectives flew to Seattle to interview Kloepfer, who confessed that she had found objects she "couldn't understand" in his apartment. Among those objects were…crutches, a meat cleaver, surgical gloves, and a "paper sack" of women's clothing. Nope-nope-nope-nope-nope.
Kloepfer also told police that Bundy threatened to break her neck and that sometimes she woke up to him looking at her body with a flashlight under the covers. Amazingly, after all this, Kloepfer still let him live with her while he was awaiting trial. When Bundy finally admitted to the extent of his crimes, he told detectives that he burned a woman's head in Elizabeth's fireplace, saying, "Of all the things I did to [Kloepfer], this is probably the one she is least likely to forgive me for. Poor Liz." It goes without saying, but…wow, what an effing lunatic.
So, where is Kloepfer now?
Enjoying life out of Bundy's shadow, thank goodness. Kloepfer has been living completely under the radar with her daughter—who's known in Extremely Wicked, Shockingly Evil and Vile as "Molly" and in Kloepfer's book as "Tina." That said, an old audio interview of her speaking openly about Bundy was used in Netflix's documentary series Conversations With a Killer: The Ted Bundy Tapes.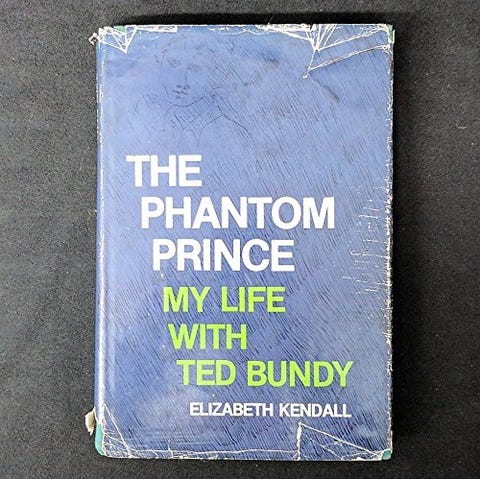 In the series, Kloepfer explains that she was Bundy's first phone call after his final arrest in Florida: "He told me that he was sick and he was consumed by something that he didn't understand. He just couldn't contain it….He was preoccupied with this force."
Meanwhile, in 1981, Kloepfer published a memoir about her relationship with Bundy called The Phantom Prince: My Life With Ted Bundy. But aside from that, she's remained relatively out of the spotlight—in part thanks to pseudonyms like Elizabeth Kendall and Meg Anders, which protect her identity. That said, we do know that Kloepfer currently lives in Washington state and that she visited the set of Extremely Wicked.
"I don't know if she's going to see the movie because it's difficult, but within the filming process, she came on-set and she was a positive light on-set," Lily Collins (who plays Kloepfer in the film) recently said. "You wouldn't expect that with what happened. She gave us her support. She's really lovely."
Meanwhile, director Joe Berlinger told Vanity Fair that Kloepfer showed him family photos of her time with Bundy and even private letters he'd written her. "[She] pulled out this box of dozens of handwritten love letters from Ted, written on those yellow legal pads….He wrote them with such a force that instead of them just being pen on paper, it was like his handwriting was deeply embossed into the page."
Source: Read Full Article