How Did Idina Menzel Really Feel When John Travolta Messed Up Her Name?
While musical theater fans have known of Idina Menzel and her metal lungs since her exhilarating debut as Maureen Johnson in 1996's smash hit, "Rent" — that's right, seven years before her star-making turn as the green-skinned Elphaba in "Wicked" — outside the theater world, she was perhaps not as well known. That was especially true before she performed the role that really put her on the map: her 2013 turn as Elsa in Disney's "Frozen," even though she only leant her voice.
So when she had the opportunity to perform the famous solo "Let It Go" live on television during the 2014 Oscars ceremony, in front of Hollywood's biggest stars and a viewing audience of millions, needless to say she was excited. It didn't quite turn out as she expected though, thanks to one John Travolta, who seriously messed up her name. For several odd reasons (which we'll explain below), he introduced her as "the Wickedly talented, one and only, Adele Dazeem."
Uh… who? A pause, strange looks, and laughter followed, and poor Menzel had to pull herself together and sing this incredible, and difficult, song. Of course, that was seven years ago, and Menzel has had time to reflect on it since then. She discussed the incident during a recent appearance on James Corden's "Carpool Karaoke" on September 8, as promotion for her appearance in the new "Cinderella" on Amazon Prime. Learn all about how she felt then — and now.
Idina Menzel had only eight seconds to pull herself together after that awkward introduction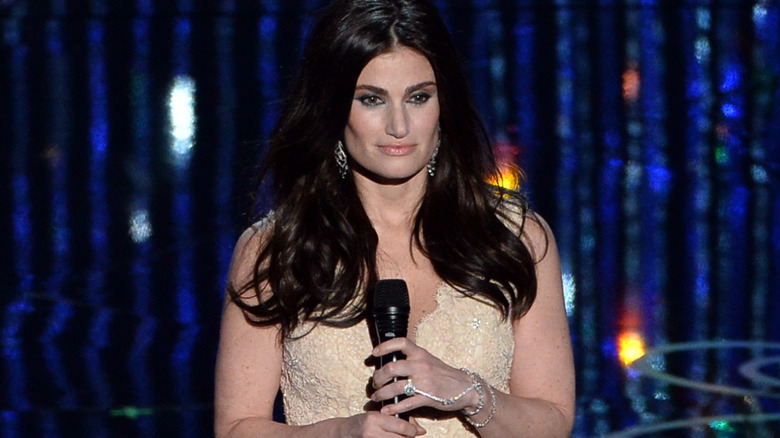 Of course, James Corden had to ask Idina Menzel about that infamous, cringe-worthy moment when she appeared on "Carpool Karaoke" on September 8. Corden drove Menzel and their "Cinderella" co-stars, Camila Cabello and Billy Porter, to the film's premiere. He asked them if they get nervous before big events like this, and they all said yes, especially if they have to perform. So the natural segue was to Menzel's 2014 Oscars performance.
At the time, she explained, she was extremely nervous, and had only eight seconds to gather herself after John Travolta's flub. "First I felt really sorry for myself, like Meryl Streep's out there, this is my big break and he just f**ked up my name." Any performance plans she had disappeared. "I was so nervous, I had meditated on this moment," she continued. "I was gonna sing to my son to put perspective on everything, and then that happened and it all went out the window." Reflecting on it now, however, Menzel said, "it was the greatest thing that ever happened to me!"
Porter, who excitedly exclaimed that he watched the moment live, said he knew that was going to be big for her. "I was sitting in my house and he said your name wrong and I said, 'She's gonna be a household name within 24 hours,'" he said, explaining what a "huge crossover moment" that was for "theater babies" like he and Menzel. "I was like, 'I need somebody to say my name wrong at the Oscars.'"
John Travolta had given an interesting explanation for what happened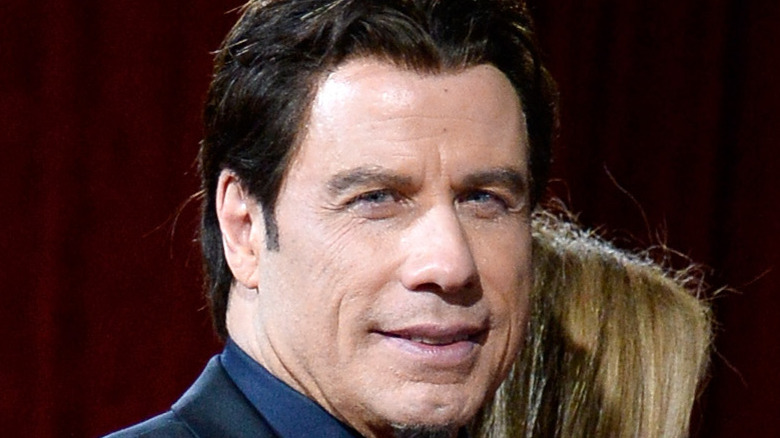 James Corden also asked Idina Menzel if she's spoken to John Travolta since then — and she has. "He's written so many nice, apologetic emails, sent flowers, he's so kind, and to make up for it, he would fly wherever at this point," she said. "I just always say 'no worries 'cause it was the best thing that ever happened.'"
But how did such a weird blunder take place? According to Travolta, in a 2015 appearance on "Jimmy Kimmel Live!," it sounds like a perfect storm of messes. For one, his page got stuck in an elevator and someone else had to warn him about his appearance, saying, "You're on in a minute." "I was like, 'What happened to 15 minutes?'" Travolta told Kimmel. Then while waiting backstage, he was "starstruck" by Goldie Hawn," who is charismatic, sexy, beautiful, and I was starstruck, hugging and loving her up, forgetting I had to do this bit." 
Then, to add fuel to the fire, "they said, 'Oh by the way, we've changed Idina's name to a phonetic spelling and I was like, 'But, but — what do you mean?'" Travolta explained. But Menzel got her revenge a year later, when she introduced him at the 2015 Oscars as "my very dear friend, Glom Gazingo."
Source: Read Full Article