Inside Tarek El Moussa And Christina Haacks Messy Relationship Since Their Split
Tarek El Moussa and Christina Haack, though they are no longer married, have barely left the spotlight since they announced their divorce in December 2016 after seven years of marriage. And there's no doubt there's definitely been a lot of ups and downs for Christina and Tarek since they called it quits. 
After a highly-publicized incident that they later called an "unfortunate misunderstanding" — per People, Tarek had left their home with a gun, though he later told Dr. Oz he was looking to "scout trails" — the former couple confirmed they were going their separate ways, adding that they "plan to continue our professional life together." Tarek officially filed for divorce in January 2017.
While the two have no doubt kept on living out their professional lives side by side, even continuing to film episodes of their HGTV hit "Flip or Flop" together, whether or not they've actually remained civil as former spouses has been widely speculated. Read on for all the details.
Christina Haack and Tarek El Moussa refused to even drive to set together after their split
It's no secret that things weren't exactly great between Christina Haack and Tarek El Moussa towards the end of their relationship. Haack opened up about just how bad things got during a candid February 2017 interview with People, where she revealed things were so bad they couldn't be alone together.
While it made sense for the happy couple to hop in the same vehicle together when things were going well, Christina admitted that they would purposefully drive separately even if they were going to the same place — even when they were still married. "We weren't able to properly communicate anymore. It got to the point where we weren't even driving to set together," she confessed.
Christina also opened up a little more about what led to their breakup. "Like any couple we had our share of issues. But we went through a lot in a short amount of time," she shared, noting that Tarek's cancer diagnosis and infertility struggles both played a part in them going their separate ways.
Christina Haack felt like she was 'drowning' after divorcing Tarek El Moussa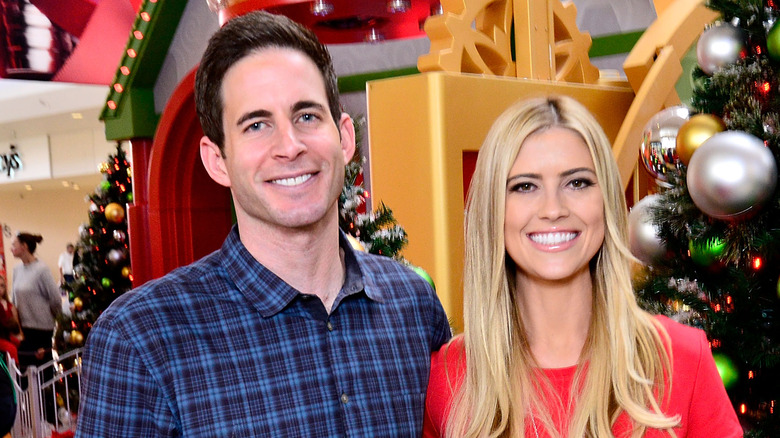 The former couple has been pretty open about their split and their lives in the wake of their divorce, but Christina Haack admitted she found everything so difficult after she and Tarek El Moussa initially went their separate ways that she even likened it to "drowning." The reality star told People for a July 2018 cover story that she struggled so much she found herself just "doing whatever [she] could to stay above water and just get through the day."
Tarek has also gotten candid about the hard time he experienced in the wake of their split. In August 2019, he told Entertainment Tonight that he "hit rock bottom" amid their very public divorce and found things "very, very difficult," calling himself "the guy who lost everything." He called the time immediately following their breakup the "lowest, lowest, lowest point of [his] life" and shared that there were days he struggled to get out of bed.
Christina Haack and Tarek El Moussa took their daughter to therapy after she asked them to get back together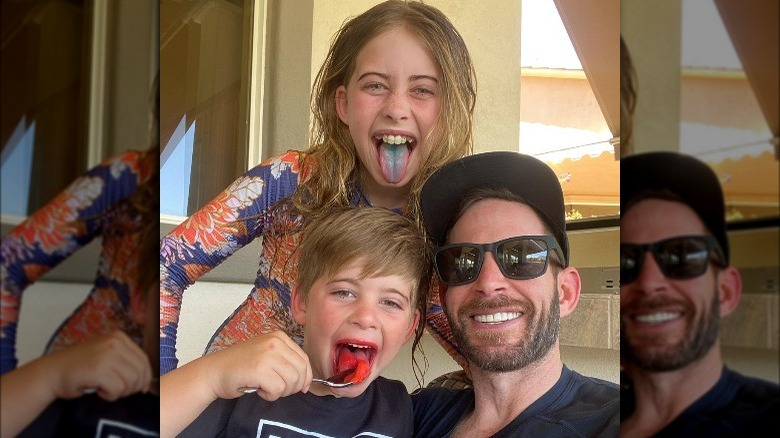 Christina Haack and Tarek El Moussa's relationship and messy divorce was no doubt tough for them, so their very public split must have also had a big impact on the ex-couple's two children, Brayden and Taylor. While their son Brayden was 2 when the couple went their separate ways, Taylor was 6 and found the divorce more difficult.
Christina shared in an August 2017 interview with Good Housekeeping that Taylor attended four months of therapy but had a breakthrough that allowed her to move on. "One day, as I was driving her to an appointment, she said, 'I don't need to go to therapy anymore. I think you and Daddy are happier apart, and I don't really need to talk about it anymore.'" Christina added that her daughter is "very open and honest with her feelings," but admitted that the touching moment made her think, "'Wow, that's a big comment for a 6-year-old.'"
Christina had heartbreakingly revealed to People in February 2017 that before getting her feelings out in therapy there was a time when Taylor actually asked if she could get back together with Tarek. "We had to explain that sometimes couples get divorced but that she and Brayden are our number one priority. We'll always be a family," she recalled of her response.
This is why Christina Haack and Tarek El Moussa continued with 'Flip or Flop' after their divorce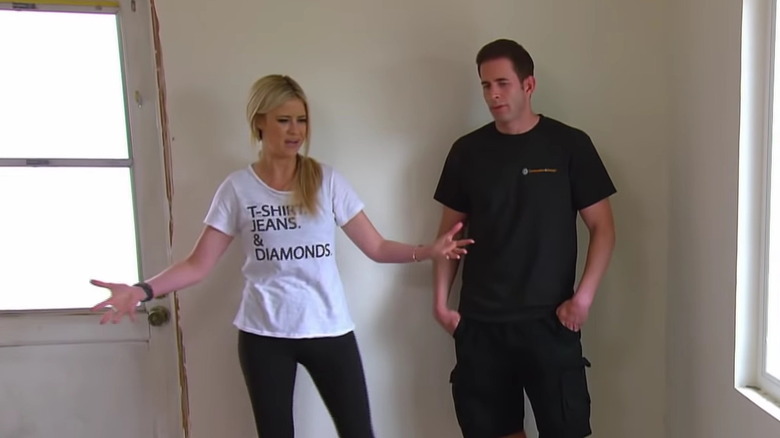 We all know that Christina Haack and Tarek El Moussa continued working together after their split as they continued to film new episodes of their HGTV hit, "Flip or Flop" — but was it more of a business decision than a personal one?
The couple have both hinted that they maybe didn't fully want to keep such a close working relationship after going their separate ways, with Tarek admitting during a joint interview with Today in December 2018 that it was initially "up and down, up and down" as to whether they'd continue on with the show. "We shot the pilot in summer of 2011, series of 2012 — so we've been doing this a really long time. It's part of who we are and what we do, and for us to just throw it all away just wasn't worth it," he added.
Christina also touched on the decision to keep things going in a July 2018 interview with People, where she hinted their lives were just too tangled to completely remove themselves. "Tarek and I were so tied together on everything: real estate, the show, our children, our house. It was so stressful, and everyone was worried that it was going to explode," she recalled. And allegedly, it eventually did just that.
Both Tarek El Moussa and Christina Haack flaunted their new romances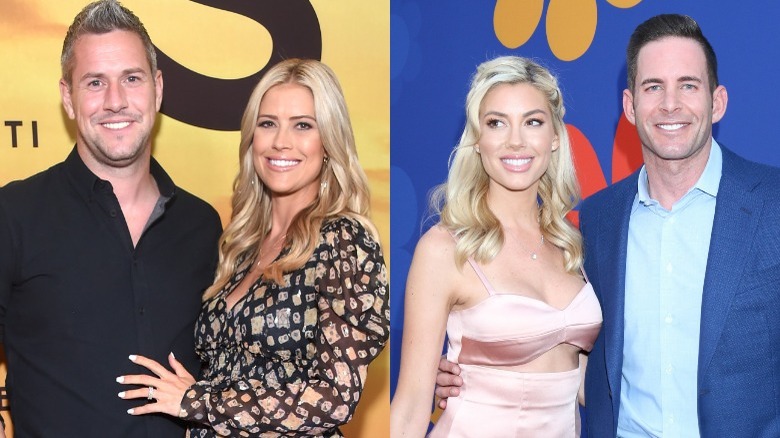 Neither Tarek El Moussa nor Christina Haack made secrets of their romances after divorcing. Christina appeared first to move on and was spotted on dates a few months after she and Tarek announced they were going their separate ways.
She started dating Ant Anstead in October 2018, who she went on to marry and welcome a child with before splitting in September 2020. Christina proudly flaunted their relationship on social media and "Christina on the Coast," praising her man on multiple occasions. In a since-deleted Instagram post, she gushed of her second shot at love (via E! News), "Eventually you'll end up where you need to be, with who you're meant to be with, and doing what you should be doing."
As for Tarek El Moussa, he's not been afraid to put his relationship with "Selling Sunset" star Heather Rae Young on display. He shared a shot on Instagram of himself and Heather celebrating his birthday with his and Christina's kids in August 2020, writing, "I got a second chance at life. I'm not gonna waste it. Love you all."
The star also had some interesting timing the following month. Right after Christina announced her split from Ant in September 2020, Tarek shared a snap of himself and Heather to Facebook, writing, "I'm just so excited about life!! I'm in love, I'm engaged… I'm telling you… it's possible to accomplish those things you have been dreaming of!"
Christina Haack didn't even tell Tarek El Moussa she was marrying Ant Anstead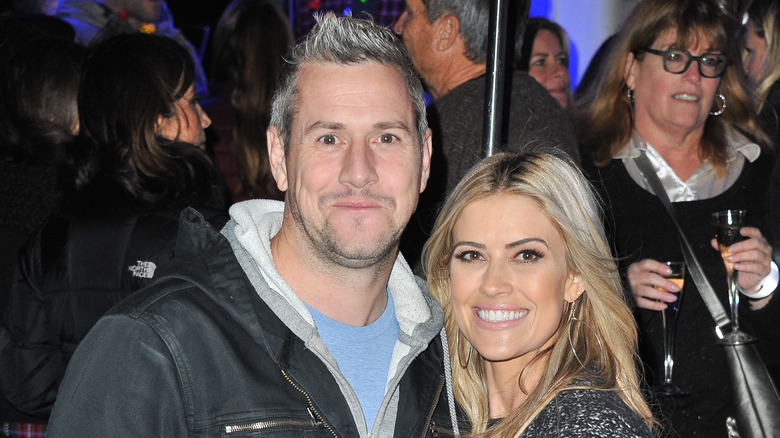 Tarek El Moussa's invite to Christina Haack's wedding didn't get lost in the mail. It was never sent. Tarek opened up about how he found out Christina had tied the knot with Ant Anstead in December 2018, telling People his former wife didn't even tell him it was happening. He explained he found out the same way as everyone else did, the very night they tied the knot. "I was sitting on the couch and then I started getting texts from people showing me a photo online of her wedding. That's how I found out," he shared, describing it as "out of the blue."
As for how he felt about Christina moving on? Well, Tarek recalled he "sat there for a few minutes and thought about things" but realized that it "was kind of like a release" for him to move on as he "was really okay with it" and even "happy with it."
On the flip side, Christina probably shouldn't expect an invite when Tarek marries Heather Rae Young after he proposed in July 2020. The couple told Entertainment Tonight in October 2020 they had no plans to have any exes on either side attend their big day, also suggesting the "Selling Sunset" and "Flip or Flop" cameras won't be invited. "Small, less distractions, more intimate, better conversations with the people around us. You know, we just think smaller is better," Tarek said. Sorry, Christina.
Tarek El Moussa kept his distance from Ant Anstead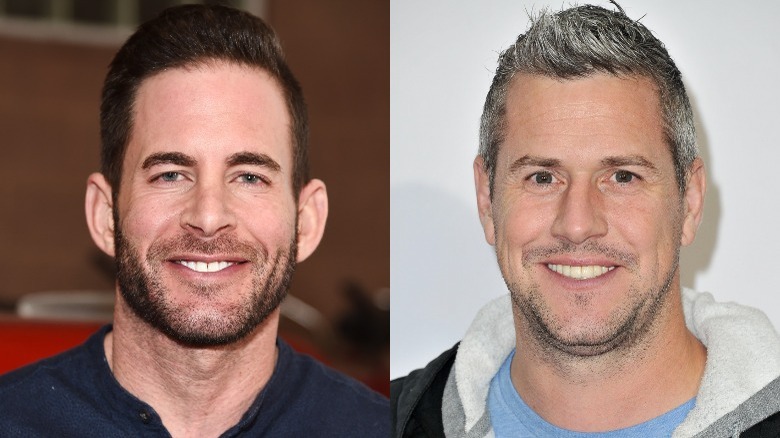 Though Christina Haack's ex-husbands Tarek El Moussa and Ant Anstead haven't spoken publicly about one another a lot (particularly when Ant was married to Christina), Tarek did tell People in January 2019 that he and the British TV presenter would "Say hi" when they saw each other, but claimed, "that's about it." He added, "Of course I ask my kids about things they do, and what's going on, and they always say good things about [Ant]. So as a father, it's good to know that there's hopefully a good man in my kids' lives besides me."
Tarek has extended that goodwill to his children's half-sibling, Christina and Ant's young son, Hudson. In an interview with InTouch Weekly, Tarek also confirmed that he'd met Christina's son with her now former husband, Ant Anstead, calling him "a cute little guy!"
As for how involved Christina is with Tarek's fiancé, Heather Rae Young, it looks like those two are actually on good terms, as evidenced by a sweet Mother's Day post in which Christina showed off a sweet bouquet of flowers gifted to her from the "Selling Sunset" star and the children Christina shares with Tarek.
Christina Haack called selling the house she shared with Tarek El Moussa 'bittersweet'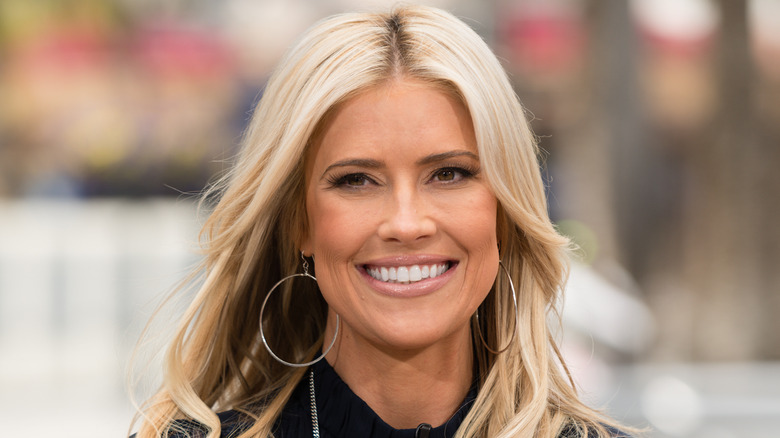 Christina Haack didn't hold back from letting her true feelings out on her "Flip or Flop" spin-off show, "Christina on the Coast," and even let the cameras roll as she said goodbye to the family home she once shared with Tarek El Moussa and their kids.
In a June 2019 episode of the HGTV series, Christina got very candid about how she felt about selling the house, admitting she "never thought… it would sell this quickly" as it was purchased within a week of it going on sale (via InTouch). She then got sentimental about the property, saying, "While I'm super excited to just close this chapter of my life after the divorce, it's also bittersweet. There's just so many memories wrapped up in it."
Christina also shared how her daughter, Taylor, wanted to take a final look around the home — which was where she grew up and spent much of her childhood — which was an emotional moment for both of them. "While it is going to be an amazing fresh start for us all, it's also very emotional," Christina said.
Tarek El Moussa claimed he had a 'positive relationship' with Christina Anstead after their divorce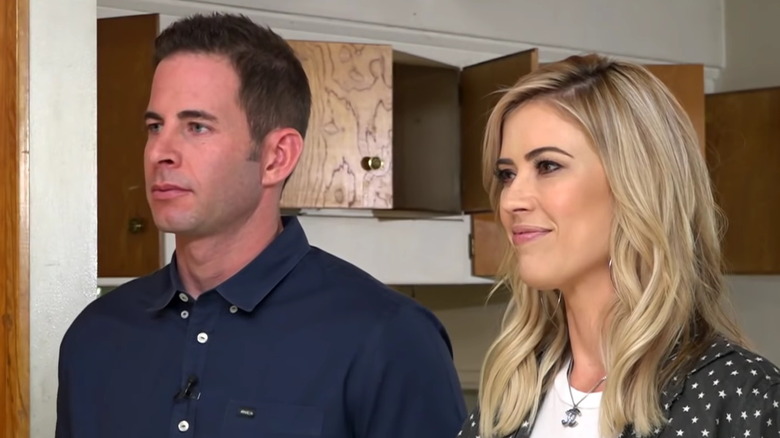 Despite all the sources and intense media speculation that surrounded their public split, Tarek El Moussa maintained that he and Christina Haack actually have a "positive relationship." Revealing his truth to InTouch in February 2020, Tarek explained he and his former wife had managed to keep things cordial for the sake of their two children, who he called "everything" for the both of them. 
He added that he and Christina "would never do anything to harm the kids" and noted their ability to stay cordial stemmed from the fact they both "understand that's how it has to be for many different reasons — all the way from business to the kids." The two have also featured on each other's social media accounts a few times, including in March 2021 when Christina poked a little fun at Tarek's outfit.
But don't think the exes are spending a lot of downtime together. Tarek also spoke about his relationship with Christina to The List in June 2021, admitting, "Outside of work, we don't really hang out. We don't talk, other than [to] communicate about the kids."
Christina Haack and Tarek El Moussa worked hard together for the sake of their kids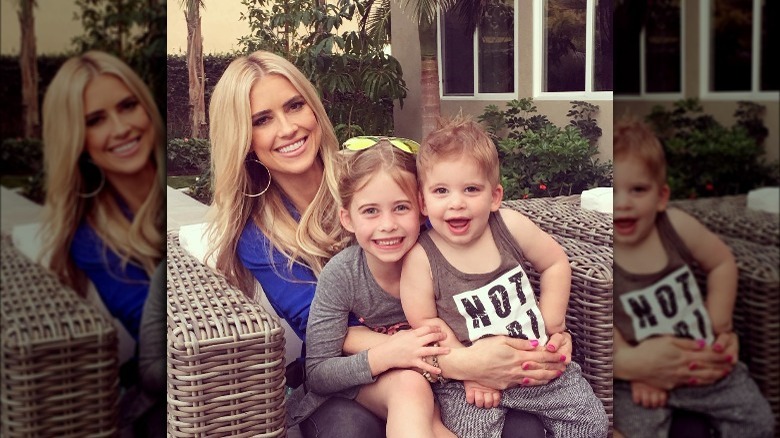 Christina Haack opened up about how she and Tarek El Moussa continued to co-parent together, and it sounds like the two were willing to go the extra mile to make it work during such a difficult time.
Speaking to Us Weekly in April 2020, Christina revealed she actually went round to El Moussa's home to help him homeschool their kids — daughter, Taylor, and son, Brandon — for the first few days of uncertainty. "We're just making sure that we're on the same page," she said. "We just, like, make sure we're helpful with each other." The star added of where their relationship stood, "We all just are in it for the kids and whatever's best for them, so that's just how we make it work."
Christina also revealed how the things she'd been through had changed her, speculating that going through was she described as a "public divorce" had actually made her "more patient" as a person. There's certainly no doubting a whole lot of patience was probably needed during those homeschooling days…
Tarek El Moussa allegedly 'lashed out' at Christina Haack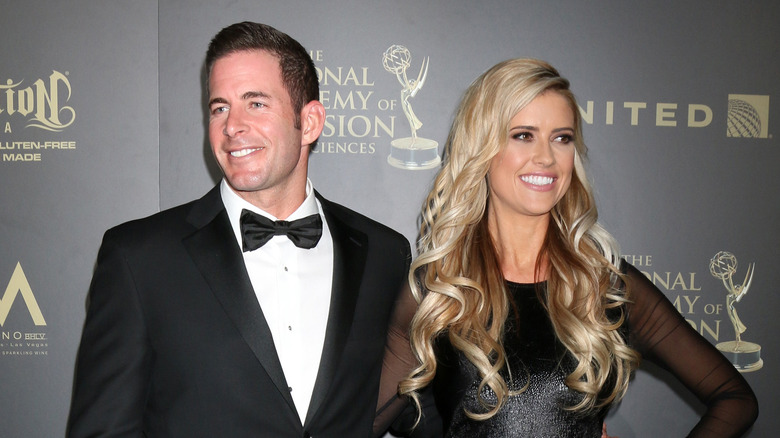 In July 2021, TMZ alleged things hit fever pitch on the set of "Flip or Flop" when Tarek allegedly "lost his cool and went on a verbal tirade" aimed at his ex because he didn't like the way she told him she was ready to film the next segment. Tarek's apparent outburst allegedly saw him compare Christina to his fiancée, Heather Rae Young, as he claimed the reality star is "hotter and richer than Christina" before calling her a "washed-up loser." Yikes.
A source then told People following the apparent outburst that "outside of co-parenting," Tarek and Christina are apparently "not friends." Another claimed to InTouch Weekly that the exes supposedly "can't stand each other" when the cameras are off.
Tarek has also been accused of being "extremely jealous" of his former wife — both when she moved on with Ant Anstead and when she landed her own "Flip of Flop" spin-off, "Christina on the Coast." A source claimed to InTouch there was a lot of competition between the exes and suggested Tarek was "bitter" about Christina's success in her personal and professional life.
Source: Read Full Article