Jed Wyatt Finally Broke His Silence About Still Having a Girlfriend When He Went on 'The Bachelorette'
Tonight's Bachelorette episode is hometowns, which, if you're a card-carrying member of Bachelor Nation and/or Chris Harrison, is a pretty big deal. Hannah B is meeting the family of her final four men, which, much to Twitter's dismay, includes contestant Jed Wyatt.
ICYMI, a couple of weeks ago a woman named Haley Stevens came forward saying that she had been dating Jed right before he left to go on the show, saying, "He called me when he landed in L.A. He said, 'I love you, and I'll call you when I get back.'"
She also claimed that Jed only went on the show for his music career and that he ghosted her when he got back from filming. "I never even got broken up with. Never got any explanation," she said in an interview. Oh, and she also said that he cheated on her while they were dating and she shared some of their personal texts, so yeah…it's gotten messy out there on the internet for Jed!
Jed has stayed pretty mum about the whole situation (my guess: he's contractually obliged or ABC's press people gave him a pretty stern talking to), but he finally broke his silence on Instagram today to ask people to stop with the hate. Apparently, he and his family have been getting threatened and verbally attacked because of the situation. He wrote:
https://www.instagram.com/p/Bzq_bYxl9yJ/
Hi y'all. Several of you have reached out with messages and questions. Please know I'm not able to answer right now, but as soon as I'm able to, I will. •Until then, I ask that you please understand how much the actions being taken towards myself, my family, the men on the show, and above all, Hannah, are affecting all of our mental and physical health. •It goes beyond what is said online. Threatening letters and phone calls have been sent to our homes. My parents and sister are being verbally attacked in public. I beg you to remember what seems like a harmless action is damaging to real people. •I want to thank all of you who have reached out or reserved judgement until I am able to speak openly and I can only ask for your patience and kindness until then.
A post shared by Jed Wyatt (@jedwyatt) on
And while it's fully not okay to attack someone online or over the phone (and I hope that I wouldn't have to remind anyone of that!) I don't know that I'll be "reserving judgment" for Jed. Wbu?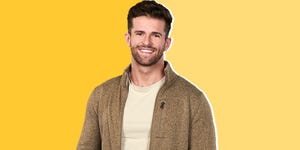 Source: Read Full Article