Leonardo DiCaprio Once Got In A Fight Over This Saved By The Bell Star
Leonardo DiCaprio is one of the most successful actors of the 21st century. He's been a part of the film industry since the '80s, having starred in blockbusters like "Titanic," "The Aviator," "Inception," and "The Wolf of Wall Street," per IMDb. DiCaprio cemented his movie star status when he won the Academy Award for Best Actor in 2016. As of 2021, he has five film projects in production, proving he's still a favorite amongst directors.
When DiCaprio is not entertaining audiences on screen, he's living a luxurious life off screen, enjoying vacations around Europe, a robust dating life, and hanging out with his "wolf pack." In fact, DiCaprio was known to have founded his pack, per Paper, and was involved in many shenanigans with them during the mid-to-late 90s — including when he got into a fight over a "Saved by the Bell" star. Keep on reading to find out what led to DiCaprio's fist fight.
Leonardo DiCaprio was a bad boy during his early years in Hollywood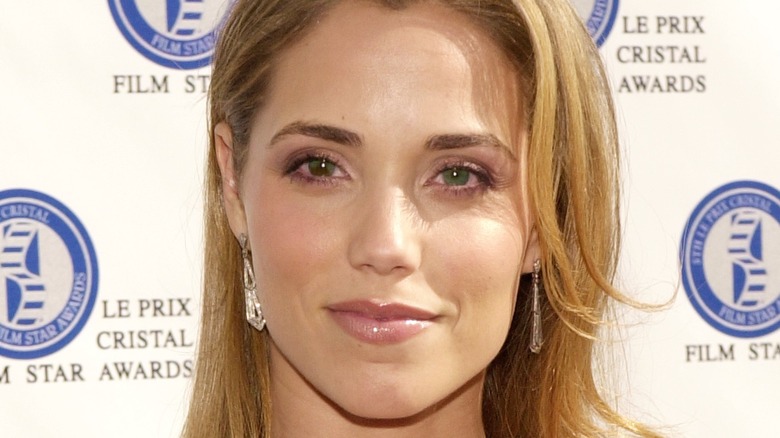 While Leonardo DiCaprio has successfully shrugged off his "party boy" status over the past decade, there was a time in the '90s that he was known for his bad-boy antics. Per Entertainment Weekly, DiCaprio once got into a fight over Elizabeth Berkley, who starred as Jessie Spano in the '80s and '90s sitcom "Saved by the Bell."
According to the New York Post, "Porky's" star Roger Wilson sued DiCaprio in May 2003 for $45 million after "The Revenant" actor ordered his "Pussy Posse" to attack him at a nightclub in 1998, over Wilson's then-girlfriend Berkley. DiCaprio allegedly hit on Berkley after meeting her at the premiere for his movie "The Man in the Iron Mask" and asked his then-publicist Karen Tenzer to invite her out for drinks without Wilson, per Vulture. Berkeley declined and told Tenzer and DiCaprio to stop calling her. 
Upon hearing about Berkeley's troubles, Wilson then confronted DiCaprio and his posse at a nightclub in Manhattan, during which the argument got heated and moved outside, and DiCaprio reportedly instructed his friends to "kick his a**." Wilson claimed in his suit that an unknown assailant hit him in the throat and damaged his larynx, which ended his Broadway and singing career. DiCaprio denied the charges and the lawsuit was dismissed in 2004, according to USA Today.
Source: Read Full Article