The Real Reason Skylar Astin And Lisa Stelly Split
"Pitch Perfect" actor Skylar Astin was first linked to Fancy Sprinkles founder Lisa Stelly back in 2020. According to People magazine, the two made their relationship Instagram official in June of last year, and things seemed to be going extremely well for them. Astin, who finalized his divorce from Anna Camp in late 2019, even sounded like he wanted to spend the rest of his life with Stelly. In an Instagram post uploaded on her March 4 birthday, Astin wrote, "Happy Birthday to my Pisces Princess and Sprinkle Queen, @lisastelly! I love you with all my heart and will share sweatshirts with you forever." 
Meanwhile, Stelly, who split from Jack Osbourne in 2018, also seemed to be in this relationship for the long haul, captioning an Instagram post of her and Astin with "mommy and Zaddy," in January. However, on September 1, People magazine confirmed that the two stars broke up. Fans likely found themselves curious about Astin and Stelly's relationship given the fact that neither of them had shared any new photos together on their respective Instagram accounts in more than four months. 
So, how did a relationship that seemed to have lasting power end up coming to an end? Keep reading to find out.
Work commitments got in the way for Skylar Astin and Lisa Stelly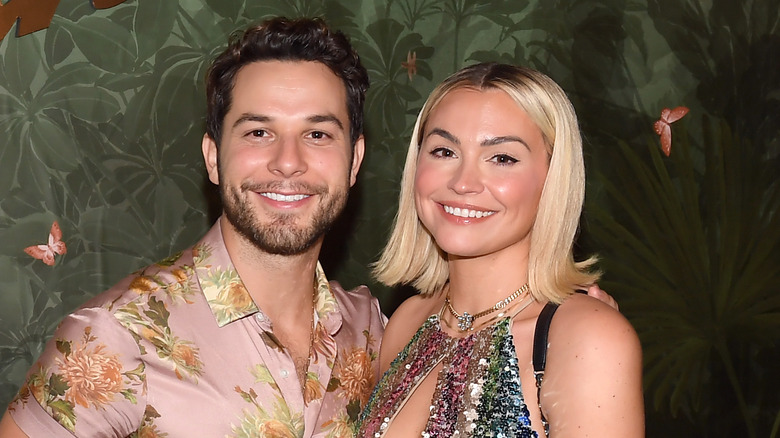 The past year hasn't been easy for Skylar Astin and Lisa Stelly, who tried to maintain a relationship while keeping up with their other responsibilities — including their jobs. In addition, Stelly has her three daughters, Andy Rose Osbourne, Minnie Theodora Osbourne, Pearl Osbourne, to look after, and things could easily get complicated with schedules and what not. 
A source told People magazine that things just got to be too much for Astin and Stelly — but shared that the two did not end things on bad terms. "They're both so busy, but there is no drama between them at all," the source said. "Lisa's business is growing like crazy, Skylar was in Canada working for half the time they were together, and they both just needed some time to recalibrate on their own. They still love and support each other a lot and it's definitely hard for both of them," the source explained.
As E! News points out, both Astin and Stelly are still following each other on social media — a good sign that they will remain friends despite their decision to end their romantic relationship. 
Skylar Astin and Lisa Stelly would go months without seeing each other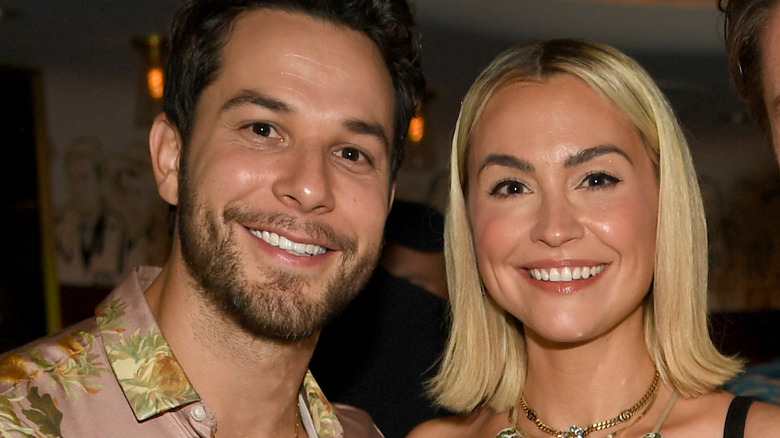 Back in March, Skylar Astin chatted about his long distance relationship with Lisa Stelly during an appearance on the "People Every Day" podcast. While promoting "Trollstopia," Astin opened up about how he was doing living in Vancouver by himself while filming "Zoey's Extraordinary Playlist." "I spend a lot of my time either in the rental apartment [here in Canada] either making music or writing, connecting with family and friends. My experience in Vancouver, other than the high-pressure situation of filming a show, it's kind of like a nice, calm retirement home," Astin said. "I do have my ups and downs, and it gets lonely, and it gets a little isolating. I really have to take my mental health into great consideration…I'm doing well. I'm really excited to return home soon, to see my girlfriend," Astin continued.
The actor was asked how the long distance thing was going, and he admitted that he had gone quite some time without seeing Stelly. He explained that he'd been filming in Canada for seven months, but was able to go home for Christmas for two weeks, which he said was "great." But, because of quarantining procedures, he had to get back to Canada two weeks before filming resumed, which really cut into the time that he could have spent with Stelly — and his family.
Source: Read Full Article