The Transformation Of Jennifer Love Hewitt From 14 To 42
Having made her start singing at "state fairs" and "livestock shows" in her home state of Texas at around six years old, per an interview with Modern Dog magazine, the transformation of Jennifer Love Hewitt began for the multi-talented star at the age of 10, when she entered the cast of "Kids Incorporated." This musical TV show also served to kick off the careers of other pop culture mainstays like Mario Lopez and Fergie (via HuffPost).
As the singer, actor, and noted dog lover reflected to Modern Dog, she knew from a very early age that she "loved entertaining people and making them happy" and received a "unique opportunity" to make that a reality by age eight, when she was asked "to represent the United States as a good will ambassador in Russia." Her performances drew "a lot of press," and the young Hewitt subsequently received an invitation from an agent to give Los Angeles — and an entertainment career — a try. "We went out for one month," the star said, "and then never went home." 
Cue "Kids Incorporated," which gave Hewitt a taste of the long career on which she was about to embark. It also introduced America to the actor who would grow up to become one of the most beloved girl-next-door stars of the '90s — but not without a few crucial changes along the way. Here's exactly how Jennifer Love Hewitt transformed from age 14 to 42.
Jennifer Love Hewitt: the natural Hollywood ingenue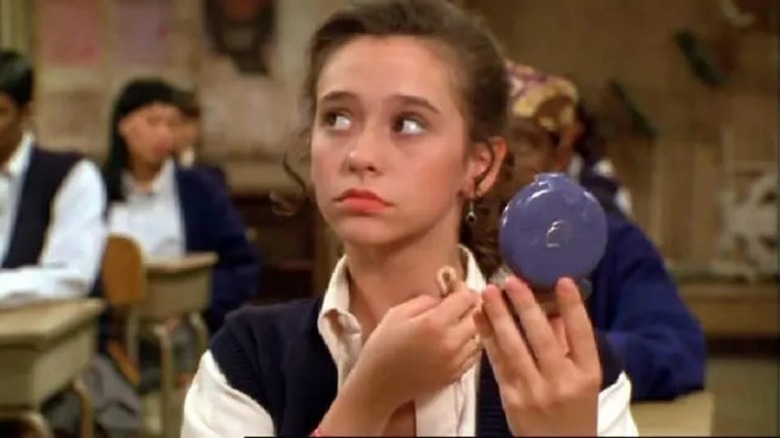 Though Jennifer Love Hewitt was basically born craving a career in entertainment, it wasn't until she moved to Los Angeles that she finally felt like she "truly belonged somewhere." In 1999, she told Rolling Stone that her teenage years there were full of hard work, but also excitement, with the outlet noting that "there was no looking back." Hewitt's mom supported her showbiz career unconditionally, offering the young star to opt out and head back to Texas if she wasn't "having fun anymore," but Hewitt was living her best life and enjoyed some moderate success in the meantime. 
Though she starred in short-lived dramas like "McKenna" and "The Byrds of Paradise" — alongside notable '90s teen star Seth Green in the latter — Hewitt enjoyed a larger slice of fame in 1993 with her small role in "Sister Act 2: Back in the Habit" opposite Whoopi Goldberg and Lauryn Hill. She later told Broadway World that she and the rest of the young cast obviously "had a blast" whilst filming the high-school set sequel, and the film left her with "a lot of fun memories." But it also undoubtedly helped to put her on the map.
The role was small, but Hewitt's charisma and talent were evident. And though her early TV pursuits didn't work out at first, it wouldn't be long until this rising star would finally catch her big break.
She put her foot in the door with Party of Five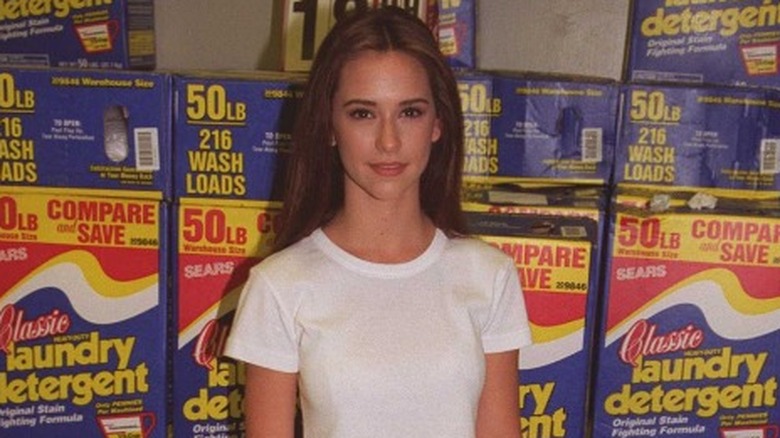 After starring in a series of extremely short-lived TV shows — including a TV movie pilot called "Running Wilde," in which she starred alongside Pierce Brosnan, that ultimately wasn't picked up to series — Jennifer Love Hewitt began to suspect that "she might be some sort of TV curse," as Rolling Stone put it. So when the chance to audition for "Party of Five" came about, the blossoming star decided to jokingly warn the show's creators, Christopher Keyser and Amy Lippman, how her presence could inadvertently get the series cancelled.
Luckily, Keyser told the outlet that they weren't deterred. "The first time we saw Love … [we had] to have her," he said, with Lippman confirming that they even "completely changed the character [of Sarah] to fit with who [Hewitt] was when she came in." The teenage girl they fell in love with was adorable and modest, without bombast or excess. Hewitt also had an impressive work ethic and an authentic niceness to her which shone onscreen and off, where she'd often rock a simple t-shirt for big events. 
Hewitt's tailor-made character was added to the second season as a love interest for Scott Wolf's Bailey Salinger, and the ensemble family drama proved to be a perfect home for the young star. The character was similarly driven and earnestly sweet, and both Sarah and Hewitt won the affections of viewers across the country almost immediately. But unfortunately, some dudes simply had no chill about it…
The teen queen comes of age … and is repeatedly sexualized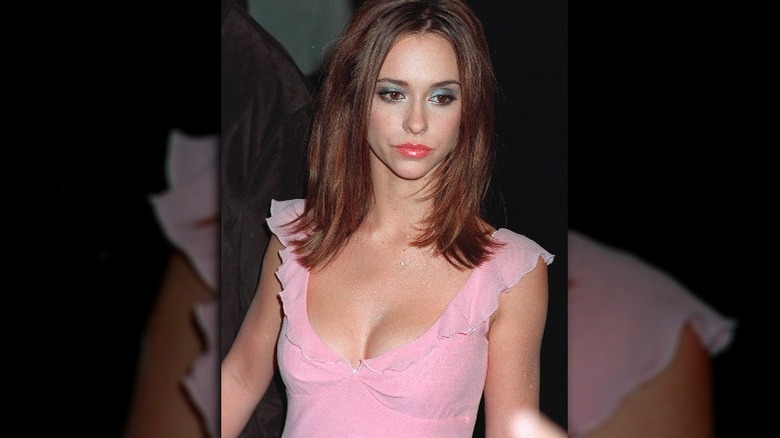 In 1997, three major things happened to Jennifer Love Hewitt: She turned 18, starred in teen horror movie "I Know What You Did Last Summer," and became a major sex symbol seemingly overnight. As Hewitt later reflected to Elle, people were suddenly talking about her body rather than "the movie," and having no agency over her sexuality was hard for the rising star. "When you start [in Hollywood] younger, the narrative takes off without you," she said. "Before I ever knew … what 'sexy' was, I was on the sexy list."
Hewitt likewise told Vulture that having gone from "Party of Five," where "[her] body was very covered," to a teen horror flick, which marked "the first time that [she] had worn a low top," prompted interviewers to begin asking her "incredibly inappropriate, gross things." The tiresome focus on her breasts over the next few years "disappointed" the actor, who recalled eventually "wishing that the acting had overshadowed all that — that for five minutes, they had said I was really great in the movie[s] versus made a body comment."
As a result, the teen star could sometimes look uncomfortable at red carpet events. And though she was starting to rock her signature styles — bodycon and bandeau dresses, or tailored pants with a strappy top — Hewitt was still a young woman trying to assert dominance over her persona, and struggling to demand the respect she deserved. 
Jennifer Love Hewitt shined up her star quality by channeling Audrey Hepburn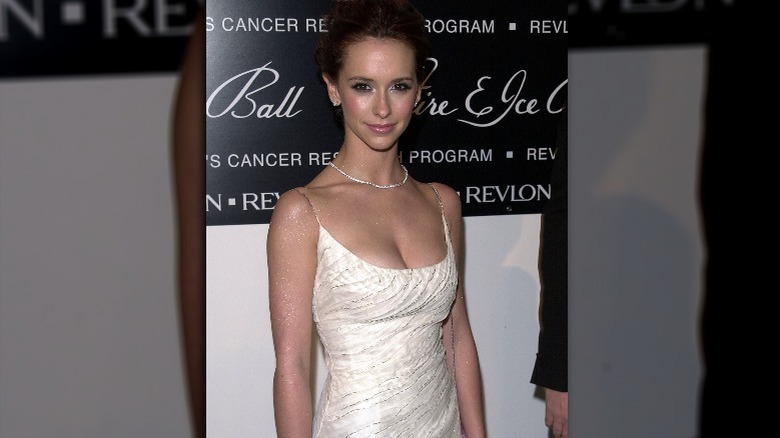 Sadly, the attention about her body didn't end — and in some ways, it even worsened. After leaving "Party of Five," and with a few more teen movies under her belt, like "Can't Hardly Wait" and "I Still Know What You Did Last Summer," Jennifer Love Hewitt executive-produced and starred in a movie about one of her favorite Hollywood legends, "The Audrey Hepburn Story." She told Cosmopolitan, "Never in my life have I been captivated by anybody onscreen the way I was when I saw Audrey Hepburn the first time. She's everything a woman should be." 
Unfortunately, some critics were openly against Hewitt playing Hepburn, who was renowned for being Tinseltown's most beloved icon of elegance. The debate surrounding her casting in the role sometimes leaned heavily on the admittedly sexist idea that Hewitt's chest was too big (and therefore, too unsophisticated) to depict the lean star. Salon, for example, wrote that Hepburn "represented … class" — "something Americans aspire to" — while Hewitt supposedly "represent[ed] what Americans all too often really are: craven, opportunistic exhibitionists." In a final swipe, the outlet added, "Most Americans lack her rack, but many of us — one way or another — desire it."
Regardless, Hewitt challenged these critics by taking to several red carpets looking the embodiment of class and sophistication in range of gorgeously-tailored gowns. Though reviews were mixed for "The Audrey Hepburn Story," Hewitt was nonetheless taking stronger helm of her narrative, her sexuality, and her career. 
The actor kept the focus on the work with Heartbreakers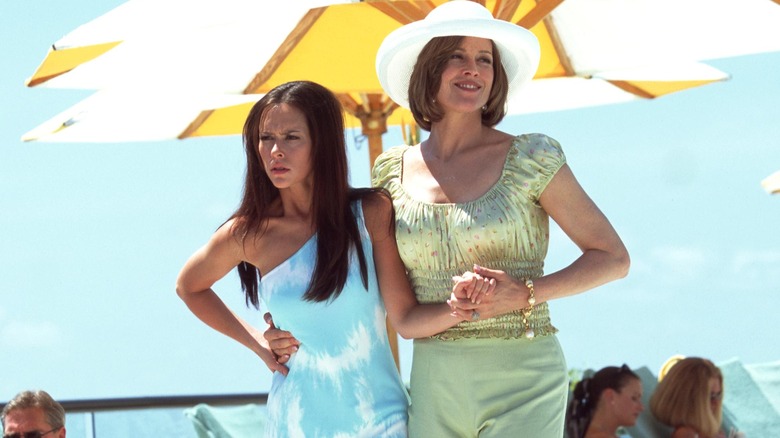 Playing one half of a mother-daughter con-team opposite Sigourney Weaver, "Heartbreakers" was the transitional comedy vehicle for which Jennifer Love Hewitt had been waiting. Though the 2001 movie was met with mixed reviews, the "Party of Five" alum's ability to keep up with a cast of Hollywood heavyweights like Weaver, Gene Hackman, Anne Bancroft, and Ray Liotta showed off her potential as an actor.
As Hewitt later told Vulture, the character of Page gave her the chance to express elements of where she was at during that time in her life: "Still young at heart with lots to learn … and moving into her own sexuality and who she wanted to be as a woman." Her performance is confident in the film, and so is her wardrobe. On screen and off, "Heartbreakers" established Hewitt as the bodycon queen of Tinseltown. But was she finally asserting the skin-tight look for her own enjoyment and power?
Speaking to Cinema.com at the time, Hewitt mused how her character "uses her body and her sexuality to hide the fact she's really a 23-year-old insecure girl trying to figure out her life." This element of the film may have resonated with the star herself, who had long been frustrated with how her talents and career were being overshadowed by her body. As Hewitt told the website, things were going to change: "I wanna try to focus less on my figure and more on my ability because I think that's important."
Jennifer Love Hewitt rediscovered her voice in rock-chick chic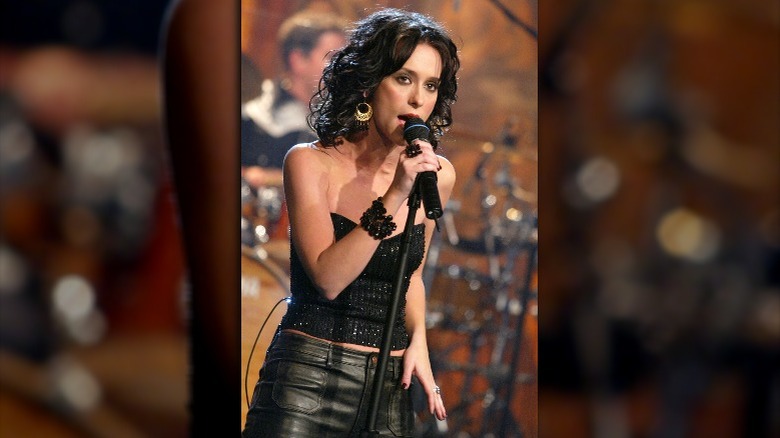 Part of Jennifer Love Hewitt's masterplan to reclaim her reputation and to "focus … more on [her] ability" surely factored into her returning to her musical roots. With the 2002 release of her fourth studio album, "BareNaked," Hewitt was able to reconnect with herself. She told UPI that music had an advantage over acting in nurturing her sense of self, saying, "When I'm acting, I spend 14 hours a day and months a time being someone else. When I'm singing, I just get to be me."
"BareNaked" was the biggest push in Hewitt's musical career to date, and it saw the star harnessing a pop-rock sound, which she pitched as "a cross between Sheryl Crow and Bonnie Raitt" (via UPI). Her style followed suit, and black, skin-tight, rock-chick chic became her everyday uniform. It was sexy, sure, but it was also tough — this wasn't an accessible Maxim-friendly, girl-next-door centerfold look. It was a style that screamed, Hands off, I'm in charge of this now.
Sadly, the album was poorly received, and the usual sexist criticisms abound. Slant trashed the album for being "jangly girl-pop" — arguably a great vibe for girls, but maybe not for ageing male music critics — and for featuring "painfully cliched lyrics." Meanwhile, Entertainment Weekly criticized Hewitt for "posing seminude on the cover while crooning" suggestive lyrics. Such an attitude "doesn't make her a bad girl," the outlet argued, "it just makes her bad." Welp.
Her brief stint as the 'worst actress' in Hollywood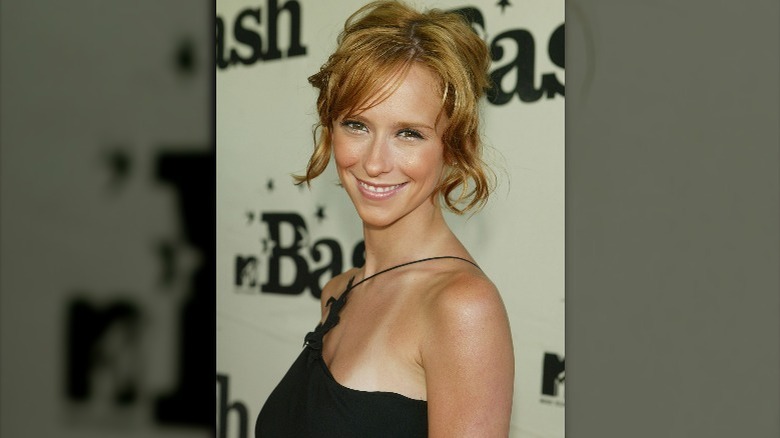 During promotion for "BareNaked," Jennifer Love Hewitt suggested to UPI that her "biggest dream" for the year 2002 would be "to do a really amazing movie where I get to show off some real acting abilities." We're not sure the poorly-reviewed Jackie Chan vehicle, "The Tuxedo," was exactly what she had in mind, sadly. The film was a flop and would signal the start of a career slump for Hewitt who, over the next four years, would star in such universally loathed projects as "Garfield" and "Garfield: A Tail of Two Kitties," as well as the TV movie, "Confessions of a Sociopathic Social Climber." (We'll spare you the details.)
The situation seemed so dire that Slate analyzed data from Rotten Tomatoes in 2011 and determined that Hewitt was the "worst actress" in Hollywood with "the rare distinction of never having made a single 'fresh' … film" (wherein it scores over 60% positive reviews). Hewitt rolled her eyes at the piece and served a scathing response to Entertainment Weekly: "Clearly I need to learn French and … make some French films, since those seem to be the favorites of critics." 
In a potential attempt to manifest her own destiny, Hewitt told MTV News in 2009 (via Today) that she wanted to land a role in a "Twilight" film "so bad," and also suggested, per Comic Book, that "it'd be really fun" for her "to play Wonder Woman." Sadly, neither opportunity transpired, though we could totally see her with a golden lasso.
Jennifer Love Hewitt found a career boost in a hit TV show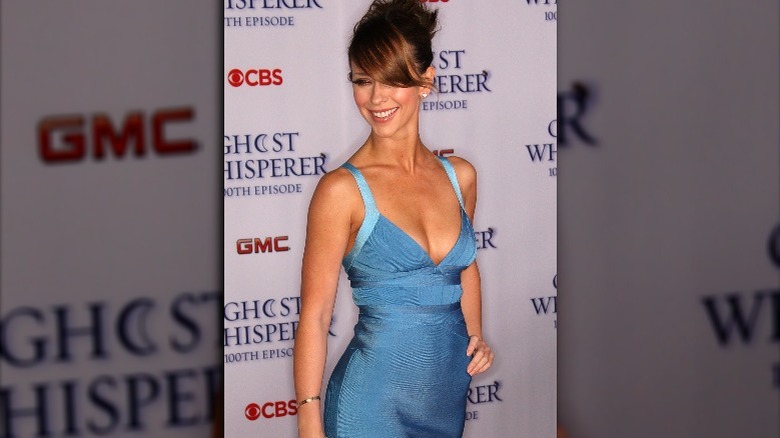 Despite her unfortunate career slump, by 2005, Jennifer Love Hewitt started her ascent up from out of the Hollywood flop pile with a new TV show that would become a surprise hit, "Ghost Whisperer." She subsequently re-emerged on red carpets wearing so many smoke-show bodycon and bandage dresses that the Daily Mail once ran a news item seemingly panicking that the "pint-sized star" was taking this fashion preference "to the extreme." (No bandage dresses were harmed in the reformation of Hewitt's career.)
Depicting a woman who can communicate with the dead, "Ghost Whisperer" was a huge success throughout its five-season run, and the nurturing role was one of "the most fulfilling" Hewitt had played. "Everyday I felt like I was doing something extraordinary," the actor-producer told Modern Dog magazine, adding, "I felt like that show connected with people." 
The star's transformation from her younger years to this point was bold, and she appeared to be brimming with self-belief as she reclaimed "her narrative." According to Elle, Hewitt was also "overs[eeing] the majority of her photo shoots" at this time, including "the more scantily clad ones." With the release of her 2010 book, "The Day I Shot Cupid" — the multi-talent's lived-experience guide to dating — Hewitt's proud sense of self and confidence seemed further evident. As Elle put it, "Maybe she was getting a grip on her narrative even before she decided to take hold of it."
The star depicted a sex worker and found 'empowerment'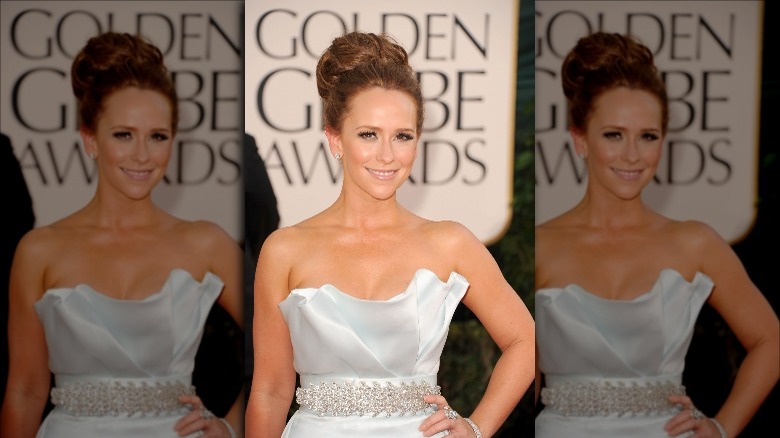 In 2010, Jennifer Love Hewitt would once again elevate her career with the TV movie, "The Client List," wherein she depicted a single mom working as a masseuse-turned-sex-worker. The role earned her industry kudos, with a Golden Globe nomination for her performance, and "The Client List" was such a hit that it became a TV show in 2012.
Hewitt explained to Collider that she was drawn to the complex character of Riley Parks, because the narrative explored a single mom who finds "empowerment" in a job that others might assume is dangerous or subservient. "She's making these decisions and she's making them consciously," the actor said, "and she's growing sexually, emotionally, physically and mentally, in this job." 
In both her personal and professional lives, Hewitt seemed to be hitting a new peak, where she didn't just look comfortable in her skin, she also looked absolutely radiant on the red carpet. When she stepped out in an ivory Romona Keveza gown with ice-blue accents at the 2011 Golden Globe Awards (pictured above), Hewitt looked like a pearl emerging from an oyster — beautiful, but also tough and resilient. It preceded some extreme lows and highs that would happen for Hewitt in the next few years: Her beloved mother, Patricia, whom People dubbed the star's "biggest supporter," died in 2012; a year later, Hewitt was celebrating marriage to Brian Hallisay and the birth of their first child, Autumn.
Jennifer Love Hewitt joined the FBI on the small screen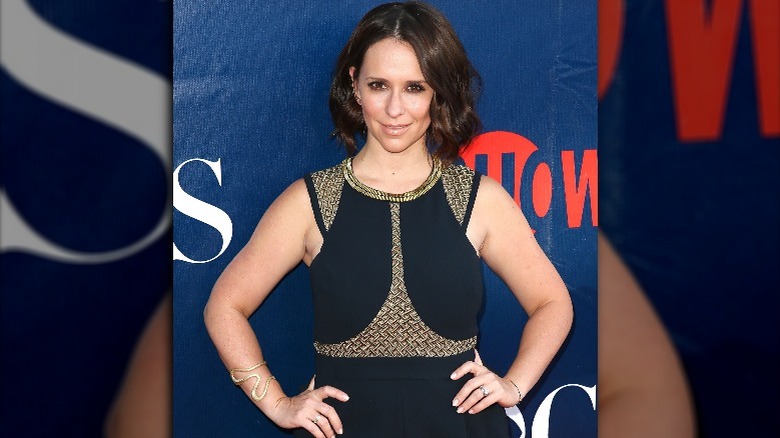 Following the birth of her first child, Jennifer Love Hewitt flaunted her post-pregnancy figure with joy and assurance, providing proud red carpet representation to every new mother who may have suddenly found their own bodies had likewise shifted shape. With motherhood, the star's priorities had appeared to shift, too. When "The Client List" ended in 2013, Hewitt joined the cast of "Criminal Minds" for one brief season as hardened FBI Agent Kate Callahan. However, by the time she had the chance to film a second season, Hewitt was expecting her second child and had made the difficult decision to step back from the show. 
"Criminal Minds" showrunner Erica Messer told Entertainment Weekly that they wrote Callahan's exit from the show to tie-in with Hewitt's own motives for leaving — expecting another baby. As Messer explained, Hewitt wanted to be "a full-time mom" so she could "give this second baby everything she gave her first." And that's obviously not an easy mission statement given the scheduling rigors of filming a TV show.
Suffice it to say, Hewitt was more than entitled to the break, having worked in the industry since she was a child herself. On the topic, Hewitt told American Baby that pregnancy is a time for slowing down schedules and to enjoy nourishment. "So many of us are busy or driven, we forget to take care of ourselves," she said (via the Daily Mail). "But when you're pregnant, it's all about you — and that baby inside of you."
Inside Jennifer Love Hewitt's glowing return to television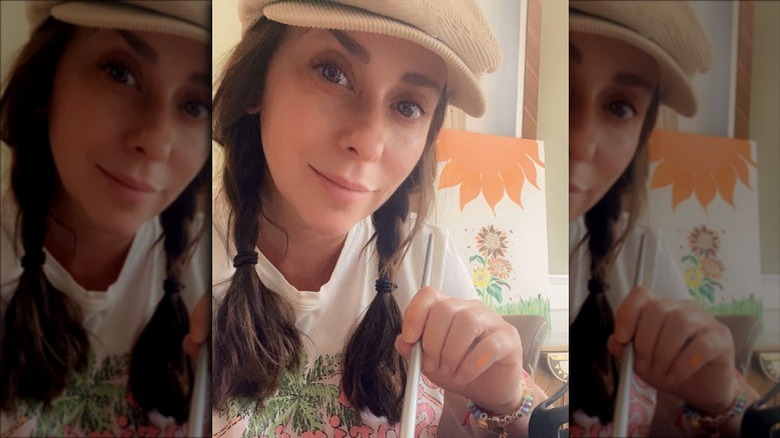 After taking some time out to raise her babies, Jennifer Love Hewitt made a triumphant return to the industry with her role in Ryan Murphy and Brad Falchuk's emergency call-room drama, "9-1-1." Brought in to fill the void left by the arguably irreplaceable Connie Britton in 2018, Hewitt depicted Maddie — a woman struggling with the aftermath of leaving an abusive relationship. As showrunner Tim Minear told The Wrap, the actor was the "perfect choice" to join "the 9-1-1 call center," explaining, "we absolutely needed a face."
Unfortunately, her return to the red carpet wasn't quite as confident. Hewitt showed up to the series' Fox Upfront presentation looking admittedly tired yet chic (a hard relate for moms everywhere), and when the appearance made headlines, she felt the need to explain her look on her Instagram Stories. On top of the day being "12 hours long" and the New York humidity being "almost 100 percent," the actor revealed that she'd made the mistake of "wearing a black suit" and was "melting" by the time cameras were on her (via ET). With a laugh, Hewitt added, "I just have to apologize for how … wrecked I look in all the pictures that came out."
It was a funny, relatable moment that reminded fans of Hewitt's ageless girl-next-door quality (long may it reign). While juggling her continued onscreen prospects with raising two toddlers was evidently tiring, she wasn't quite done building her family: In May 2021, Jennifer Love Hewitt announced she was pregnant with baby No. 3.
Source: Read Full Article