The Untold Truth Of Kieran Culkin
From the bothersome, bed-wetting cousin in "Home Alone" to the screw-up, smart-mouth sibling in "Succession," Kieran Culkin often plays parts that project a sense of free-spirited sarcasm, wit, complexity, and angst — all of which seem uncannily similar to his real-life persona. With a firsthand look at how the limelight smothered his brother, Macaulay Culkin, Kieran preferred to maintain a lower profile by selecting parts based on the artistic elements of acting, rather than fame and fortune. However, this made his path to success more difficult. 
In 2017, Culkin joked with the Daily Beast about the obstacles of his occupation. "[By choosing to be an actor] I've decided that I want to be stressed out and pretty much have no guarantee that I'm going to have any job ever, and that I'm probably going to be poor and eventually have to throw my hands up and go, 'f*ck it,'" he said. "I often think about getting out of this job, but I'm terrified that there's nothing else."
Thankfully, Culkin persisted long enough to land a career-defining role on HBO's "Succession" as Roman Roy, a character he called "insanely resilient" during a Gold Derby interview. His fictional realm as the son of a media mogul differs from his reality as a slightly under-the-radar star with 30+ years of experience. But Culkin still remains completely relevant in the world of entertainment. Much like his Pepsi-guzzling "Home Alone" character, Fuller, we won't "go easy" on telling the untold truth of Kieran Culkin.
Kieran Culkin began his acting career in Home Alone with his brother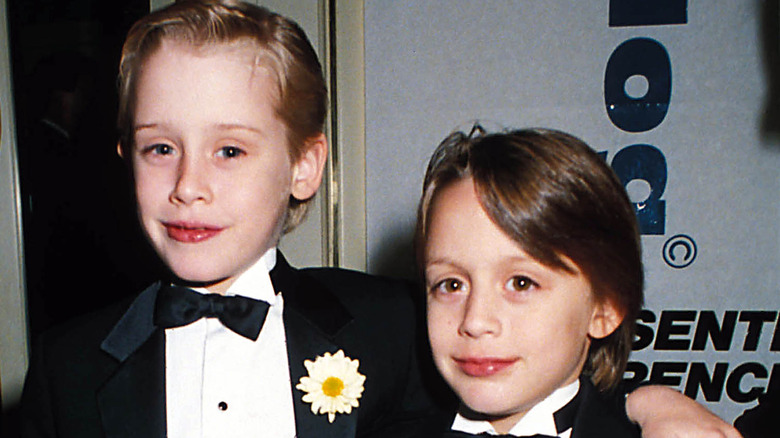 With a soda can in his hand and a mischievous grin on his face, Kieran Culkin made a splash on the big screen the moment he threatened to urinate on the "Home Alone" family's foldout couch. Culkin's part was minor, though iconic, but being only six years old on set, he had no idea what the movie was about. The actor humorously explained on "The Late Late Show with James Corden" that it wasn't until the movie premiere that he learned his brother, Macaulay Culkin, played the lead. 
This seems like an unusual existence for most children, but being shuttled to various auditions, sets, and locations was just a typical day for the Culkin kids. As Vanity Fair noted, "Neither Macaulay nor Kieran chose to act. It was, to a large degree, chosen for them." Culkin explained to the magazine that his parents' friends ran a theater near the New York City apartment where he grew up, and given how many children were in his family, it gave the company easy access to young actors. "Whenever a production needed a kid, [my parents] were like, 'What age and what gender? We've got seven of them right over here.'" 
Unaware he even had a choice in the matter, Culkin continued acting and was enrolled at the Professional Children's School, whose alums include other celebrities, including Sarah Jessica Parker, Christopher Walken, Scarlett Johansson, and Uma Thurman (per the Daily Beast).
The actor has a dark relationship with his notorious father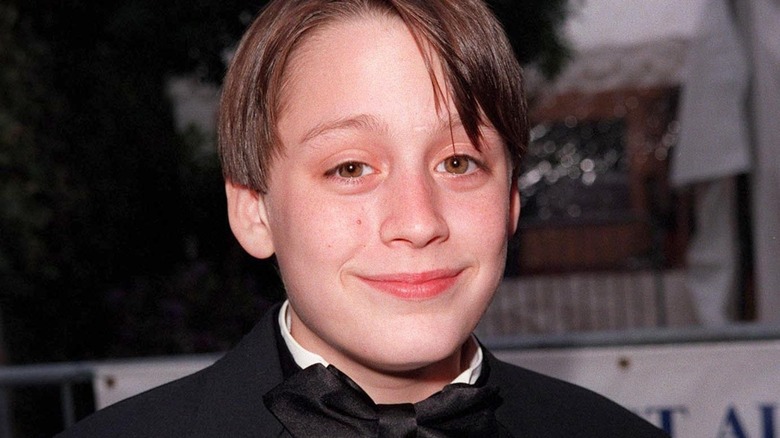 Kieran Culkin's life as a child actor wasn't the only unconventional part of his upbringing. The Culkin family of nine shared a one-bedroom New York City apartment that Kieran characterized as "barely suitable for a couple." Some siblings slept on couches, some had spotty attendance at school, their mom "held it all together," and their father came and went as he pleased. "He's not a good dude," Kieran Culkin told Vanity Fair, "but he wasn't really a big part of my life after the age of 15. … My mom was the parent, so when he wasn't there, it was nicer and better."
Until his teenage years, however, Culkin's father was the one who spearheaded his children's show business careers. Once an aspiring actor himself, Kit Culkin was seemingly living out his unfulfilled dreams through his more successful offspring. According to The Irish Times, Culkin once referred to Kit as "the stage father from Hell." He made demands on set and was "a real pain in the a** to work with," Culkin said. When his parents divorced years later, Kit fought for custody, but only so he could continue to be the kids' manager, Culkin added, not because he actually wanted to parent them. Now an adult, Kieran Culkin still has little to no contact with his father.
Kieran Culkin has never been a fan of fame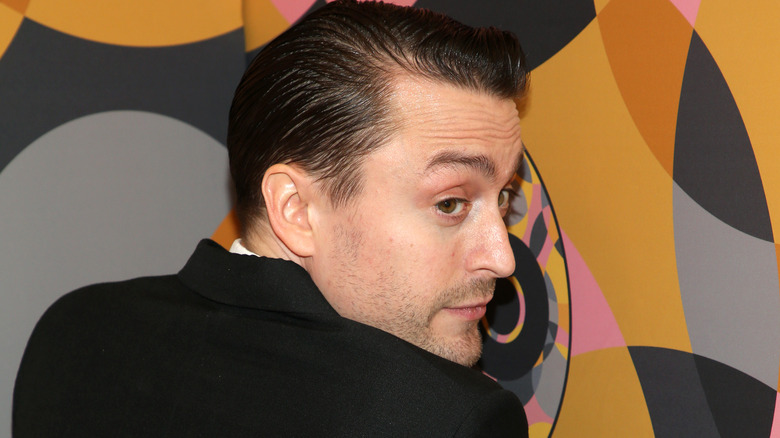 Being famous has its perks, but few have witnessed its pitfalls quite like Kieran Culkin, whose brother's life was never the same after the success of the "Home Alone" movies. Along with the paparazzi, fans of Macaulay were relentless. People shouted at him in public, pulled his hat off while he walked on the street, and even followed him, Kieran recalled to The Irish Times. "I remember at one screening he was mobbed. It was really scary. There was just the two of us — two kids as high as everybody else's waist — and people were pulling on his shirt, and I remember holding on to him and shouting: 'Don't leave! Don't leave!'"
Based on these experiences, it's easy to see why Kieran Culkin never wanted to be in his brother's shoes. "I think well-adjusted, smart people that experience [fame] first- or secondhand would not pursue it," Culkin explained to Vanity Fair. "I'll totally take personal happiness over success, absolutely. If I'm miserable, then what's the f*cking point?"
A young Kieran Culkin had multiple movie offers but chose to stay out of the spotlight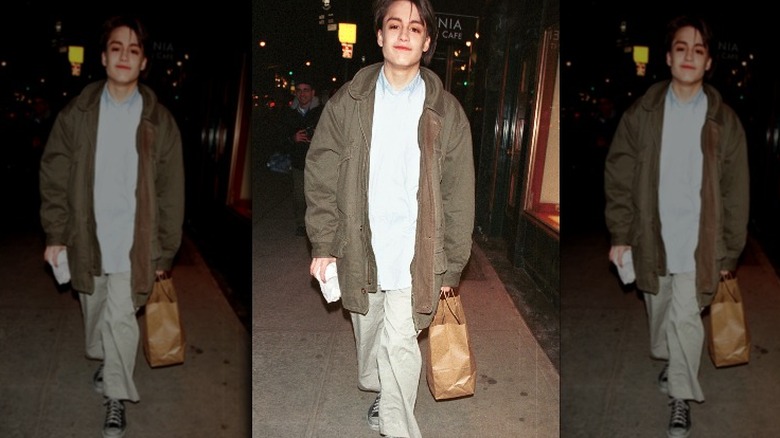 Kieran Culkin's reputation started to soar after he starred in the robustly cast 2002 film "Igby Goes Down," for which he won a Critic's Choice Award and earned a Golden Globe nomination. A whirlwind of opportunities quickly followed, and it seemed like the world was Culkin's oyster. That's when the 20-year-old called for a screeching halt. "Somebody used the word 'career' and I had, like, a flip-out," he explained during an interview with the SAG-AFTRA Foundation. "I was like, 'Hold on, I have a career?' And I had to think, like, I've been doing this for 14 years and I never once decided for myself this is what I wanted to do."
Despite what could have been Culkin's quick ascent to stardom, the fame-fearing former child star decided to take time off. Rather than use his hiatus to soul search, Culkin chose to couch surf. "[I had] discovered that I am extremely good at doing nothing," he told iNews. "I'm very happy sitting on the couch watching TV all day long. I never had a moment's existential angst."
To elude overwhelming publicity, Kieran Culkin opted for Broadway over Hollywood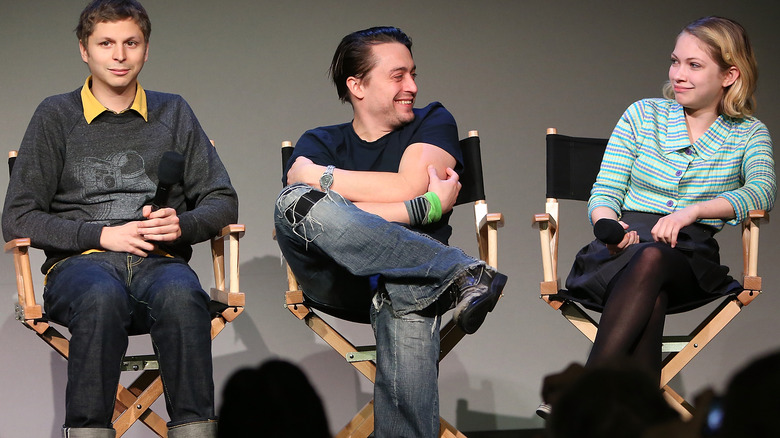 When Kieran Culkin was ready to resume acting, his agent, Emily Gerson Saines, struggled to find roles to indulge his raw talent whilst keeping him under the radar. "He used to say to me, 'Can't I do this and not be a celebrity?' But it's hard to not be a star when you're being nominated for awards and your movies are critically acclaimed," Saines told Vanity Fair.
Thus, Culkin's new strategy to avoid A-list celebrity status was to dodge the silver screen in favor of the theater. One particular play that repeatedly caught his attention over the years was "This is Our Youth," which has featured industry elites like Jake Gyllenhaal, Matt Damon, Casey Affleck, Colin Hanks, Josh Hamilton, and Mark Ruffalo, per Variety. Documenting the wistful existence of three privileged, melancholy Manhattan pals, the play became Culkin's comfort zone on multiple occasions. 
In addition to starring in the New York City production of "This is Our Youth," Culkin performed with the cast in London, Sydney, and Chicago. In 2014, when the performer starred opposite Michael Cera and Tavi Gevinson, he said he'd be happy to do the show indefinitely. "This isn't just a career goal, this is a life goal," he whimsically told the Daily Beast. "After this, everything is gravy. Maybe I'll pursue more work after this, but I just don't know."
Kieran Culkin returned to movies, though somewhat reluctantly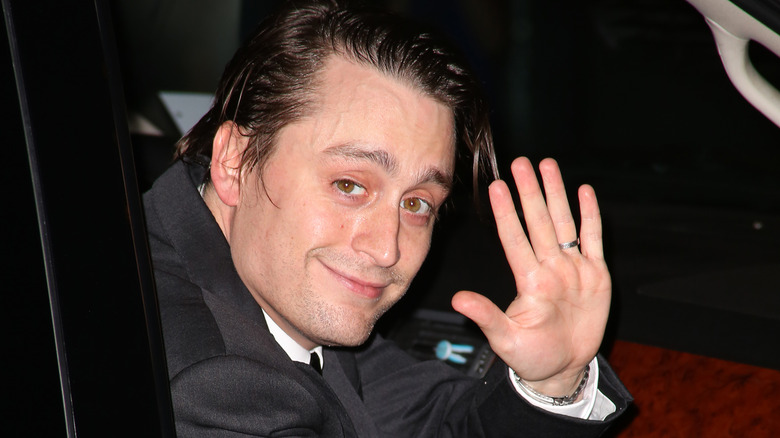 Intermittently on the Broadway scene, Kieran Culkin eventually found himself back on the big screen for "Lymelife" in 2008. The movie was worthy of the Sundance Film Festival and received strong praise for its stellar cast, which also included his brother, Rory Culkin. "I always thought it would be cool to work with [Rory]," Kieran told Interview. 
His goal was not fame or attention, so when it came to acting, the star decided to "approach it like any other job." Kieran described what he felt when he and Rory started shooting scenes together, explaining to Interview, "I got a little nervous: I would say a line and look in his eyes, and he would know I was bullsh*tting, because he knows me better than most anybody on the planet."
In addition to "Lymelife," Kieran Culkin strung together a set of roles in other TV series and movies, including the cult film "Scott Pilgrim vs. The World." While working on 2017's "Infinity Baby," Culkin had a profound professional epiphany. "I didn't really get a formal education, I don't really know how computers work, I don't really know how to type," he told the SAG-AFTRA Foundation. "I have no other skills, like, this is it. [Acting] is all that I can do, so…" After decades darting in and out of the industry, attempting to flee from his family's unfortunate experience with fame, Culkin found that his mid-30s were the right time to "embrace" his future in film.
The veteran actor was an instant fit for Succession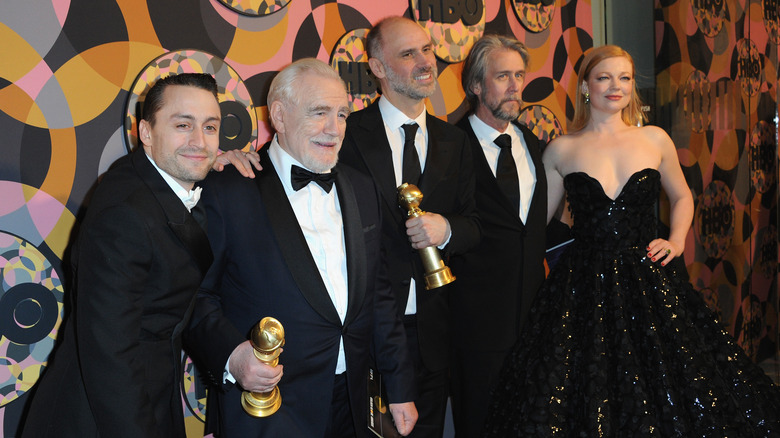 Although Kieran Culkin finally started to accept acting as his actual career, it wasn't until HBO's "Succession" that he began to see the bona fide benefits of doing so. From the start, many tasks came easy to Culkin. First, he aced his audition. "That was it. That's Roman. Done," Jesse Armstrong, the show's writer and creator, told Vanity Fair. Armstrong continued, "He just had an instant feel for the part. … He had a sense of his character from the beginning." 
The craft came naturally to Culkin, who's already known for his own sense of humor and sharp wit. "I wouldn't want to hang out with [Roman] in real life," he revealed to the Los Angeles Times. "But it's so much fun to be the guy who doesn't have a filter: He can literally say anything to anyone and get away with it." The role could be rigorous, but playing his part was enjoyable with such a strong script. "I haven't been having a very hard time on this show. I don't really struggle," he said in a Gold Derby interview. "It sounds like a**-kissing, but it's just the truth — these writers are just brilliant."
Whether it's the writing, the cast, the directors, or just the right timing, Culkin seems to have genuinely found happiness in his current position. "It's just … freedom," he mused to Collider. "They're not on my a** about continuity and stuff like that either … so it's a dream for an actor."
Succession writers pushed boundaries with Kieran Culkin's character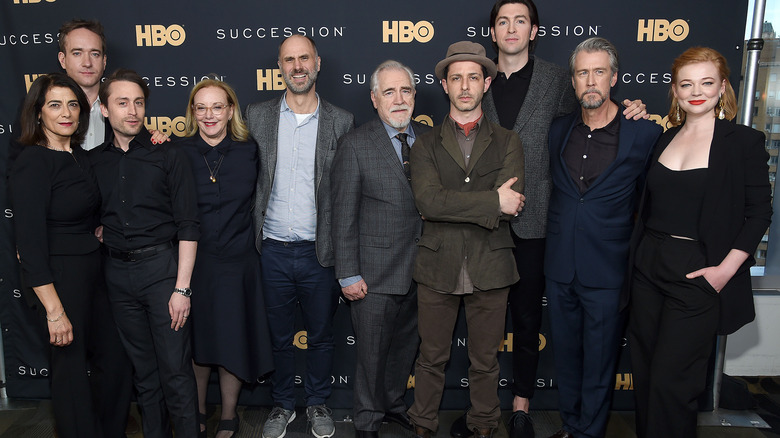 Among all of the off-color comments that come out of Kieran Culkin's mouth while playing "Succession" character Roman Roy, one of the most shocking developments of his role has been the erotic, 'mommy issues' mayhem between him and his more senior co-star, J. Smith-Cameron. Like a trainwreck, wide-eyed viewers can't help but witness the provocative exchanges, and many probably wonder how this plot line came to fruition. 
With some improvisation welcome on the set, Culkin made a kinky comment at the end of a scene, and while the camera still rolled, it captured a mere moment that was so wrong, it had to be right. "She, like, told me to go f*ck off or whatever," Culkin explained during a SAG-AFTRA Foundation interview. "And I walked away and I checked out her butt without her knowing, and then I turned around, and she checked out my butt, and neither of us knew that we did that."
When the fleeting interaction was discovered in the editing room, the writers decided to go with it. "So it was like a grand experiment," Smith-Cameron told Variety. "I would do takes where I'd be sort of more dominatrix with him, and then takes where I'd be more repulsed. We did so many different ways." Culkin and Smith-Cameron are friends, so the two have lots of laughs while running their sadistic dialogue.
The actor is known for 'below the belt' humor both on and off camera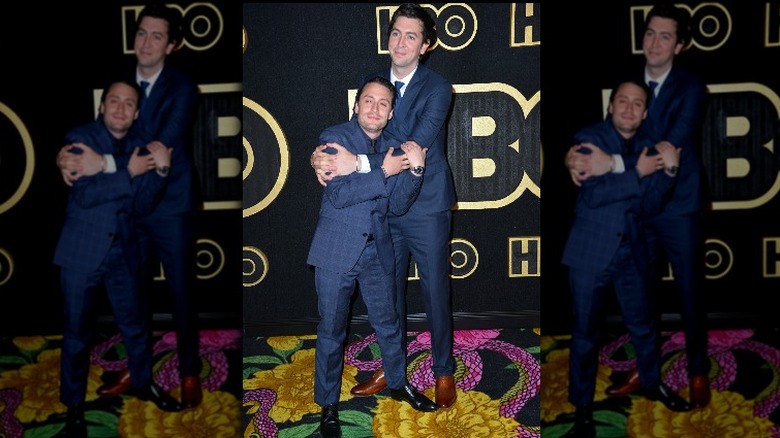 In addition to the obscene relationship Kieran Culkin's character has with the company matriarch on "Succession," Roman Roy also has multiple masturbation scenes in the series. This, Culkin told the Los Angeles Times, may be one of the most challenging parts of playing Roman Roy. "The first time I did it," Culkin recalled, "our director Mark Mylod didn't yell cut so I kept going and thought, 'Does he want me to finish?' so I just stopped and looked at the camera and said, 'Mom, I hope you're proud of me!'"
Though Culkin's mother might cringe at her son's solo sex scenes, she must be proud of his 2020 Emmy nomination for outstanding supporting actor in a drama series, a category that also recognized two of his "Succession" co-stars. Often blurring the lines between his real self and his raunchy character, Culkin's reaction to the nomination was crude, yet playful. "Yeah. It's kind of nuts," he said to Entertainment Weekly. "I'm going to have to kick Nick Braun in the balls if he beats me, that's all."
This wouldn't be the first beatdown between the two "Succession" actors, who provide a hilarious, biting banter on camera as cousins. According to GQ, "There were several takes that escalated. In one, Culkin got up, walked round the table and jumped on Braun's back, knocking him to the floor, and the two of them started wrestling."
Kieran Culkin is a kid at heart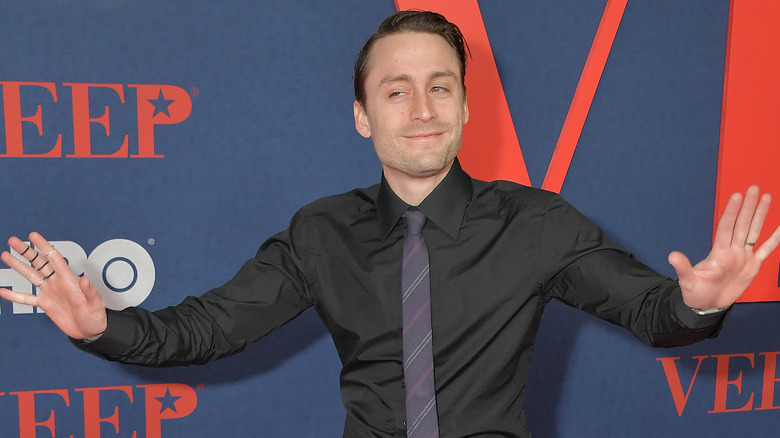 It's clear that reenacting the moves of his WWE childhood heroes isn't just a hobby of Kieran Culkin's past. In fact, his youthful sense of humor has remained consistent over the years. Culkin relishes any opportunity to reminisce about his childhood pastimes, which interestingly, still amuse him as a grown man. Therefore, it's no surprise Culkin called himself "radically immature" during an interview with The New York Times, in which he noted his lifelong love of Nintendo. A Vanity Fair journalist gifted him with a book about the "Super Mario Brothers" soundtrack, and Culkin talked about the music of "Castlevania." "Just hearing the first couple of notes of that game cheers me up if I'm having a bad day," he shared.
The actor is also fond of Marvel superheroes, Mortal Kombat, and above all, the 1980s classic movie "The Goonies." Culkin never tires of the film. As he told Collider, "There was a summer when I would just wake up in the morning, press play, and it was ["The Goonies"] over and over and over again all day for the entire summer."
Kieran Culkin used a witty one-liner to meet his wife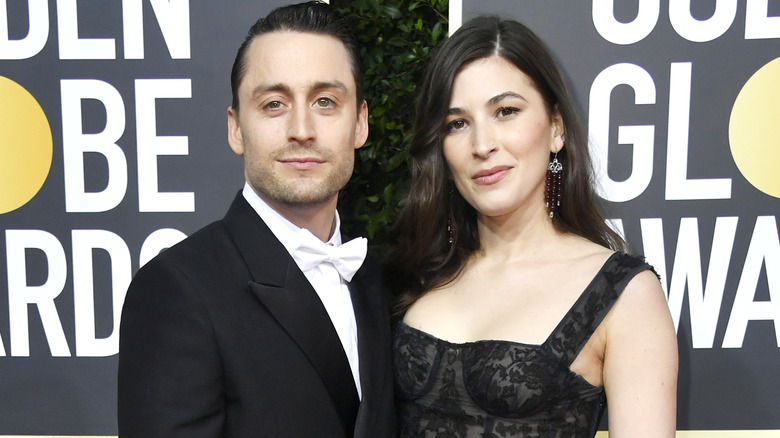 Kieran Culkin's sense of humor came in handy when he met Jazz Charton at a New York City bar in 2011. She wasn't alone, so Culkin waited until the guy Charton was with went to the restroom. "I asked if he was her boyfriend, and when she said no, I asked if I could be her boyfriend. We've been together ever since," the actor said to iNews.
Prior to the pair's meet-cute, Culkin previously dated actors, including Emma Stone and Anna Paquin. Nevertheless, he and Jazz Charton were meant to be, and they married in 2013. Culkin told iNews, "When someone is as beautiful as my wife, you just want to be close to that." Awww.
The couple never made actual plans to be parents, but they ended up welcoming their first child, daughter Kinsey Sioux, in September 2019, and Charton was pregnant again in 2021 while the family accompanied Culkin to Italy for "Succession." Though the "escapades" of fatherhood run him ragged, Culkin explained on the "WTF with Marc Maron" podcast that nothing else has ever been more rewarding. "I don't sleep. But, when I wake up exhausted, I just think of my daughter's face. … I know it sounds corny, whatever," he explained, adding, "She is the meaning of everything. So, when I go up to that apartment, she sees me and she just gets this big smile … and it's the greatest feeling in the world."
Kieran Culkin lived in the same East Village apartment for nearly two decades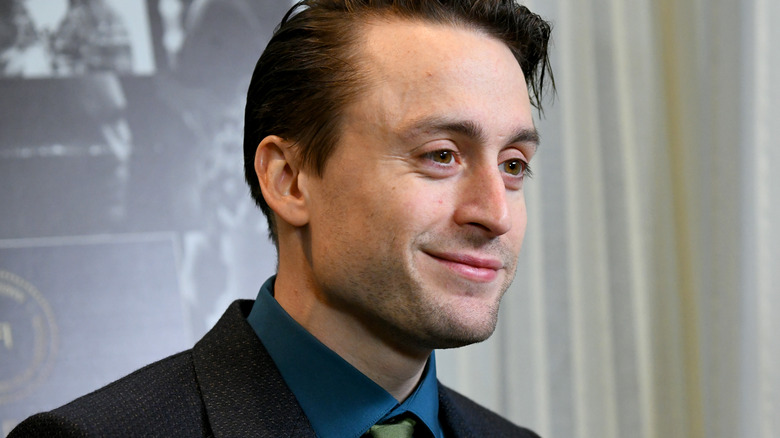 Long before becoming a family man, 19-year-old Kieran Culkin left his parents' pad and purchased his first place, a modest one-bedroom apartment in Manhattan's East Village. Culkin described his digs to The New York Times as "the type of building where young couples come in and move out in a year, and I wonder, why am I still here?" It's likely Culkin revisited this question every single day during spring 2020, when he, his wife, and their sleepless infant spent the COVID-19 lockdown in that same 600-square-foot abode, as told on the "WTF with Marc Maron" podcast. Given the hype of "Succession," Culkin and his family are ready for an "upgrade," Vulture noted. "I'm finally making money for the first time in my 30-something-year career!" he exclaimed to the magazine.
It's surprising that an industry veteran like Culkin could ever lack cash, but there were periods throughout his career in which he took time off or chose roles over riches. Thanks to HBO, his hard work has been rewarded. The Hollywood Reporter noted that Culkin earns approximately $300,000 to $350,000 per episode of "Succession," and according to Celebrity Net Worth, the actor claims a total of more than $4 million. Although his personal bank account can't compete with his "Succession" character's billionaire status, Kieran Culkin seems to have found the perfect balance of fame, fortune, and fun in his life's work.
Source: Read Full Article