The Untold Truth Of Mila Kunis
Mila Kunis is one of those rare actors to prove herself adept at both comedy and drama, effortlessly jumping from one to the other over the course of 20-plus years in showbiz. A scan through her impressive roster of IMDb credits certainly demonstrates her comedic skills, listing such television roles as Jackie Burkhart in sitcom hit "That '70s Show" and providing the voice of Meg Griffin in "Family Guy." Kunis has also found considerable success on the big screen, in such comedies as "Ted," "Friends With Benefits," "The Spy Who Dumped Me," "Bad Moms," and its sequel, "A Bad Moms Christmas." Meanwhile, she's also shown off her dramatic acting chops in films including "Blood Ties," "The Book of Eli," "Third Person," and, in particular, her acclaimed performance in the Oscar-winning ballet drama "Black Swan."
Then, of course, there's her personal life, which attracted outsized media attention when she began dating — and subsequently married — Ashton Kutcher, her one-time sitcom co-star. 
Despite being a more-or-less ubiquitous presence in film and television for more than two decades, how much do fans really know about this multitalented star? Keep on reading and discover the untold truth of Mila Kunis. 
Mila Kunis was born in the Soviet Union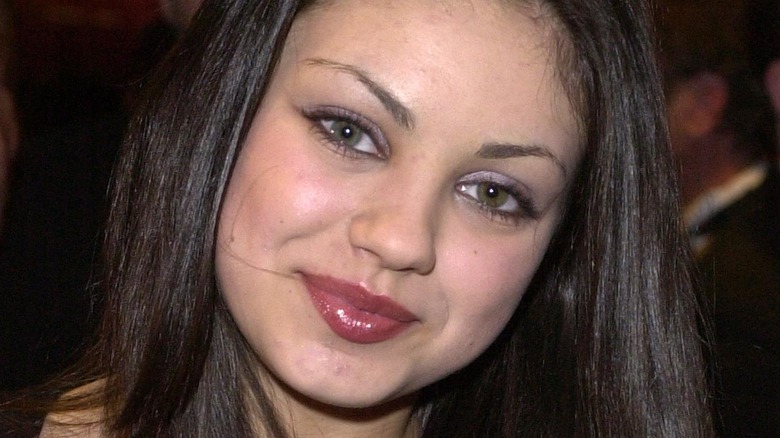 Mila Kunis was born in Ukraine, while the country was still part of the now-defunct Soviet Union. As she told The Sun, her family was Jewish and faced persecution. "This is a country that doesn't want you," she said of her homeland.
As a result, she told Yahoo!, she and her family immigrated to the U.S. when she was just 7. "It was strange at first. I cried a lot when I first came over here," she said, detailing the culture shock she initially experienced. However, she quickly acclimatized to her new home in California, where her parents emphasized the importance of hard work. 
"We came to this country with literally nothing and so any level of success is important to us," she said, admitting her parents were not thrilled with her acting ambitions "because it's such an unstable and unpredictable profession. When you're immigrants, and you have to work hard for everything just to survive, it's only natural that you worry about having a stable job and income. But I think now they're more or less convinced that I'm doing pretty well and they don't have to worry about my career prospects any more," she said with a laugh.
She appeared in 20-plus TV commercials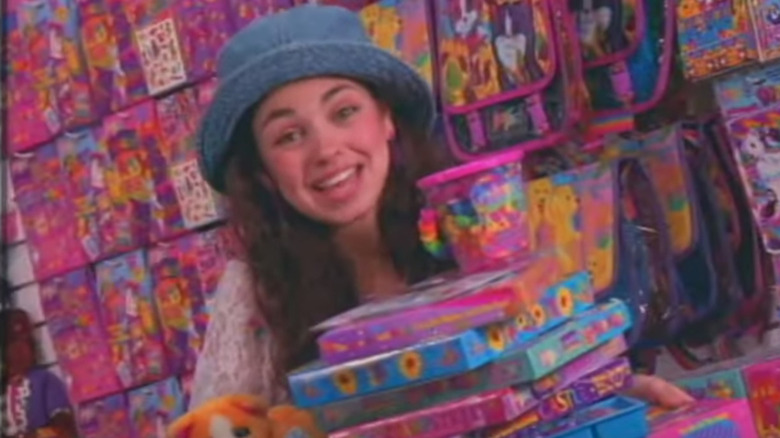 Prior to landing her life-changing role on "That '70s Show," Mila Kunis appeared all manner of TV commercials, along with numerous guest spots on various series. Recalling that period of her childhood in a discussion with Interview, she estimated that between the ages of nine and 14 "I probably did 20 commercials." Among those TV spots was one in which young Kunis extolled the "awesome" merch available at Lisa Frank stores, and another in which she expressed her admiration for Glitter Hair Barbie. She also appeared in a commercial for a talking doll named Tammy, which had the ability to chat with apparently friendless children via a make-believe telephone.
Those commercials led to acting roles in bigger projects, including the 1995 TV movie "Make a Wish, Molly." In that movie, Kunis told Interview, "I played a Mexican girl who was racist against a Russian Jew, but I didn't get the Russian Jew part because they didn't think I looked Russian or Jewish enough — and, mind you, I am both Russian and Jewish."
She once played a young Angelina Jolie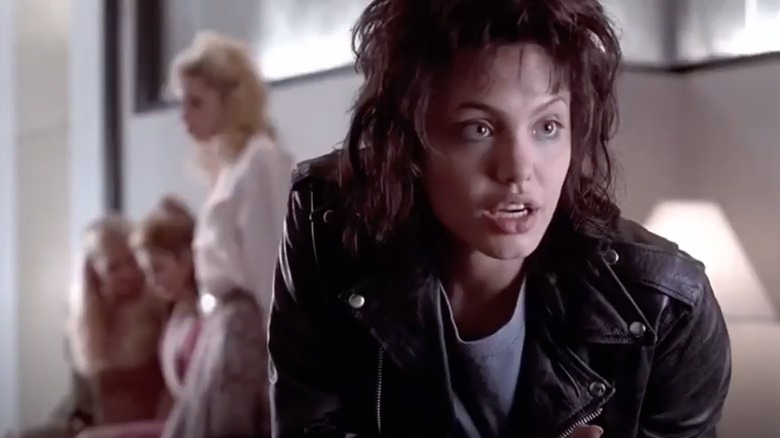 A quick glance at Mila Kunis' IMDb credits demonstrates that she began acting early, when she was still a youngster. Her very first TV role was in daytime soap "Days of Our Lives," playing a childhood version of one of the characters in a flashback. Other child-acting credits included an episode of "Baywatch" and the TV movie "Piranha," which she recalled for Interview. "It was Soleil Moon Frye, William Katt played my dad, and there were evil fish everywhere," she said. "I was, like, 10 years old when I did that."
Another childhood role was playing the young version of doomed model Gia Carangi in the HBO biopic "Gia," starring Angelina Jolie as the grown-up version. Speaking about that role with Esquire, Kunis admitted that neither she nor her parents were prepared for how racy the movie would be. "They were like, 'What did we put you in?!' They were as dumbfounded as I was," she said.
She lied about her age to be cast in 'That '70s Show'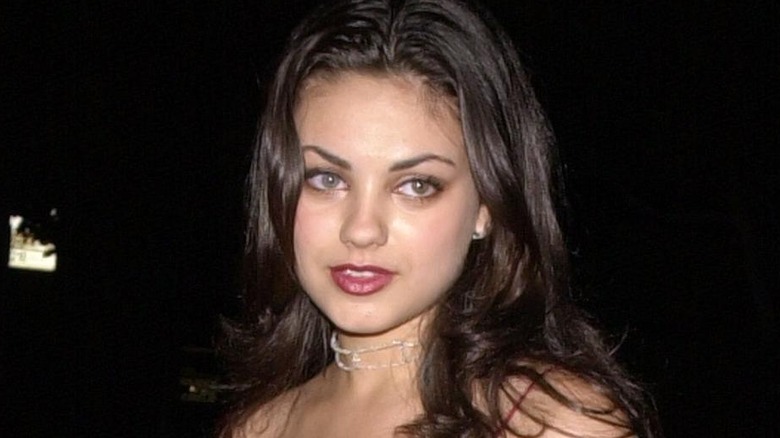 Everything changed for Mila Kunis when she was cast as Jackie in "That '70s Show," debuting in the fall of 1998. During an appearance on "The Tonight Show," then-host Jay Leno asked how old she was when she landed the role. "Legally I was 14," she explained, confessing that she "told them I was a little bit older."
That "little bit," Kunis revealed, was actually several years. "I told them I was gonna be 18… it's not technically a lie, given all things went right, I was gonna be 18," she said. By the time the powers that be discovered they'd been hoodwinked by a precocious 14-year-old, it was too late. "So, you know, they figured out sooner or later that I wasn't, but that's okay," she quipped. 
Given that it's customary in Hollywood for teenagers to be played by older actors who look young, her fib eventually wound up working in her favor. "I was the age I was playing, so I think that's unheard of. People were like, 'You're so young!' I'm like, 'No, I'm actually the age I'm supposed to be,'" she quipped while appearing "Lopez Tonight." 
She starred in an Aerosmith video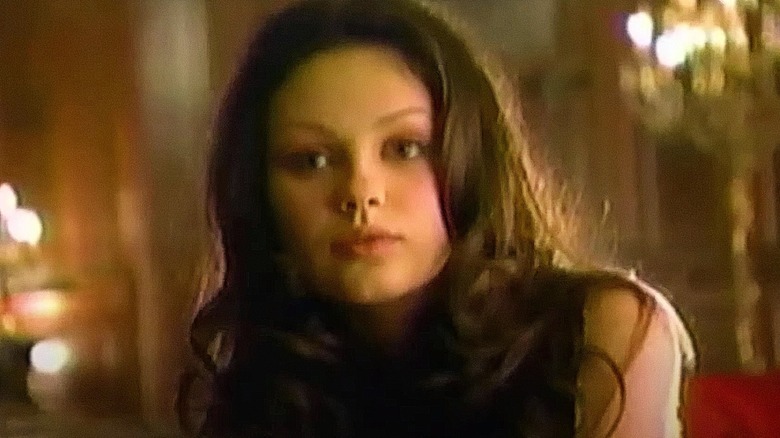 Hidden away amidst all of Mila Kunis' film and television credits is the music video for "Jaded," the 2001 single from Boston rock legends Aerosmith. Kunis, who was still starring on "That '70s Show" at the time, plays a pampered young women whose life of luxury is also one of tedious, repetitive boredom. Kunis' scenes are intercut with the band performing at an intimate-yet-bizarre venue featuring elephants, circus performers and that Aerosmith staple, scantily clad women. 
"It's like 1920s Moulin Rouge meets the year 2050," said Aerosmith frontman Steven Tyler, describing the video's vibe in a making-of video for MTV. 
"Oh my god, that was the best thing," Kunis gushed to the New York Post of her experience working on the "Jaded" video. "It was a huge honor to work with them. What's so rad about it was that Steven Tyler actually introduced himself to me. And it was so cool because he's so down-to-earth. There's not one person on this planet who doesn't know who he is."
Mila Kunis used to be blind in one eye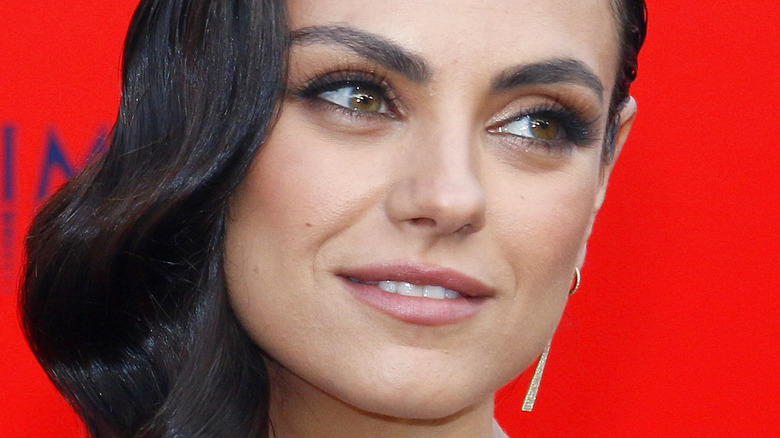 One of Mila Kunis' most distinctive features are her eyes. A closer look, in fact, will reveal that one eye's color differs slightly from the other. This is not a random fluke of nature, however, but the result of a chronic medical issue she experienced with one of her eyes. 
As Kunis told Cosmopolitan, she had struggled for many years with iritis, a condition that causes the iris to become inflamed. "I was blind in one eye for many years, and nobody knew," she told Cosmo, as detailed by E! News.
After years of keeping her partial blindness a complete secret, she subsequently had surgery to remedy the condition. The procedure returned her vision to the afflicted eye while maintaining its differing color. "I'm not blind anymore," she explained. "I had surgery a couple of months ago. They cut it open and dropped a new lens in there." 
She's a self-professed nerd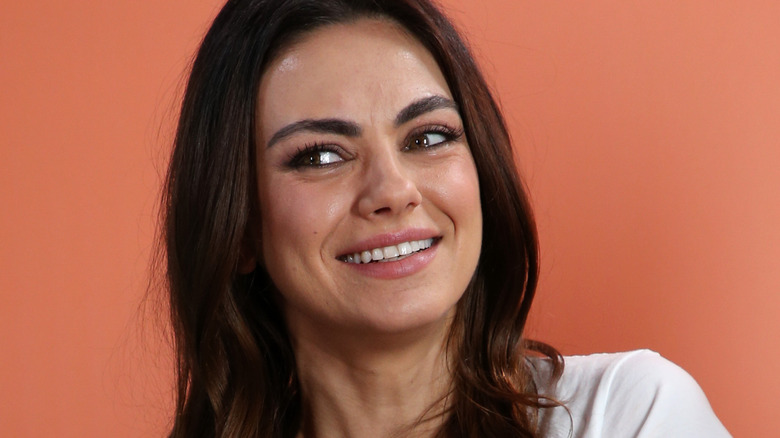 There's no denying that fans of Mila Kunis would assume she's cooler than cool. Kunis, however, is the first to admit that's far from true. "Listen, I am such a nerd. I'm not one of those girls that goes, 'Ha, ha, hee, hee. I'm a nerd.' No, no, no — my brain mentality is the same as a 12-year-old little boy," Kunis told Parade of her nerdiness. "The video games that I play, the things that I like to watch — I'm a Trekkie."
Kunis expanded on her nerdy nature in an interview with Esquire. "I read The Huffington Post, The Drudge Report," she said. "I spend hours researching products. I'm a product whore. Like soaps and creams. And just crap. I love Yelp." 
Her geekiness is also reflected in what she likes to watch on television, with Bear Grylls' "Man vs. Wild" a particular favorite. "I love that [Grylls] gets so excited about carcasses," she recalled. "He'll be like, 'Mmm, look at that sexy dead goat, look at those eyeballs.' Then he digs into the goat's eyeballs because they have protein. It makes me want to vomit. And of course I watch it."
She did something 'horrible' that ended her relationship with boyfriend Macaulay Culkin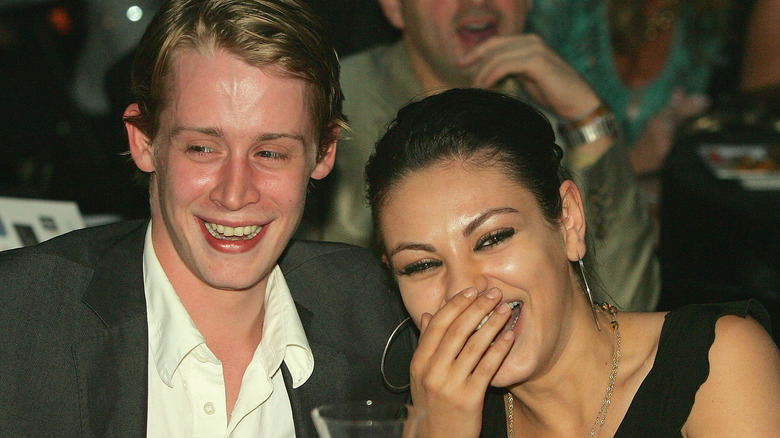 Long before her relationship with Ashton Kutcher, Mila Kunis was in a long-term romance with another famous actor: "Home Alone" star Macaulay Culkin. In a 2007 interview with Parade, Kunis confirmed that she and Culkin had been together "going on six years." She gushed about her then-beau as "an amazing, simple guy, who is probably the most brilliant person I've ever met. He's so, so smart and so aware and so kind and so sweet." 
Her relationship with Culkin ended a couple of years later, and Kunis admited she's not proud of the way it concluded. Appearing on Dax Shepard's "Armchair Expert" podcast, she confirmed their split was "horrible," and that she was to blame. 
"I f**ked up," she confessed. "I was an a** in my 20s and I'll be the first to admit it. And that's something that took me a long time to come out and be like, 'Yeah, you know what, I was a d**k,' and accept it and I own it now." While she didn't go into detail about specifics, it didn't sound good. "And it's f**ked up what I did and it's f**ked up how I did it," she divulged.
Mila Kunis' mom didn't believe she was really dating Ashton Kutcher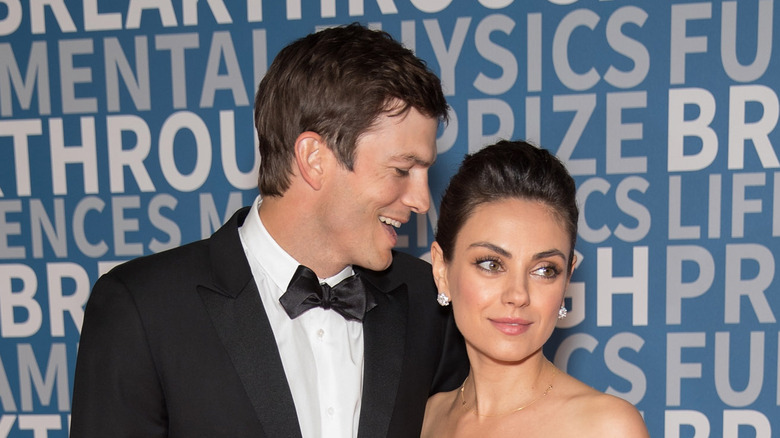 Mila Kunis and Ashton Kutcher had a convoluted road to the altar. Meeting as co-stars on "That '70s Show," they weren't romantically involved while they starred in the show. In fact, Kunis went on to be in a longterm relationship with Macaulay Culkin, while Kutcher married (and eventually divorced) Demi Moore. 
Both were single when they reconnected in 2012, with a source at the time fibbing to People that they were "just friends." When Kunis finally told her mother that she was dating Kutcher, her mom was incredulous. Chatting with Dax Shepard for his "Armchair Expert" podcast, reported People, she recalled her mom's reaction when she broke the news. "I was like, 'You've got to brace yourself for this one. I'm dating Ashton Kutcher,'" Kunis said. "And she literally was like, 'Shut the f**k up' in Russian. I was like, 'No, I'm serious. I also may be in love with him, so…'".
As Kunis admitted, her future husband's reputation as a lothario didn't exactly give her mom the warm fuzzies. "There were so many thoughts that she couldn't process," Kunis admitted. "There's so many versions of his life that people thought he was that he wasn't."
She's a die-hard World of Warcraft gamer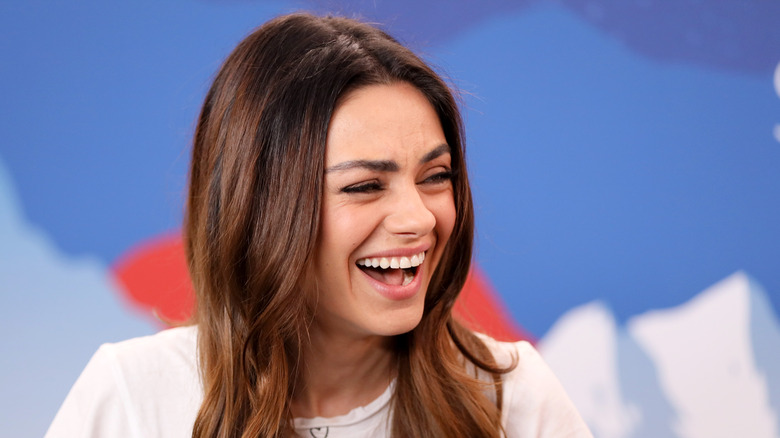 Let it never be said that Mila Kunis does not taking her video gaming seriously. During an appearance on "Jimmy Kimmel Live!" the actor revealed that a particular favorite had been "World of Warcraft." However, as she explained, she wound up going so far down the rabbit hole while playing "World of Warcraft" that she forced herself to go cold turkey once she realized she'd become addicted. "Let's just say that I had to quit the game for good, going on a year now," she confessed. "It's such a good game, I love it!"
Discussing her character in "World of Warcraft," she declared, "I'm really good, I'm a really kick-a** mage… Oh my god, it's such a good game. I love it."
One factor that proved to be a distraction while playing "World of Warcraft" was her incredibly recognizable voice when she spoke during gameplay. "I said something once and they recognized my voice," she said. "That was the end of that."
When Ashton Kutcher brought up the topic of Uber, she thought it was a bad idea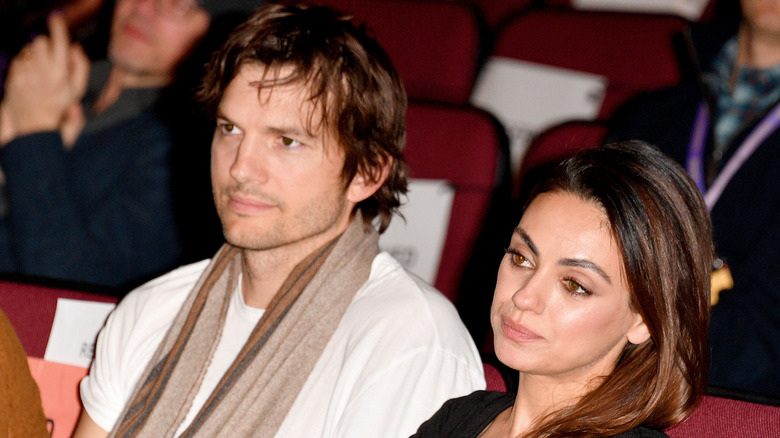 Ashton Kutcher has been known to be on the cutting edge of Silicon Valley tech, and has made several shrewd investments in startups over the years have rewarded him handsomely; he famously transformed a $30-million fund he'd set up into a $250-million fortune by becoming an early investor in such ideas as Airbnb and Uber. Had he heeded his wife Mila Kunis' opinion about the latter, however, he'd be significantly less wealthy.
As she told Stephen Colbert during a virtual appearance on "The Late Show," not only does Kutcher use Kunis as a sounding board for potential investments, it "happens nightly… he's really smart about including me in everything and making sure that I'm aware of everything that is happening. He's always really smart at knowing that sometimes you shouldn't listen to your wife."
That was definitely true when Kutcher pitched her the concept behind Uber, describing it to her as "kind of like a cab company but anyone can drive the cab." Kunis told her husband that Uber was "the worst idea ever… you are going to put me in a car with a stranger? What is wrong with you?"
Mila Kunis records her 'Family Guy' dialogue in her closet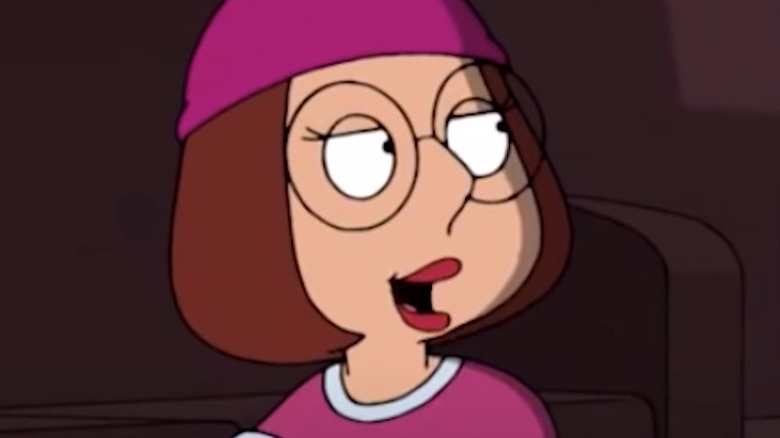 Mila Kunis' longest-running role is one for which she's never had to show her face: voicing Meg Griffin in animated Fox comedy "Family Guy," which has been going strong since its debut in 1999. "I hope it never ends," Kunis said of "Family Guy" in an interview with Collider. "I'm so grateful for this job."
In fact, throughout the COVID-19 pandemic she'd continued to record her parts for the show, albeit in a different manner than she had in the past. "I've been recording it through all of quarantine from my closet," she said. "I have, like, a makeshift little tiny studio…". She began working on "Family Guy," she told Collider, "when I was 15, and what am I, 37? It's been the greatest job, ever. Like hands down, I dare anyone to tell me they have a better, more amazing job than that." 
Speaking with IGN, "Family Guy" creator Seth MacFarlane said that Kunis' youth initially helped her to land the role. "Mila, really, you were listening to a teenager," said MacFarlane. "She had a very natural quality to Meg that really made what we did with that character kind of really work."
Mila Kutcher co-starred with husband Ashton Kutcher in a Super Bowl commercial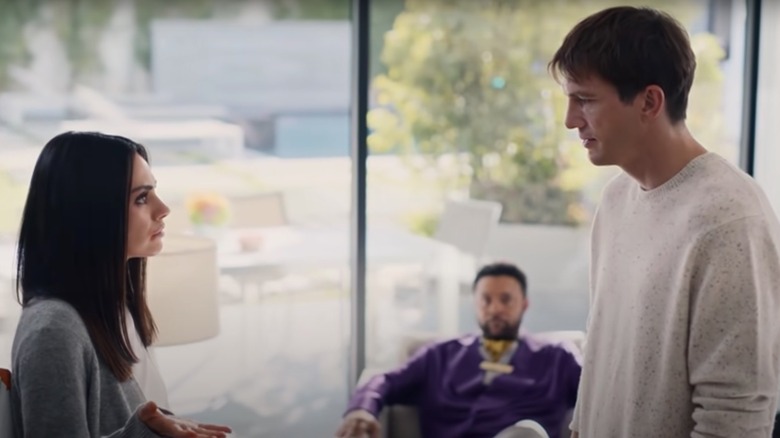 Mila Kunis and husband Ashton Kutcher haven't acted together since "That '70s Show," but the couple made a rare exception to appear in a TV commercial for Cheetos that aired during the 2021 Super Bowl. In the commercial, which features singer Shaggy and his 2000 hit "It Wasn't Me," Kutcher continually catches Kunis red-handed — technically, orange-fingered — as she munches on his Cheetos. When he asks her point-blank if she's eating his Cheetos, she denies it — even as she's eating them. "It wasn't me," she deadpans.
"We don't work together mostly because of the kids," Kunis explained in an interview with "Today". "There's a bunch of jokey answers that we give people, but at the end of the day we don't want to be away from the kids together at the same time for the duration of a shoot, which is about 14-, 15-hour days."
However, they agreed to do the commercial, Kunis told Entertainment Tonight, when she was pitched the idea and "started laughing so hard and Ashton was like, 'This is kind of funny.' And I was like, 'We should do it!'"
Mila Kunis refused to let Ashton Kutcher blast off to outer space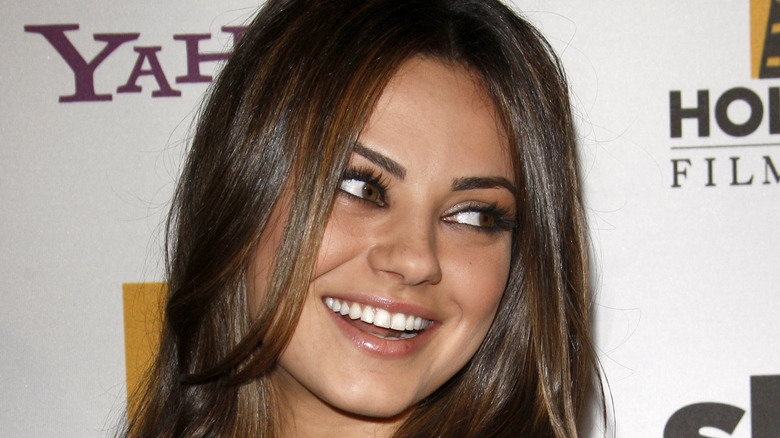 As "Star Trek" declared, space is "the final frontier." It's also somewhere that Ashton Kutcher was planning to visit until wife Mila Kunis put her foot down. As Kunis revealed in an interview with People, early in their relationship, Kutcher told her he'd purchased a ticket to be on the very first Virgin Galactic commercial space flight, something she felt at the time would be "fun." 
A few years later, after they'd become parents to two children, she had a change of heart and told him as a father it was "irresponsible" to do something that could potentially put his life at risk. "The thing's going to explode and you're going to die — and you're going to leave me with the babies," she recalled telling him (they share daughter Wyatt and son Dimitri). Kutcher wound up selling his ticket — something Kunis subsequently came to regret. "The fact that I didn't let him go into space was so selfish of me," she said. 
Speaking with Cheddar News, Kutcher confirmed that Kunis convinced him to get rid of his ticket on the first Virgin Galactic flight, but promised that he'll get there eventually. "At some point, I will be going to space," he vowed.
Source: Read Full Article