Watch Jennifer Lopez Hit the Pole in New 'Hustlers' Trailer
At the stroke of midnight today, Jennifer Lopez dropped the trailer for the new Hustlers movie starring her, Cardi B, Constance Wu, Keke Palmer, Lili Reinhart, Lizzo, and Julia Stiles. It's only been about nine hours, but fans are giving it a thumbs up and can't wait to see J. Lo return to the big screen.
Last week, each of the women dropped mini clips on their social media accounts to tease the upcoming trailer and movie. Well, it's here, and it has Cardi B's "Money" bumping in the background. Check it out.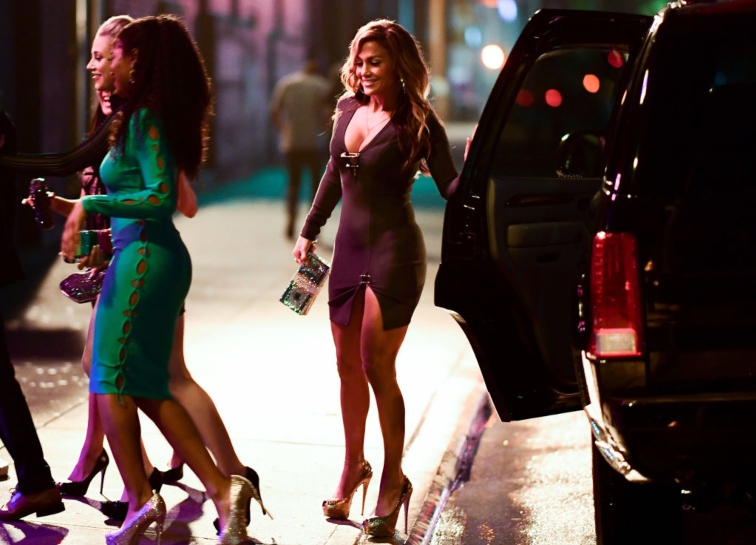 Lopez is the leader of the pack
The trailer opens showing J. Lo giving pointers to a stripper in training about how to move on the pole, then cuts to her performing during a work shift. But this is not all about what life is like on that stage, as we quickly learn that Lopez's character, Ramona, is a no-nonsense confident crusader on a mission to finesse some Wall Street dudes—with the help of her girls, of course!
She makes the sell to her crew that includes Diamond (played by Cardi B), Mercedes (Palmer), Liz (Lizzo), Annabelle (Reinhart), and Wu's character Destiny, who just wants to take care of Granny and shop. She's convincing with her Robin Hood philosophy of stealing from rich guys who fleeced the country, "The game is rigged, and it does not reward people who play by the rules. It's like robbin' a bank, except you get the keys. Are you in?"
There's the danger of their scheme being thwarted by the cops or one of the Wall Street guys, but will it be Elizabeth (Julia Stiles) who winds up throwing a monkey wrench in their game?
Film's premise is based on true events
A 2015 article written by Jessica Pressler for New York Magazine serves as the basis for Hustlers, and the writer dove into the exploits of the strippers who worked at the Hustler and Scores clubs in New York. They targeted wealthy club clients who were "jerks" who, in their eyes, had money to burn that wouldn't be missed. At times, they'd lure in men from upscale bars by pretending to work in the Financial District and propose that they go to a strip club to party. It worked for a while. The guys were sometimes drugged so they'd relax and lose their memories, not knowing why their credit card charges were so high, or why they dropped tens of thousands of dollars a night.
https://www.instagram.com/p/Bz_IOVSHl8V/
In the true version, greed, infighting, and carelessness ledto the criminal downfall of these women. But if you want to see how things playout with Lopez and her cast of dynamic characters, you'll have to hit thetheater on September 13. Mercedes Ruehl, Usher (yes, that Usher), and MetteTowley—the dancer in Rihanna and N.E.R.D.'s "Lemon" video—are also appearing inthe movie.
Audiences will probably end up choosing sides in while watching the story unfold onscreen, but something tells us there will be more than two to pick from when it's all said and done. Like Pressler, you could find one or more of these ladies to be quite likable.
Source: Read Full Article