We Ranked True Blood's 12 Craziest Sex Scenes Ever, From Neck Twists to Incest
AKA 12 reasons we still really miss this show sometimes, and are still thinking about it six years later in honor of Alexander Skarsgard's birthday.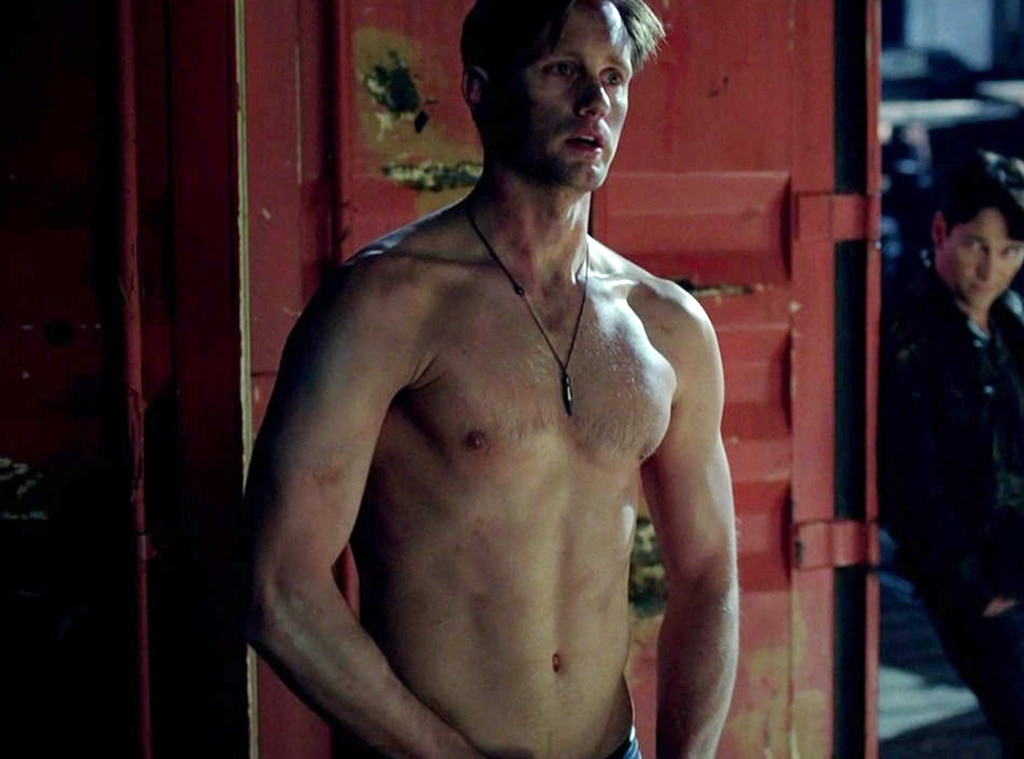 Has it been six years already?! 
True Blood said its final goodbyes in 2014, and somehow did not enter into the pantheon of great TV shows with unforgettable series finales. While that ridiculous show probably single-handedly kept this country's fake blood suppliers (if that's a thing) in business, what True Blood was really known for was insane, jaw-dropping, blood-drawing sex. 
Rarely does an episode go by without some sort of brazen sexual encounter, usually accompanied by perfectly unexpected music and some other unusual element, like dirt, magic fairy powers, or the occasional brutal murder. 
While the show has featured many, many sex scenes—almost all of which are pretty entertaining—there are a few that rise above the rest as the craziest, most quintessentially True Blood scenes of all. Remember that time Bill and Sookie had dirt sex? Or how about the time Eric did it with his vampire sister? Remember all the orgies?!
Of course you do, because you are a human with eyes who couldn't forget those scenes if you tried. However, you can always do with a nice sexy refresher, so we would like to present to you 12 of the craziest sex scenes True Blood has ever kindly given us. It's the perfect way to celebrate Alexander Skarsgård's 44th birthday on Aug. 25!
Needless to say, this is one NSFW gallery, so beware of any prudish eyes that might be lurking behind you…
Honestly, this is the tamest "likes it rough" we've ever seen, but good 'ole Maudette has the great honor of participating in the show's first ever full-on sexcapade right before she was unceremoniously murdered, so she deserves a spot on the list. RIP Maudette. We hardly knew ye. 
How many hundreds of country songs have fantasized about sex in a pick-up truck? Are there any real country songs that don't involve sex in a pick-up truck? In any case, Jason and Jessica are living somebody's dream and doin' it next to a chainsaw. Not the craziest thing you've ever seen, maybe, but we can't see anyone complaining about a scene like this. 
 Watch here.
Oh you know, just two ancient vampire "siblings" gettin' it on up against a dirty wall while their old pal Bill waits impatiently outside. When Eric's cell phone rang and cut their sexytimes short, we weren't sure if we were disappointed or relieved.  
Watch here.
Remember that murder we mentioned? Poor Talbot just wanted to order his new vampire slave/friend into a non-mutual sex situation and instead got rudely staked in the back in a play for revenge. Horrible? Yep. But just look at those facial expressions and try to take anything seriosuly ever again.
 Watch here.
Dream Jason and Dream Eric are our new favorite Jason and Eric. To borrow a quote from the great Albus Dumbledore, "Of course it is happening inside your head, but why on earth should that mean that it is not real?"
Watch here.
Something something super hot werewolf sex, he threw her across the room, etc. We'll be in our bunks.
 Watch here.
Andy and Maurella's finger-light sex romp in the forest was a thing of strange beauty, mostly due to it resulting in a whole bunch of quickly maturing half-fairy children. Then Jessica ate most of them, and she was later nearly tortured with a fiery dildo. Television!  
Watch here.
Bill: *crawls out of the ground naked* 
Sookie: We shall have sex immediately!
Us: Uh, no. You will go take a shower, scrub your entire body with lava soap, and you are not allowed to come back here until you smell like a meadow, got it? 
And that's why we're not on TV. 
Watch here.
Season 2 had a lot of orgies. We sort of miss season 2. We're lying. (How about a round of applause for all of those extras, though?) 
All of Ginger's dreams came true when Eric finally gave into her fantasy of sleeping with him. The result? Hilarity. Eric's lovemaking prowess was apparently so great that after 10 seconds, Ginger was basically paralyzed and able to do nothing but slide to the floor in a state of total, unadulterated bliss, and it was one of the greatest things we've ever seen.
Watch here.
Ah, the Emmy-nominated Lizzy Caplan. That's mostly all we have to say about this scene (or any of the scenes) in which Jason and Amy take vampire blood and have crazed forest sex in the sky while their drained vampire prisoner watches sadly as they're really just doin' it on a dirty mattress in a basement. Janice Ian has come so far. 
It's been four seasons and we still don't have anything clever to say about this scene which still haunts us at our weakest moments. Bill's a little terrifying. Based on Bill's two entries on this list, people should probably stop having sex with Bill. He's a danger. 
Watch here.
PHOTOS: 19 TV characters who lasted way longer than they were supposed to 
Trending Stories
YouTube Star Landon Clifford Dead at 19
Rose McGowan Accuses Alyssa Milano of Making Charmed "Toxic AF"
These TV Co-Stars Weren't Exactly BFFs
True Blood aired on HBO. 
A version of this article was originally published on Aug. 21, 2014. 
Source: Read Full Article