Why Is the New Trailer For The Crown Season 4 So Intense?
Princess Diana, played by Emma Corrin, makes a dramatic splash in the ominous new trailer for The Crown season 4, which hits Netflix on Nov. 15.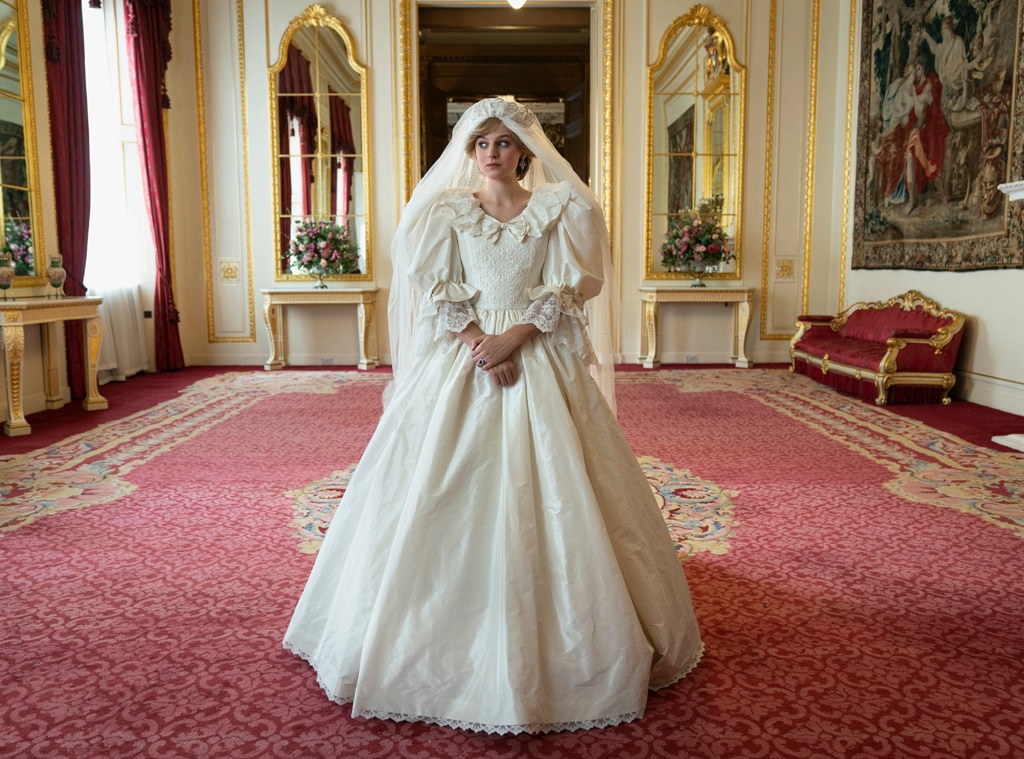 Princess Diana has arrived but this is no fairytale princess story. 
The Crown just released a new trailer for season four and while of course we know how dark things got for Prince Charles and Princess Diana in the '80s and '90s, the trailer makes that darkness very prominent. Even as Diana, played by Emma Corrin, hangs out of cars and dances with her future husband, intense, pounding music gives a certain sense of foreboding. On top of that, a portion of the sermon from Charles and Diana's wedding plays via voiceover and is somehow anything but romantic. 
The trailer puts Diana front and center, but it also offers a glimpse of Gillian Anderson as Margaret Thatcher and shows Princess Margaret (Helena Bonham Carter) dealing with the illnesses that plagued her until she died in 2002. 
Here's Netflix's description of the season: "As the 1970s are drawing to a close, Queen Elizabeth (Olivia Colman) and her family find themselves preoccupied with safeguarding the line of succession by securing an appropriate bride for Prince Charles (Josh O'Connor), who is still unmarried at 30. 
While Charles' romance with a young Lady Diana Spencer provides a much-needed fairytale to unite the British people, as the transformation from teenager to Princess of Wales takes place, it is anything but a fairytale for Diana." 
Watch the trailer below!
Trending Stories
See the Photo of Lily James and Dominic West That Has Everyone Talking
Watch the First 2 Minutes of the Bachelorette Premiere
Lily James and Married Dominic West Share Steamy Kiss
Get the full scoop on what's to come on The Crown (this season and beyond) by scrolling down!
The next season, season four, of The Crown premieres Nov. 15 on Netflix.
It's the same cast as season three: 
Olivia Colman as Queen Elizabeth
Tobias Menzies as Prince Philip
Helena Bonham Carter as Princess Margaret
Josh O'Connor as Prince Charles 
Erin Doherty as Princess Anne 
Emerald Fennell as Camilla Shand
Plus some important newcomers:
Gillian Anderson as Margaret Thatcher 
Emma Corrin as Lady Diana Spencer
Season four takes on 1979 to 1990, beginning around when Margaret Thatcher became Britain's first female prime minister and Prince Charles started getting to know Lady Diana Spencer. Charles and Diana married in 1981 and were together until 1992, so their separation won't be tackled until season five. William was born in 1982, and Harry followed in 1984. 
Around 1986, Diana was suffering from bulimia, and Charles was having an affair with Camilla, which Diana confronted her about in 1989. So in other words, there's a lot going on in the '80s! 
Yep, and you can get a sneak peek of Diana in her iconic wedding dress (which has its own Wikipedia page!) in a teaser released by Netflix. 
Yep! Claire Foy, who played Queen Elizabeth in the first two seasons, will be back for a flashback to HRH's 21st birthday in season four. 
Elizabeth Debicki, the most recently announced addition to the cast, will play a slightly older Diana in season five, which will likely cover the '90s from her split from Charles to her death in 1997. 
The entire cast gets replaced every two seasons, so Olivia Colman will pass the torch to Imelda Staunton, who you may know best as Dolores Umbridge from Harry Potter. 
She'll be joined by Jonathan Pryce as Prince Philip and Leslie Manville as Princess Margaret. Other cast members have yet to be announced, but some have suggested Tom Hiddleston should play Prince Charles, and now that's all we can think about. 
This is the bad news: 2022! 
That may feel a few lightyears away, but it's a regular schedule for the series. Season one came out in 2016, followed by season two in 2017. Season three arrived in 2019, season four in 2020, and now there's another break for season five. Peter Morgan explained in a recent interview with THR that he needs the time off to both shoot and write the next season, since the show films in two-season chunks. 
The sixth and final season will likely premiere in 2023. 
Seasons five and six will take the royal family into the 21st century, but not too far into it. Nothing incredibly recent will be covered, but since each season tends to span around a decade, it makes sense that the show might end with the Queen's Diamond Jubilee in 2012. That would mean William and Kate's 2011 wedding would be featured, but little else from the 2010s. 
Sadly, no. As much as we keep hoping, Morgan said that Harry and Meghan, despite the captivating drama they've added to the world of the royal family, are too recent to cover with any clarity. 
"Meghan and Harry are in the middle of their journey, and I don't know what their journey is or how it will end," he told THR. "One wishes some happiness, but I'm much more comfortable writing about things that happened at least 20 years ago. I sort of have in my head a 20-year rule. That is enough time and enough distance to really understand something, to understand its role, to understand its position, to understand its relevance." 
Here's hoping for another season in 2040!  
The Crown returns Nov. 15 on Netflix.
Source: Read Full Article