Scheana Shay Says She's Struggling with Tom Sandoval Friendship, Filming New Season
Vanderpump Rules star Scheana Shay says she's having a hard time with her long friendship with Tom Sandoval in light of the cheating scandal that blew up the show last season, says the affair "changed the entire dynamic of our group."
While fans are eagerly awaiting Season 11 of Vanderpump Rules, Scheana Shay is opening up about how difficult it's been filming it alongside Tom Sandoval in the wake of the cheating scandal that blew up across the nation and became "Scandoval."
The reality star opened up about her struggles in dealing with the complex emotions surrounding her long friendship with Sandoval in the wake of him cheating on her best friend Ariana Madix nine years into their relationship with former co-star Rachel (née Raquel) Leviss.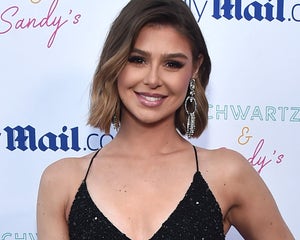 Rachel Leviss Says 'Low Self-Worth' Kept Her with Tom Sandoval: 'Now I Know Better'
"I never thought he was a bad guy," she said on the latest installment of her Scheananigans podcast. "He was one of my best friends for almost 15 years. He was the only person who had my back on this show, who fought for me whenever something was unfair and he was the person there in my corner."
That support and friendship to her is why it's become so much more complex trying to reconcile her feelings about him and the layers of deceit and betrayal he perpetrated on other people she cares about.
"I have personally really struggled with all this because I'm like, 'Yes, you did a really bad thing. But you weren't a bad friend to me. But then what you have done has affected me,' so it's just changed the entire dynamic of our group," Shay said.
Fans are already scrutinizing every interaction the cast has with Sandoval as the new season commenced filming. One shot of Shay and Sandoval standing together elicited a huge backlash online that both Shay and Madix weighed in on.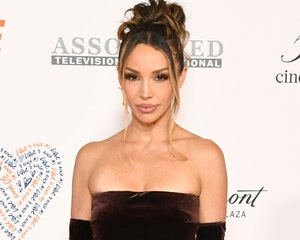 Scheana Shay Reached Unhealthy Weight Due to 'Stress and Anxiety' After Scandoval
"I don't know why I feel the need to defend taking a photo with my hand like this in the back of someone," Shay said holding her hand in a fist on her Instagram Stories in July.
Madix explained that Shay was taking a photo with a fan for their birthday. "We always try to stop for photos and when the whole cast is present, it's common for the whole cast to be in the photo regardless of what is going on between any of us at the time."
She has also addressed fan flak on other occasions whenever Sandoval is seen interacting with her or the cast. "Him and I have had a really long friendship so everyone always [says], 'Oh Scheana, the flip-flopper, Scheana needs to have loyalty,' and losing a friendship of that long has obviously been a struggle," she said. "But Team Ariana. She's my girl."
The cast also isn't going to shy away from the cheating scandal on the show, either, with Shay revealing that she and Sandoval had a conversation that was "not easy" during a retreat. They were paired together for a "spiritual meditation healing" during a trip to Lake Tahoe.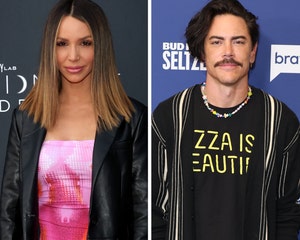 Scheana Shay and Tom Sandoval Undergo Intense 'Healing' Session Together in Lake Tahoe
"Wednesday filming was beyond the most emotionally draining day I have ever had in 11 seasons of Vanderpump Rules," she said of the experience. "My eyelashes hurt from how much I cried that day, my contacts were dry, I was congested, I felt weak in every way possible."
Things are likely to only get more tense as the cast moves toward promoting the new season and trying to move on with their lives. Sandoval is part of the cast for Season 11 so they will have to interact with him.
There is also years of history between this group, including other instances of infidelity, so fans might have to prepare themselves for the group being able to get past this latest scandal in some form or another.
Leviss will not be returning to the show, even as producers were apparently holding out hope that she might decide to be a late addition. The former cast member broke her social media silence with video of herself at a flower farm, captioning it, "I've been dreaming of a place like this."
Waiting for your permission to load the Instagram Media.
Instagram Media Unavailable
Source: Read Full Article